Why iPhone 12 OLED Screen Issue with Ugly Glowing Green/Grey/Dispaly Flickering?
by Jenefey Aaron Updated on 2020-11-19 / Update for iPhone 12
"Hello. I bought two iPhone 12 and both has the same issue. In dark surrounding on any brightness lower than 90-100% screen has this ugly glowing! Black pixels are not turning off in dynamic scenes. In static scene black pixels turning off after few seconds."

-- From Apple Discussion Commnunity
A huge chunk of Apple users waits all year for the launching of new iPhone 12 model. However, the happiness didn't last long for many users as the irritating OLED screen issue has already affected them. Some also said: "when watching black videos, my iPhone's display(oled) will blink in grey."
We have done a comprehensive research on the subject matter and will present viable solutions to help our readers overcome the iPhone 12 OLED Screen Issue/Problem. For that to happen, you have to read the article thoroughly. And according to MacRumors: "Apple Investigating Display Issues With iPhone 12 Models, Including Flickering and Green/Gray Glow and it can fix the issue in a future software update".
Part 1: What Is the iPhone 12/12 Pro OLED Screen Issue Exactly?
A number of users are reporting that their new iPhone is showing a bright grey display on screen whenever screen brightness is less than 90%. Users are naming this error as ugly glow or iPhone 12 OLED screen issue.
The below photo further clarifies how much irritating this issue can be.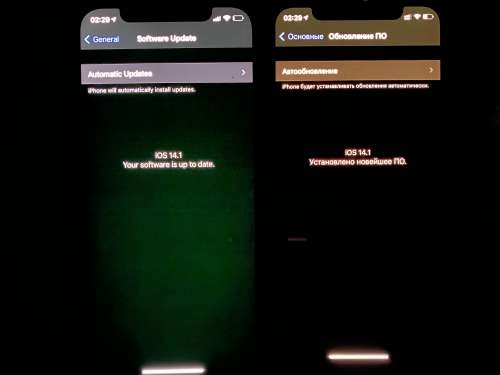 Part 2: Why Would iPhone 12/12 Pro OLED Screen "Glowing Green" Issue?
Honestly speaking, little is known at present about the exact causes of this issue. The analysts and iPhone technicians believe that iPhone 12 OLED screen issue can be caused by:
Error in system software
Hardware issue in your device
There can be more reasons for this, but we're not sure as of writing these lines.
Part 3: How to Check If I Have the OLED Screen Issue on My iPhone 12/12 Pro?
The simplest way to check if your iPhone 12 has this issue or not :Go to a dark room (because the light is too bright to see) and open the picture with a pure black background and zoom out the pic/image to the full screen with 90% brightness.
Under such circumstances, your iPhone screen should be dark, because no matter how high the brightness, the dark even black background will be all black. But if you see a green screen glowing on your iPhone 12, that means you have a OLED screen issue.
Part 4: How to Fix the iPhone 12/12 Pro OLED Screen Issue?
Apple administration hasn't commented on the issue, so not many proven methods are available to fix this error. However, the below two methods will help you overcome this issue.
1. Solve by Yourself: Repair iOS System with Tenorshare ReiBoot
Before brining your phone to a repair shop for hardware repairing or replacing it, you have to repair the system to confirm if there's any glitches in the system software that may lead to this issue. You need a third-party software to repair iOS. And that's where Tenorshare ReiBoot comes into play.
The developers upgrade ReiBoot regularly to make it compatible with the latest iOS 14.2 and iPhone 12/12 Pro(Max) – and allow the users repair their phones without any technical complications. Its high efficiency, super-fast speed, and ability to repair 100+ iOS related issues make it the best iPhone repairing software.
To repair iPhone 12 using ReiBoot, follow the below steps:
A Video Tutorial: How to Repair iOS System with ReiBoot
After downloading and installing ReiBoot pro, double-click on the ReiBoot icon to launch on your computer. Then, connect your iPhone 12 to the computer and hit Repair Operating System.

On the new interface, it will show the iOS issues it can resolve without any data loss. Here, you need to click on Fix Now to proceed.

Now, ReiBoot will start downloading the latest firmware package for your iPhone 12.

The software will take some time to complete. Don't disconnect your iPhone 12 during the process.

Your iPhone will restart automatically when the repairing process is completed.
Now, enter the screen passcode and follow on-screen instructions to open your iPhone and check if the issue has been better fixed.
2. Contact to Apple Support: Diagnosis or Replacement
Now, if repairing the IOS doesn't fix the issue and your mobile screen is still glowing, then it must be a hardware issue and you have no option but to contact the iPhone customer service.
For that:
Go to the official Apple Support website.
Now, click on iPhone option to submit your complains pertaining to iPhone 12 and seek advice on what to do.
Here, you can call them directly to receive their professional support to fix the issue. As per the reports, Apple has replaced the faulty iPhone with a new one. So, you may ask for a replacement from them.
Conclusion
To sum it all, we discussed a relatively new yet widespread issue of iPhone 12 OLED screen issue that has already affected many users. Since, this issue has just come to limelight with no official word from Apple, users can't do much except try to repair the system iOS it using Tenorshare ReiBoot. This software will address any and all OS issues that may have caused this error. Else, you have to contact the Apple support and ask for replacement.