iPhone 12 Stuck on Recovery Mode? How to Fix?
by Sophie Green Updated on 2020-10-26 / Update for iPhone 12
Several iOS users have been facing the issue of iPhone 12 stuck on recovery mode and not being able to turn on. If you're one of these users and looking for the appropriate and simplest solution to this problem, then you're in the right place! This article will guide you on 4 unique methods with high chances of resolving your issue. Each method is properly elaborated in the form of simple steps to ensure that you don't get lost anywhere during the process. With that said, let's not waste another second and get straight into the guide!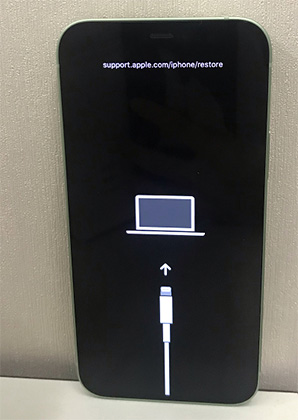 Why Is My iPhone 12 Stuck on Recovery Mode?
Have you been wondering 'Why my iPhone 12 is stuck in recovery mode?' Honestly, there can be multiple explanations for this issue and it can be difficult to identify the exact cause of the problem. To make it easier for you, I've listed the most probable causes and scenarios for this issue below:
Perhaps, you entered the iPhone 12 recovery mode by mistake and you can't figure out how to escape this mode.
Your iOS might be bugged and not working properly preventing you from getting out of recovery mode.
An important software or program might be functioning unusually preventing normal functionality of the iPhone.
4 Free & Paid Methods for You to Fix iPhone 12 Stuck in Recovery Mode
By now, you must've identified the cause for your iPhone 12 stuck in recovery mode loop issue. Hence, let's now take a look at all the possible solutions that can help you get past this problem.
Method 1: Get out of iPhone 12 Stuck Recovery Mode with Keys (Hard Reset)
A hard reset or force reset is probably the simplest solution to the iPhone stuck in restore mode issue. Moreover, a hard reset comes at no cost and will not damage your iPhone in any way. By performing a hard reset on your iPhone, you can reboot the entire iOS within seconds. This will rule out the possibility of a temporary iOS bug preventing you from escaping recovery mode. To hard reset your iPhone 12, follow the steps below:
For iPhone 12, press and release the Volume up button.
Press and release the Volume down button.

Press and hold Side button and then release the buttons instantly after the Apple logo appears on your screen. Now, just wait for the iPhone to reboot.
Method 2: One Click to Exit iPhone 12 Stuck in Recovery Mode Loop
If you want to fix iPhone 12 stuck in recovery mode with minimum efforts, then your best bet is to use a third party software do get this done for you. In this case, I'd suggest you to use free ReiBoot exit recovery mode as it proves to be the perfect tool for this task. ReiBoot is an iOS recovery mode tool that can get your iOS device in and out of recovery mode in just a single click! The below steps illustrate how you can use ReiBoot to get your iPhone 12 out of recovery mode:
Video Guide on How to Fix iPhone 12 Stuck in Recovery Mode
Download and run Tenorshare ReiBoot, and connect your iPhone 12 with the computer via a USB cable.

Select the 'Exit Recovery Mode' option from the home page. Wait for a few seconds as your iPhone reboots.
Method 3: [100%] Fix iPhone 12 Stuck in Recovery Mode with ReiBoot Pro
If your iPhone 12 recovery mode stuck on waiting for iPhone issue is due to an iOS glitch or bug, then this method is for you! In this case, you need to fix the entire iOS to get it working. The easiest method to achieve this is with the help of a third-party software like Tenorshare ReiBoot Pro. Follow the steps below to fix your iOS by using ReiBoot.
After running ReiBoot,select 'Repair Operating System' from the home page.

Tap 'Fix Now' to get iPhone 12 repair started.

Next, you need to download the Firmware package for your iOS repair. Select the destination and hit 'Download'.

Lastly, press 'Repair Now' to begin the iOS restores.

After a while, ReiBoot Pro will get your iPhone 12 out of recovery mode. Just follow on-screen to get normal iPhone 12.
Conclusion
After reading all the methods listed above, you now know what exactly you should do to fix your iPhone 12 stuck on recovery mode. For me, Tenorshare ReiBoot Pro works best with fixing such issues regarding iOS. This is because ReiBoot is simple to use and it gets your work done within minutes.