iPhone 15/14 Data Transfer Stuck on Time Remaining about 1 Minute? Quick to Fix Here
by Jenefey Aaron Updated on 2023-09-25 / Update for iPhone 12
Case: Transferring data to new iPhone 13 pro. It looks like its complete but the old phone seems to be stuck on 1 more minute until its finish. If I try and exit the message asks to stop transfer."

-- From Apple Community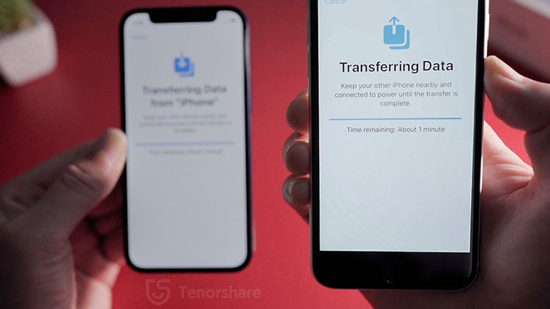 The newly-launched iPhone 15 has gained significant traction due to a myriad of unique features. Soon after buying it, the users have to transfer data from old iPhone to the new iPhone 15. But it can be very frustrating if the iPhone data transfer stuck on "time remaining about 1 minute". This issue has already annoyed many users who are looking for easy solutions to get rid of it.
That's why we have done a comprehensive research and come up with a number of methods to help iPhone 13 users troubleshoot. Let's find out.
Part 1: Why My iPhone Stuck on 1 Minute Remaining When Transferring to iPhone 15/14?
Honestly speaking, iPhone transfer stuck issue is relatively new and we are yet to identify its exact causes. But iPhone technicians believe that the below reasons may lead to "my transfer is stuck on 1 more minute":
Poor internet connection
Minor bugs
Issues in system software
The data you're transferring is too big
Part 2: How to Fix iPhone 15/14 Data Transfer Stuck on Time Remaining about 1 Minute?
The good news is that regardless of the reason, this issue can be solved using the 4 methods below. You need to implement them one-by-one and check if iPhone data transfer stuck error persists.
Fix #1. Just Wait for a While
If your internet connection is weak or for any other minor causes, your iPhone may take longer to complete the data transfer and you may perceive it as phone stuck transferring at 1 minute error. So, you need to wait for a few minutes to let the process complete. Many a time, your new device need some extra minutes to restore backup data. So, wait for at least 15-20 minutes if it shows 1-minute remaining on the screen.
Fix #2. Check If All Content Has Been Transferred to iPhone 15/14
Many users have also reported that even when all the data is already transferred, iPhone 15/14 still shows transferring data about 1 minute remaining. You can check any gallery, music, or WhatsApp data, etc. to confirm if all the data has already been restored.
If it's transferred, then cancel the process or force restart your device and start using it.
Fix #3. Change to Use a Wired Connection and Transfer Again
As mentioned earlier, this issue could arise due to weak or compromised internet connection. In such a scenario, you can use shift to wired method to transfer the data. To do that:
First of all, you need to get a Lightning to USB 3 Camera Adapter and a Lightning to USB Cable.
After that, connect the Camera Adapter to a power connection of 12 Watts or higher using its Lightning port.
Now, connect your existing iPhone 15/14 to Lightning to USB 3 Camera Adapter.
Then, plug in one end of the Lightning to USB Cable to your new iPhone 15/14 and the other one to the adapter.
When the assembly is prepared, turn on your new iPhone and place it near to the existing phone.
You will see a Quick Start screen on your old or existing iPhone and shows you an option of using Apple ID to setup the new iPhone. Select the ID and hit on Continue.
Then, an animation will appear on the new iPhone 15/14 and wait until you see the message "Finish on New iPhone 15/14."
Then follow the onscreen instructions to setup Touch ID or Face ID on new iPhone.
Finally, hit on Transfer from Device to start transferring data from the previous iPhone to the new iPhone 15/14.
Fix #4. Factory Reset iPhone 15/14 and Restore form iCloud Backup
If your phone is still stuck, then factory reset is a viable option and then restore from iCloud backup while setting it up as a new device. To do that:
Go to Settings > General > Reset > Erase All Content and Settings, and then hit on Continue on pop-up window to confirm the action.
Your iPhone will undergo factory reset. Wait patiently until the process is completed.

Now, follow the screen guidelines to reach the Apps and Data screen. Here, hit on Restore from iCloud Backup and enter password of your Apple ID.

Then, select "Choose backup" option and choose the latest backup from the available list of backups.
Your iPhone 14/13 will restore the backup in a few minutes.
Fix #5. Transfer Data to iPhone 15/14 Using iTunes or Finder
It is a simple yet highly reliable method to transfer backup data to a new iPhone 15/14. To do that:
Switch on your new iPhone 15/14 and follow the on-screen steps until you reach the Apps & Data screen.
Here, tap on Restore from Mac or PC and then connect it to a computer on which you have backup of previous phone.
Then, launch iTunes of Finder and hit on Restore Backup option and choose the latest backup from the displayed list.

Restore from iTunes Backup on Windows:

Restore from Finder Backup on Mac:

Now, wait until the process is completed.
Part 3: The Best Alternative to Transfer Data to iPhone 15/14 When iPhone Transfer Stuck
It is equally possible that none of the above mementioned methods produce the desire results and your iPhone 15/14 is still stuck on transferring data screen. Also, you can avoid facing this issue in the first place by using a reliable third-party software to transfer data between iPhones. And when it comes to that, Tenorshare iCareFone has no match. This powerful software is designed to help iPhone users transfer restore backups in just a few minutes.
Unlike using iCloud, iTunes, or other such platforms, iCareFone offers a simple and straightforward procedure to restore old backups to a new iPhone 15/14. What's more, it also allows users to backup their iPhone using free version.
Now, to restore an old backup to your iPhone 15/14, follow the below steps:
After installing iCareFone on your computer, launch it and connect your iPhone 15/14 to it.

Once your iPhone is detected, hit on "Backup & Restore" option from the front tab.

On the next interface, hit on "To view or restore previous backup files" option at the bottom left corner of the screen. The program will show all the backups stored on your computer.

Now select the latest backup (or the one you want) and iCareFone will display the files stored on it.

Finally, select the files you want to restore and select either Export to Computer or Restore to Device option.
A Video Tutorial: How to Fix iPhone Data Transfer Stuck on Time Remaining about 1 Minute?
Related read How to Transfer Data from iPhone to Android Within Minutes .
Conclusion
Hopefully, this tutorial will help you learn some proven ways to get rid of iphone data transfer stuck on time remaining about 1 minute issue. All these methods have high success rate in solving this stuck error. But it's recommended to use Tenorshare iCareFone to avoid getting trapped in this situation in the first place. This multi-feature tool allows free backup feature to the users and they can restore any backup with just a few clicks.
The World's Best iOS 17 File Manager
Free backup everything you need on iPhone/iPad/iPod
Transfer music, photos, videos, contacts, SMS without limitation
Selectively restore files without erasing current data