7 Ways to Fix iPhone Yellow Screen Display Issue
by Sophie Green Updated on 2021-10-12 / Update for Fix iPhone
To fix this issue of the iPhone yellow screen display, there are some methods that you can have a try. We have collected seven helpful methods to you in solving this major problem. But firstly, lets get straight to the reason of iPhone yellow screen popping up.
Why Is My iPhone Yellow Screen 
You might be facing this issue because there is a new feature of "true tone" introduced in iPhone 12 pro max. And there are other issues that might be leading to the screen turning yellow such as the night mode, colour tint setting and an low iOS version.
7 Reliable Methods to Fix iPhone Yellow Screen
There are seven methods that we have collected to solve the iPhone yellow screen. Follow the steps and get this problem fixed.
Method 1: Turn off Night Shift Feature
The first step you can do to solve this iPhone 12 pro-Max Yellow Screen issue is to turn off the night shift feature. Steps are as follows:
Settings> Display&Brightness> Night Shift> Turn off "Manually Enable Until Tomorrow".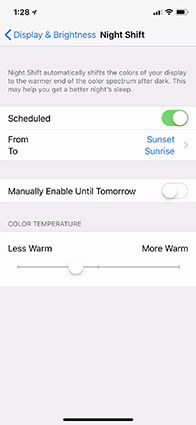 Method 2: Turn off True Tone to Repair iPhone 12 Yellow Tint
The second method you can apply to get rid of the yellowish screen is turning off the "true tone." To turn off true tone, here are the steps:
Settings> Display&Brightness> Turn Tone> Turn off "Turn Tone".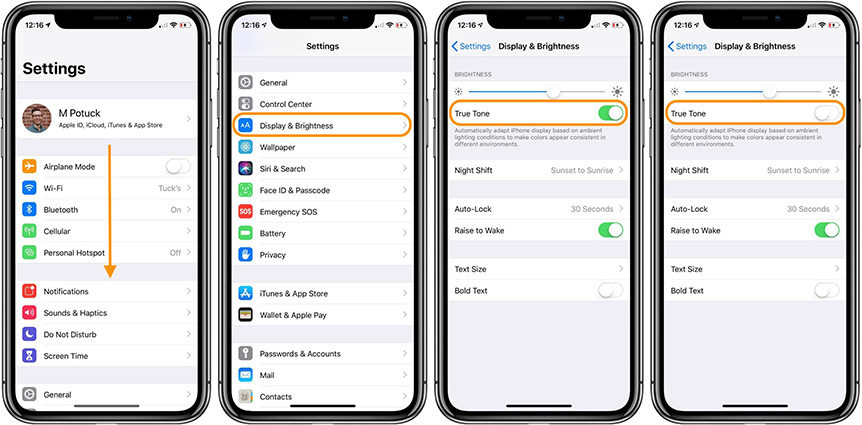 Method 3: Wait Adhesive to Dry
The third method to fix iPhone yellow screen is to wait for the adhesive to try. Because sometimes, the glue that is used to patch up the screen needs to get dried. And when it is not dry, it will cause the iPhone screen a yellow color. So wait for a few days to see if there yellow screen problem still existed.
Method 4: Change Color Tint Setting to Fix iPhone 12 Yellow Screen
The fourth remedy that you can try is by changing the color tint setting. To change the tint setting in iPhone 12, follow these steps:
Open the settings and tap on the accessibility option.
Tap on display & text size and press the color filter option.
Now tap on the button present beside the color filters to turn it on and select color tint.

Lastly, drag the intensity and hue until you sense that your screen is appearing less yellowish.
Method 5: Check iPhone iOS Update When iPhone 12 Pro Yellow Screen
If you are using an iPhone 12 pro and facing a yellow screen issue, this might be due to the system not being updated. To see if your system needs an update, do the following steps:
Settings>General Option>Software Update.
Now you will see the software update option. Click on it to see does your iOS system need an update or not.
Method 6: Set Out System Repair with ReiBoot
If all of the above options are not working, you can use the Tenorshare ReiBoot system to fix your issue. Tenorshare ReiBoot is known for fixing any issues occurs in your phone.
The steps to fix iPhone yellow screen are as follows:
Download and install the Reiboot system in your windows. Connect your iPhone to the PC and enter your password.

Click on "Standard Repair".

Download firmware package, preparing for the repair.

You can start standard repair now once the firmware package is downloaded on your PC.

Wait patiently untill the Standard Repair is completed.
Method 7: Defective Screen Should Contact Apple for Replacement 
When we have tried above methods and it don't work at all. It means your iPhone may have hardware issues, you should to contact Apple for the replacement. Go to the nearby Apple store to perform a comprehensive hardware inspection.
The Bottom Line
The issue of the yellow screen is faced by many users in iPhone 12 or iPhone 12 pro max. You can try all the above methods to fix it, or use the Tenorshare ReiBoot to start a thorough repair for your device.