What Is Android Error Code 963 and How to Fix
by Anna Sherry Updated on 2020-03-04 / Update for Fix Android
"I am unable to download most apps on Google Play Store. I keep getting errors 963 and 907. I have tried all but factory resetting my phone. Clear data and cache, uninstall and reinstall GP Store, restart phone, check if apps are on my SD Card, etc. Anyone have any better ideas to help me out?"
If the Android error code 963 comes up too often on your phone, you might want to do something about it or you will not be able to get new apps or update the existing ones on your device. There are a few things you can do to resolve the error code 963 Android and the following guide shows all the available methods to fix the issue.
What is Android Error Code 963?
The first thing you will want to know is what exactly the error code 963 is and why it occurs on your Android device.
As said earlier, it comes up when you try to download or update an app on your device. When you are doing either of these activities on your phone, you suddenly find a warning message on your screen that says "Can't Download App" or "Can't Update App" depending on what you were doing.
That answers your what is error code 963 mean in Android question.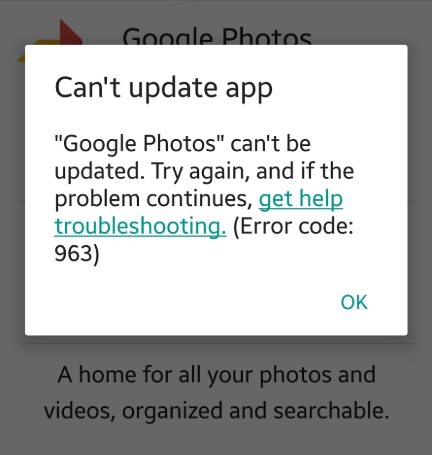 Why Error 963 on Google Play Occurs?
Now that you know what the error is, you might be interested in finding out exactly why it occurs on your phone.
Corrupted Cache Problem

Corrupted cache files could be one of the reasons why you have issues downloading or updating apps on your device.

SD Card Crash

If your SD card crashes, it makes your downloads and updates to crash as well which results in the aforementioned error.

Download the App to SD card

Some apps require to be downloaded to your internal storage, and if you forcibly download them to your SD card, you could face the above mentioned error on your device.

Google Play upgrade

Google Play may be undergoing an upgradation process and so the updates and downloads of new apps are not available temporarily.
7 Basic Ways to Fix Android Error Code 963 on Google Play
Now that you are fully aware of what is Android error code 963 and the reasons behind it, this section shows how you can fix this error on your device.
1. Clear Play Store Cache and Play Store Data
Clearing the cache and data files for the Play Store app should help fix the issue on your phone.
Head to Settings > Apps & notifications > Google Play Store > Storage and tap on Clear Cache. Then, tap on Clear Storage to clear the app data as well.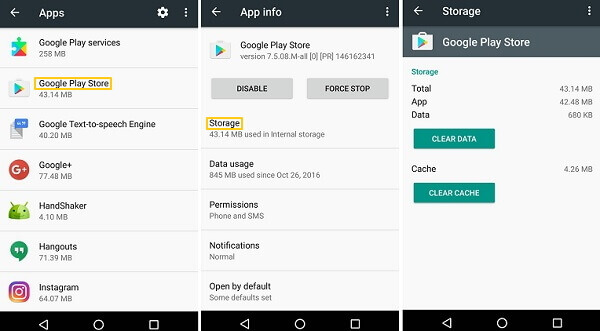 2. Uninstall updates for Play Store to fix error 963
If the error occurs after you updated Play Store to a newer version, rolling back the update should fix the issue for you.
Head to Settings > Apps & notifications > Google Play Store > Storage, tap on the three-dots at the top-right corner, and select Uninstall updates.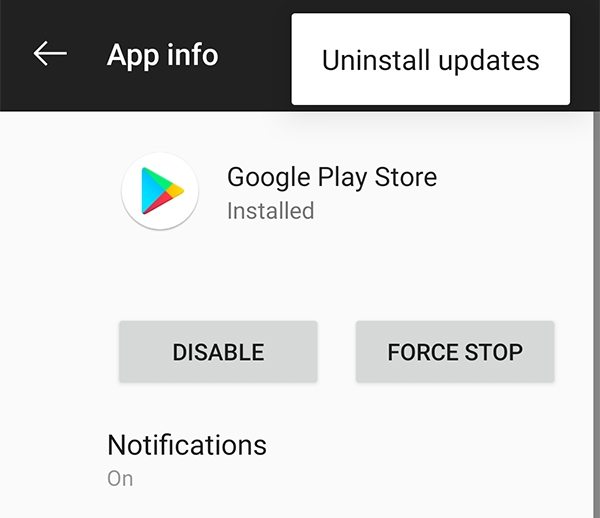 3. Download the App to internal Storage
If you were downloading apps to your SD card, you now want to make sure you are downloading them to your internal storage.
4. Unmount your external Memory Card
External memory cards could sometimes cause issues and so it is best you unmount them while you update or download apps. This can be done from the Settings app on your device.
5. Remove and Re-add your Google account
While your Google account is likely not the reason of the issue, you can try removing and re-adding it to your phone to see if that helps resolve the issue.
Head to Settings > Accounts > [your-google-account] and tap on Remove Account. Then, follow the steps to re-add your account.
6. Reset Network Settings to Fix Error 963
You will want to try resetting the network settings to see if it fixes the error 963 Android. Go to Settings > System > Reset options on your device and tap on Reset Wi-Fi, mobile & Bluetooth.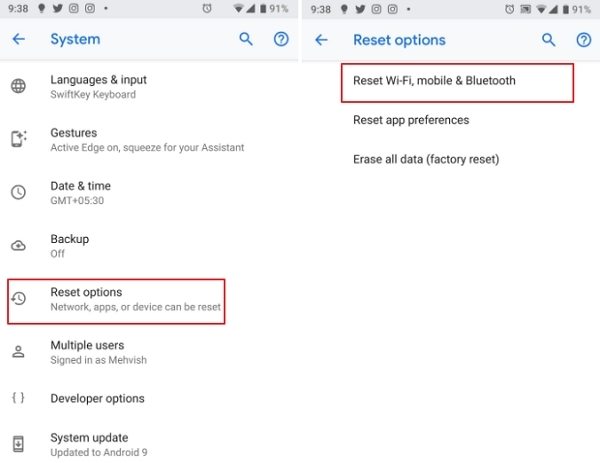 7. Reset the factory settings on Android
Factory reset should be your last resort if nothing works. Open Settings, tap on System, tap on Reset options, and select Erase all data (factory reset).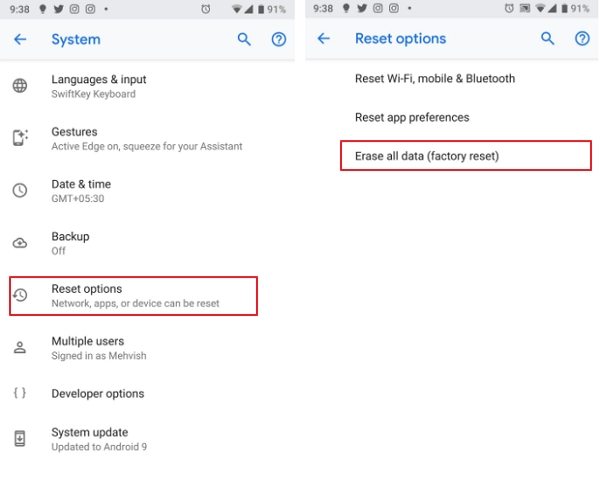 One Click to Fix Error Code 963 on Android by Repairing Android OS
If you do not want the hassle of following multiple methods to fix the aforementioned error on your Android device, you can use a software like ReiBoot to easily fix the issue on your device. ReiBoot for Android. makes fixing a number of issues easier on Android devices. Its Repair Android System option lets you resolve pretty much any problem you could ever face on your Android phone.
Download and open the software on your computer. Connect your phone to your computer and click on Repair Android System in the software.

Connect Android Device

Select Repair Now on the screen that follows.

Repair Now

Fill-in your device information on the following screen and hit Next to download firmware package.

Download Firmware Package

Wait while the software downloads the firmware to your computer and click on Repair Now to begin repairing your phone.

Start Repair
Conclusion
If you ever get Android error 963 on your device, you now know what to do to get rid of it on your phone. There are various ways to fix the issue as shown in our guide above. ReiBoot for Android is a highly recommended Android system repair software if you have any Android issues or errors caused by OS error.