Why and How to Fix Play Store Download Pending Error
by Sophie Green Updated on 2020-03-03 / Update for Fix Android
I am trying to download an app but play store showing download pending problem. I have already tried your given solution but that won't work. So please help me ASAP."
Although Android allows you to download and install apps from any sources, most users prefer to download apps from the official Google Play Store. If you have also been doing it for quite some time, you may have likely encountered at least a few issues while getting apps. One of the issues you could face while using Google Play Store is Play Store download pending.
Basically, what happens is that when you tap on the download button for an app on the Play Store, your download stays stuck and remains pending. This Google Play download pending issue has affected a large number of users, and if you are one of them, you might want to learn how to get it fixed on your device.
There are actually multiple ways to get around the download pending issue on Google Play Store. The following guide explains why you get the issue on your device and what you can do to fix it.
Part 1. Why I Get Play Store Download Pending Error?
There could be various reasons as to why you have the Google Play Store download pending issue on your phone or tablet. This section lists out some of the possible reasons of the issue.
Apps updating at the same time
Slow or no Wi-Fi connection
Lack of storage on your phone or SD card
Cumulated app cache
Part 2. How to Fix Google Play Store Download Pending?
Now that you are aware of the possible reasons of why there is Android download pending issue on your device, let us take a look at some of the methods to get rid of the issue. Try out the following methods and see if they help you resolve the download pending on Play Store problem on your phone.
1. Cancel Current Downloads and Updates
If multiple of your apps are getting updated at the same time, it can cause new app downloads to remain pending.
The first thing you will want to do is cancel all of your current downloads. Then, ensure none of your apps are being updated. Once that is done, try to download the app you wanted and it should go through without any issues.
Go to Google Play > Menu > My apps & games.You will see which applications are in the process of being updated or downloaded.

Press the X next to them to cancel the download.

Pic 1. Cancel current downloads
2. Check Your Wi-Fi Connection
An inactive WiFi connection could also cause the download pending Android issue on your phone. You need to make sure your WiFi works as an inactive connection will not let you download any apps. If the WiFi you are using is slow, restart your modem to speed up it. If it's not working and Google Play is still not downloading your app or game, switch to data temporarily.
Go to the Play Store and then tap on the menu button in the upper left corner (three lines).

Go to Settings > App download preference > Over any network.

Pic 2. Over Any Network
3. Clear Google Play app cache and data
Cache files for the Google Play Store and similar apps could also cause the issue on your device. Google Play is listed as a normal app in your phone's settings, and you should try clearing its cache and data to see if it helps fix the issue.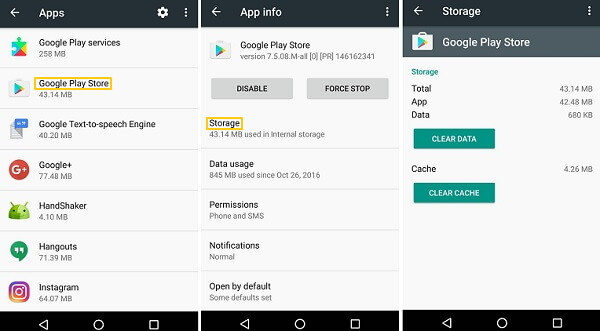 Head to Settings > Apps & notifications > Google Play Store > Storage and tap on Clear Storage followed by Clear Cache.
4. Clear Play Services and Download Manager app cache and data
You should clear the cache files and data for the Play Services app. Head to Settings > Apps & notifications > Google Play services > Storage and tap on Clear Storage and then Clear Cache.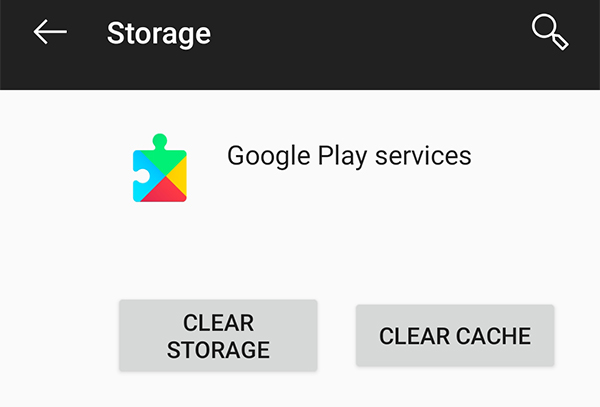 5. Change your Google account
The issue may be due to your Google account as well and so you should try changing it to another account and see if that works.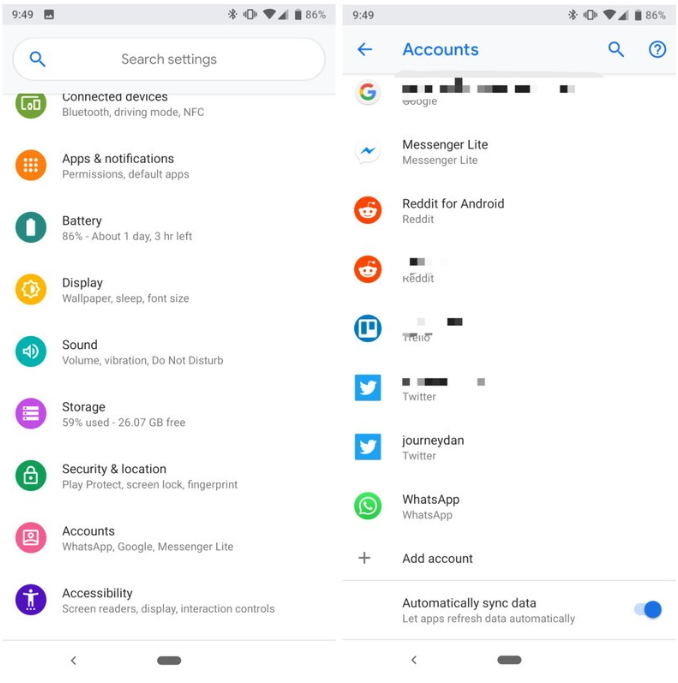 Open Settings, tap on Accounts, and select Add account to add a new account to your phone. That should likely fix the Play Store stuck on download pending issue for you.
6. Uninstall and reinstall Play Store updates
If the issue has surfaced only recently, it may be due to a Play Store update that is installed on your device. Uninstalling the update should fix it for you.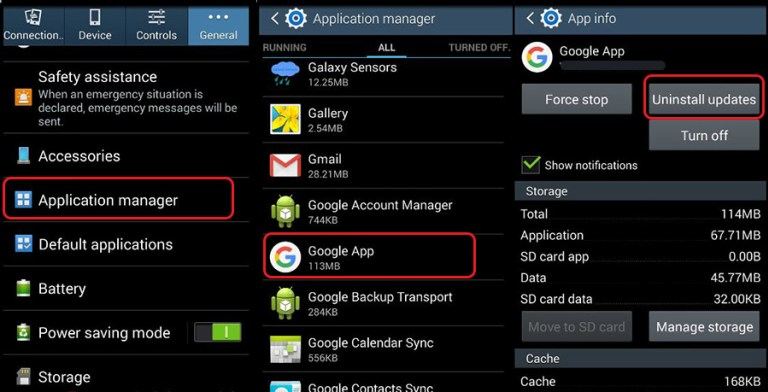 Head to Settings > Apps & notifications > Google Play Store, tap on the three-dots at the top-right corner, and select Uninstall updates. Your Play Store showing download pending issue should now be resolved.
7. Check your storage and SD card
An app requires a certain amount of storage on your device. If you do not have it, you are likely going to face the aforesaid error on your device. If you suspect the issue is being caused because you do not have enough space on your phone, you can check and verify it for yourself in the Settings app.
Open Settings and tap on Storage. You should see all the details you ever need to know about your storage.
8. Reset App Preferences
You can try resetting the app preferences on your Android device. It might help you resolve your issue on your phone.
Open Settings, select Apps & notifications, tap on the three-dots at the top-right corner, and choose Reset app preferences.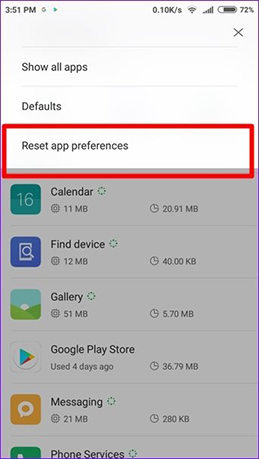 9. One click to clear System Caches
System cache is often the cause of many issues on Android devices. Luckily, you can get rid of it in a few clicks using Tenorshare ReiBoot for Android. It lets you clear the cache files on your Android device with ease. All it basically requires you to do is connect your phone to your computer and select an option in the software. It then does what it needs to do to clear your cache. You can use it as the following to fix the Google Play stuck on download pending issue on your phone.
Download and install the software on your computer. Launch the software and click on One-Click to Clear System Cache.

Image 1. Clear system cache

Wait for it to clear the cached data on your device.

Image 2. Clearing the cached data

Click on Done when the cache is cleared.

Image 3. Completely clear data
10. Check for Android Update
Still have the download pending error? Sometimes an update or security patch might be all that's needed. If there is an Android OS update available for your device, it is highly recommended you install it to fix any issues on your phone. Head to Settings > System > Software updates to find and install updates on your phone.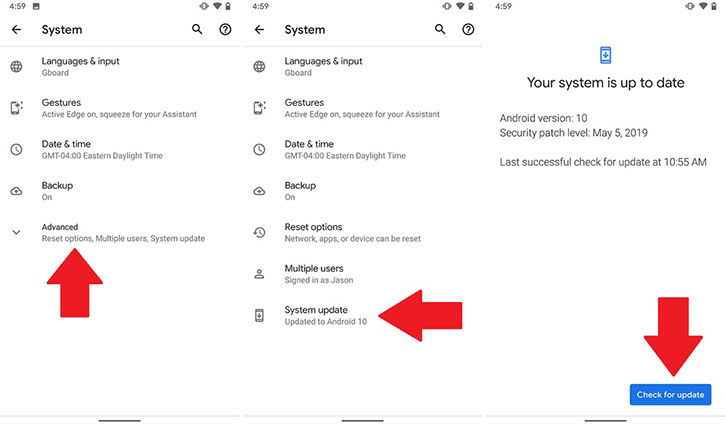 Conclusion
Download pending on Google Play prevents you from installing new apps on your device. If you too are suffering from this issue, the above methods will help you fix it on your phone. Then, you are free to download and install any apps you want from the Google Play Store on your device. You can make a further reading if you need to know how to fix error 963 on Google play, Google Play error 505.