4 Ways to Erase iPhone/iPad/iPod
by Anna Sherry Updated on 2021-09-24 / Update for Reset iPhone
Selling your iPhone and getting the latest device? Planning to trade your iPhone shouldn't be a task if you clean your stuff and then sell it off. However, if you forget your iCloud credentials and do not know how to erase iPhone without password then chill! We will assist you with a handful of efficient ways on how to erase iPhone without the need of iCloud password! Oh, yes! You read it right! Stay tuned!
Discuss Before Erasing: When Should We Erase iPhone?
If you are decided to sell, give away or trade in your iPhone/iPad, you should erase all your personal information. (Note: Please backup your data first.) What's more, the only thing you can do is to erase you device if it is locked or disabled. In this post, we will guide you how to erase iPhone or iPad in 4 different ways.
Way 1: Erase iPhone on Device Directly
The easiest of all ways is to erase iPhone right from your device only. Just a tap and all your data will be cleared off completely without passcode! Here is how you can erase iPhone without passcode.
Get hold of your iPhone and go to the main menu. Search for 'Settings' icon and tap it. Now, look out for 'General'.
Select the 'Reset' option under General followed by clicking on 'Erase All Contents and Settings'. And there you go! Within a minute, your data will be erased!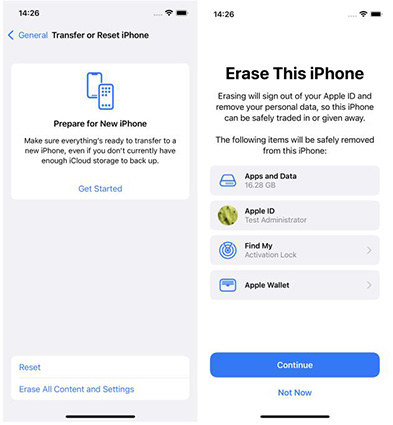 Way 2: How to Erase iPhone without Passcode/iTunes or iCloud Password
Essentially, Tenorshare 4uKey is by far the ultimate software for fully erasing the contents from your iPhone without the need of passcode! So whether it's your Mac system or Windows system, 4uKey manages to run equally well on both and derive out the results and does it effectively! Moreover, it also caters to bypass any security locks like passcode, passwords, FaceID or Touch ID with ease!
Well these were the insights on Tenorshare 4uKey which we hope you are through with. Now, let's understand how 4uKey is useful in erasing iPhone without password or iCloud passcode! Just, follow down the step by step manual mentioned right below.
Step 1 To begin with, head on to the main website of Tenorshare 4uKey to download it over your working system. Allow the program to load on your system.
Step 2 Now make use of a lightning cable to establish a firm connection of your iPhone with respect to your computer. Go to the program, and you will see your iPhone automatically detected by 4uKey. Simply, select 'Start' button to head on with removing data!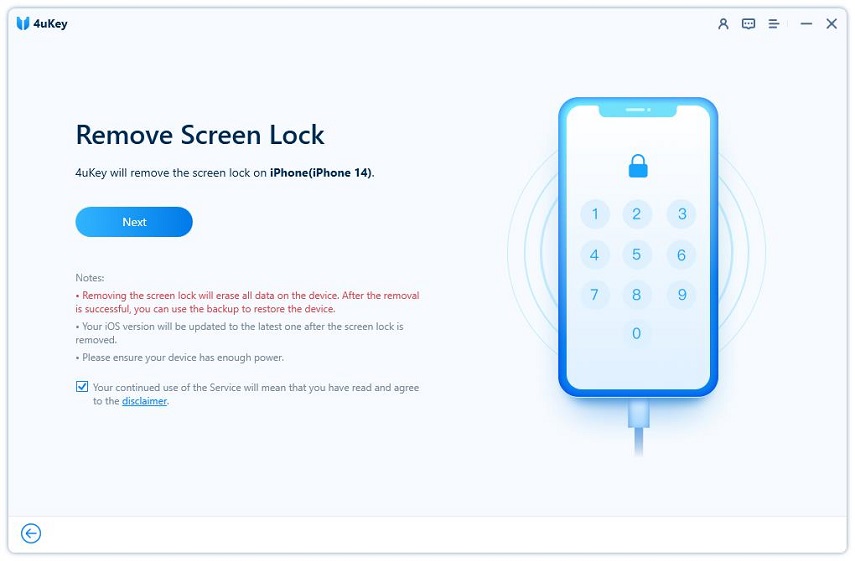 Step 3 The upcoming page will load a firmware package which you must download for further execution on your iPhone. Ensure to select the path and then hit 'Download' button.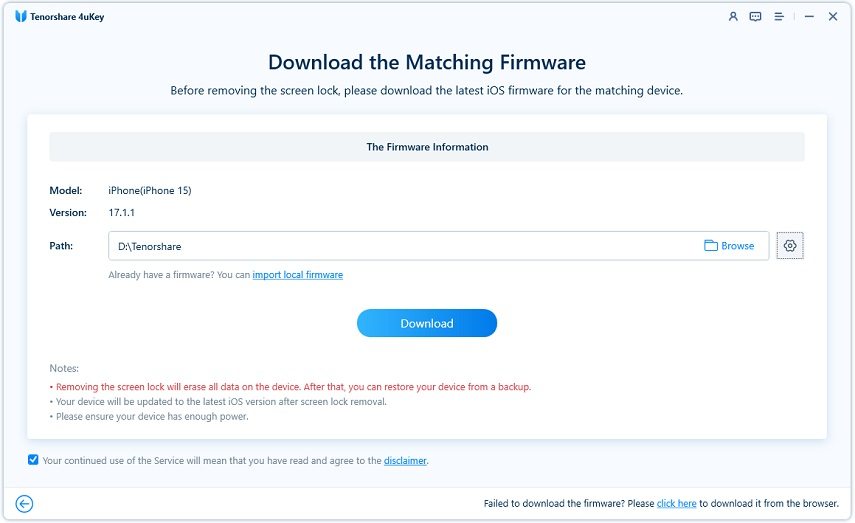 Step 4 If the firmware package loads, click on 'Start Unlock' button to bypass from your iPhone.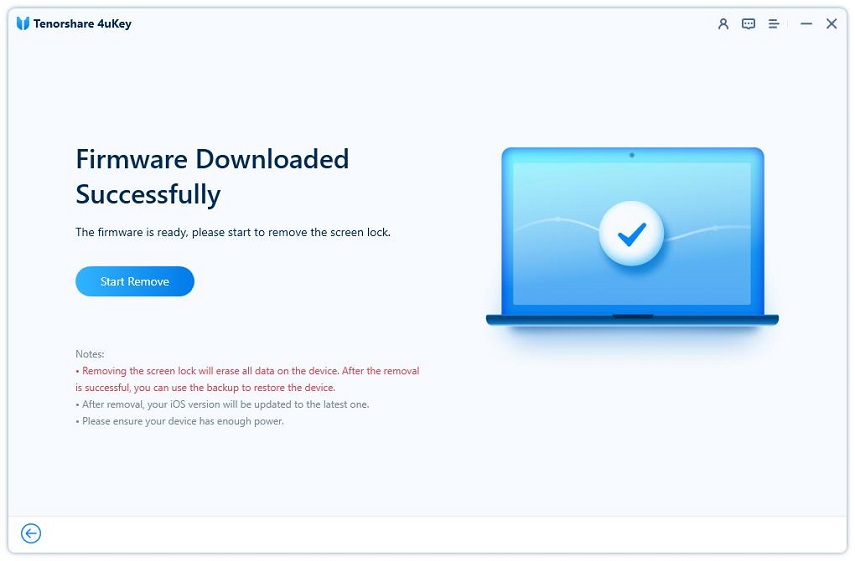 Step 5 Once you have completed resetting iPhone's passcode, you can now erase iPhone without password. Simply, reset all the security walls like passcode, Touch ID, Face ID or any other stuff. Moreover, even restore your iPhone using iTunes/iCloud backup too!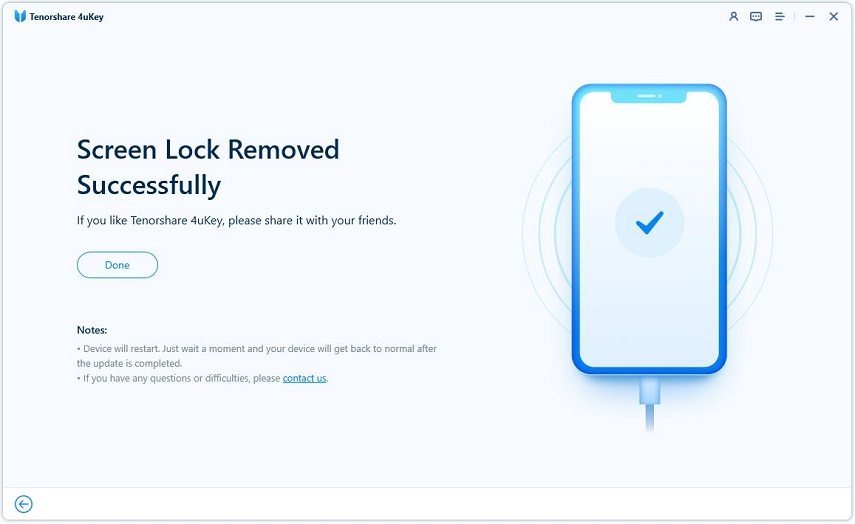 Tip: How to Set up iPhone after Erasing
Here is the quick guide to set up your iPhone.
Turn on your device and get to the welcome screen or 'Hello' screen.
Choose language, country and Wi-Fi network.
Set Touch ID or Face ID.
Restore Data if you want and sign in with Apple credentials.
Set other services according to the needs until you get to the Home screen.
Way 3: How to Erase iPhone from iTunes
You can simply erase iPhone without password with the help of iTunes as well. Just follow down the line of steps mentioned below.
All you have to do is, load the latest version of iTunes on your pre-synced iTunes system. Then, draw connection of your device with system using a lightning cable.
Go to the main page of iTunes and select the iPhone icon.
The dashboard enlisting user's profiles will be visible. Simply, click on 'Summary' from the left panel and then click on 'Restore iPhone'.

Within a fraction of moments, your iPhone will be erased without the need of iCloud password.
Way 4: Erase iPhone with iCloud Find My iPhone
The iCloud is a cloud service of Apple that not only maintains backup of your device, you can even have thought to erase iPhone with iCloud too! It's with the feature of Find My iPhone of iCloud, which executes erasing your iPhone with ease. Here is how:
Firstly, visit the official website of iCloud and sign into your iCloud with its respective credentials.
Once your account loads, locate for 'Find My iPhone' feature and the location of your iPhone will appear.
All you have to do is, select the 'All Devices' tab followed by selecting your locked iPhone visible on the drop down menu.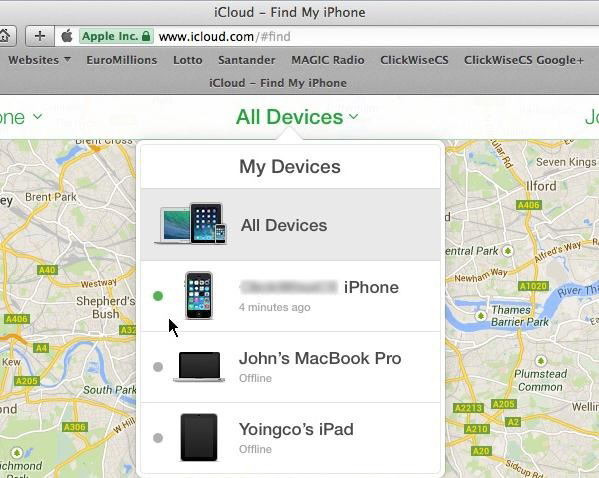 Once you have selected your iPhone, just hit the 'Erase iPhone' button and there you go! You will erase your iPhone this way!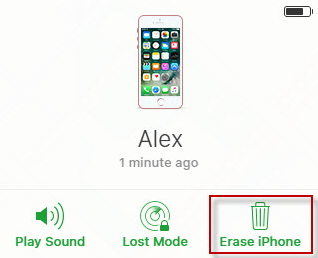 Bottom Line
Better to be safe, than sorry! So, before handing out your iPhone or even trading it, it's imperative to erase the iPhone contents right away! Although, there are couple of methods to facilitate this, but Tenorshare 4uKey stands as a viable option. For it, bypasses locked screens, resets passwords in a way easier manner. We hope now you know everything about erasing iPhone iPhone 13/13 Pro/13 mini/12/11/XS/X/8/7/6S without password.