2023 Best 10 iPhone Password Managers
by Anna Sherry Updated on 2021-12-30 / Update for Password Manage
It is very important to sort out and organize all your passwords and personal details. These are very necessary stuff, as you are always online and using them to pay via the internet, these personal information falls under risk too. It is possible that you have forgotten such important detail or they just need to be secured in case of unwarranted access.
So, in order to stay secure on your iPhone, a password manager is required. And not just any password manager app will do, you need the best password manager app. There are actually several of them available but not all of them are as secure as advertised. So, in order to help you with this confusion we have listed the best password manager from our perspective and also included 9 other very popular password manager apps as well. Take a look;
1. 4uKey - Password Manager
If you were looking for a good password manager for your iPhone, then look no more. Tenorshare has provided the best password manager programs and it is called 4uKey Password Manager.This password manager awed users all over the globe with its exceptional performance and state of the art security. This program basically on all of the password solutions for iOS. Any damaging procedures like jailbreaking is not required for the installation of this program.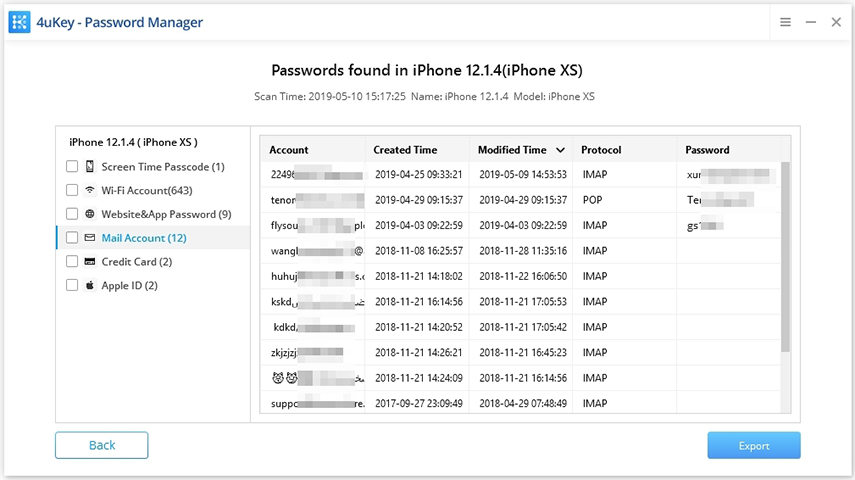 It is capable of finding the Wi-Fi password on your Mac, iPhone or iPad without jailbreaking.
All the app login passwords and stored websites are completely recoverable.
Recover Screen Time passcode on iPhone&iPad.
You can scan and preview the mail accounts and even credit card information.
You can find your Apple ID saved on your device.
Password is transferable to other iOS password manager apps like iPassword or LastPass or Dashlane.
2. LastPass
LastPass is trusted by a lot of users as one of the most effective password managers' ever. It is packed with features. Its functionality and the strict security put it apart from other password managers of this generation. Apart from storing all your passwords, credit card PINs and IDs, this iOS password manager is also capable of filling up your credentials after you have confirmed your identity using touch or Face ID. A password generator is also added, to generate strong and unique passwords.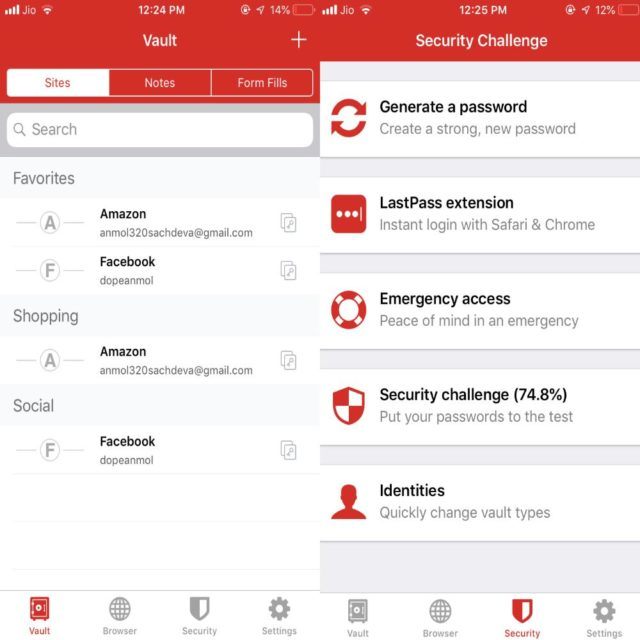 The AES-256 encryption is used on this app. So, you can be sure that all your IDs and password are safe. They are simply inaccessible without Touch ID or Face ID.
Multiple authentication factors are added, in order to ensure that your password is not accessed by anyone other than yourself.
All your passwords can be accessed from different devices.
A free trial of LastPass is available but it is only for 30 days. But you have to purchase the app for the premium version at a price of $3 per month.
3. 1Password
1Password is a very reputed and one of the best password manager for iPhone. It has some exclusive security features, it also helps you to store and manage numerous passwords, credit card PINs, addresses, etc. Everything is properly organized and you can even generate passwords with this app. The generated passwords are very strong and very unique. All these attachments make this app one of the best password management apps in the business.
All the passwords are accessible from different devices with 1Password.
You will be able to create pass-phrases designated for your online accounts. These will work as hints and they can be memorized very easily.
1Password stores all your logins, credit cards, bank account details, driver license, notes, etc. All these files are perfectly categorized.
The app searching is excellent, hassle-free.
Passwords, documents, notes, etc. basically, all your important stored stuff can be shared with the members of your family, if you wish.

1Password comes with a month of the trial period, this free version is packed with all the features. But after that free trial, 1Password will cost $2.99 on a monthly basis for a single account and $4.99 for 5 accounts in total.
4. Dashlane
Dashlane, another great iPhone password manager. It has numerous useful features and all the functions work properly. It comes with a very unusual feature, called "Password Changer". This feature allows the user to update or replace their password with a more secure and stronger password. Numerous websites are in sync with this feature. Using Dashlane will also enhance security for online purchases.
Dashlane comes with a very neat and attractive interface.
You will have access to numerous useful features.
If you purchase the premium version, then you can sync your passwords across different devices.
A notification alert is also available if the website you have used and stored your password gets compromised.
There is a free version of Dashlane available online and it has several features. But if you are looking for encrypted cloud backup or unlimited password sharing, you have to get the premium version and it will cost you $3.33 per month.
5. Keeper
Keeper is another exceptional addition to this list. It is considered one of the best password manager app for iPhone. This app not only stores your passwords but also your documents, files, and even photos; this is kind of an all-purpose vault for you, and it is available for free. This is a certified program and it is secured with AES-256 and PBKDF2, so this is the safest place to store your files. It is also packed with numerous feature which helped Keeper to get established as one of the best password manager apps.
It keeps all your devices connected. So, your passwords can be accessed from all your devices like mobile, tablets and even computers.
All the stored passwords can be shared with the people you are acquainted with.
You can also customize and create your own logout timer.
Considered one of the best password generators of this niche.
This is basically a free password manager but it has a Personal version which costs $29.99 a year and the Family version will cost you $59.99 per year.
6. RoboForm
RoboForm is one of the best free password manager for iPhone. It has a good clean interface and it is user-friendly. Multiplatform support for the app is available. This is also one of the oldest password manager apps ever to hit the market. Features like unlimited password storing, auto-filling of web forms, 1-click logins are available.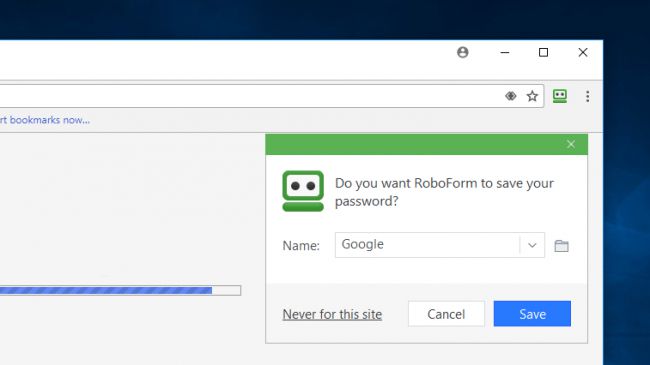 It captures the password automatically.
Creates folders for managing passwords.
You will be able to access your password via this app even when you are offline.
Looks or searches for passwords very fast.

A free version of this app is available and it can store unlimited passwords, automatically. The family version will cost $3.98 but it is billed annually.
7. iCloud Keychain
The iCloud Keychain is a password manager app developed by Apple. This Apple password manager is included in the OS X. This app is very simple, it is a simple database for all your private information.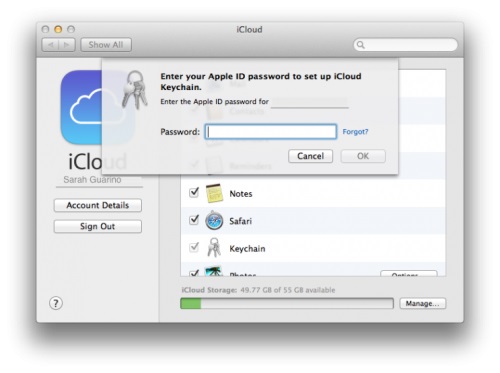 It is a free option for all Mac users.
This app is customizable, you can customize as per your requirement.
It supports Chrome and all version of Safari.
This app is available for all iOS users.
8. Sticky Password
Sticky Password is a great name among the password manager apps. It has some of the most amazing features and supports all the popular browsers. The Sticky password app is capable of autofill, form filling, password management, and it even support fingerprints. There is a free version of the app available for the premium version if not free.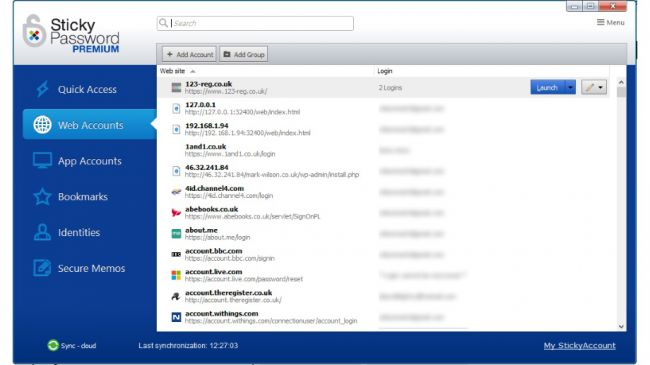 One of the bets password generators in the industry.
The vault where the app stores all your numbers, passwords is highly encrypted and it also supports 1-click payments.
It can share passwords in a very secure way.
More than 15 browsers are compatible.
Sticky Password costs $14.99 per year for one user and a total of $74.98 to buy the lifetime license for one user.
9. Enpass Password Manager
Enpass is one of the best password manager iOS. This is a free app and it is packed with features. It uses different techniques to makes sure the safety of your personal details. It is equipped with cloud backup, fingerprint support, password generator, data import, etc.
This app is equipped with SQLCipher 256-bit AES encryption. SO, it is very secure.
One time passwords are available but they are completely time sensitive.
Enpass does not store the password on their servers.
It has its own password vault for storing your personal information.
A free version of this app is available but the Premium version costs $11.99.
10. Symantec Norton Password Manager
Symantec Norton Password Manager is a good and reliable password manager app for iOS devices. It is safe and effective and packs numerous features. The password vault of this app is very secure, here you will be able to store your personal information very easily and also supports 1-click access.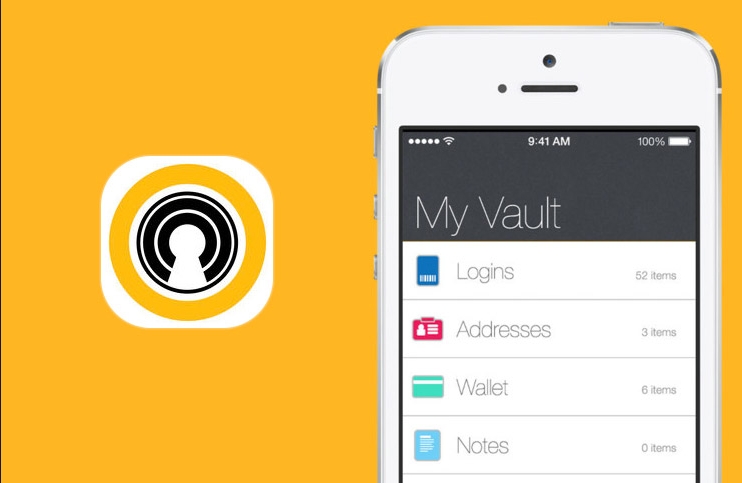 This is a safe web-filter.
Alerts you regarding any malicious web page.
A very complex and reliable password generator.
If your password is at risk then it gets changed automatically.
This password manager app is available for free.
Conclusion
All these are great and exceptional password manager program. They are very secure and packed with extremely useful features. None the less, if you are looking for the best password manager app for the iOS then our answer is simple. It is the first one on the list and it is called Tenorshare 4uKey.