"I have an at&t iPhone 6s running iOS 10.1.1. Whenever I turn on Wi-Fi networks or make a call or turn off cellular data,my iPhone keeps asking me for my voicemail password.I remember making one but when I try the password it doesn't work."
This might happen when you enter your messagesafter you restored iPhone, updated to the newest iOS, reset all settings, etc. Most probably, it's caused by some cache files deep in the system. When your iPhone is repeatedly asking for Voicemail password, don't panic. Totally, there're 3 ways to reset voicemail password on iPhone as listed below.
3 Ways to Reset Voicemail Password on iPhone 7/6s/6/5/SE
1. Reset Voicemail Password through iPhone
Go to Settings > Phone > Change Voicemail Password. You can then follow the prompts to change your Voicemail password.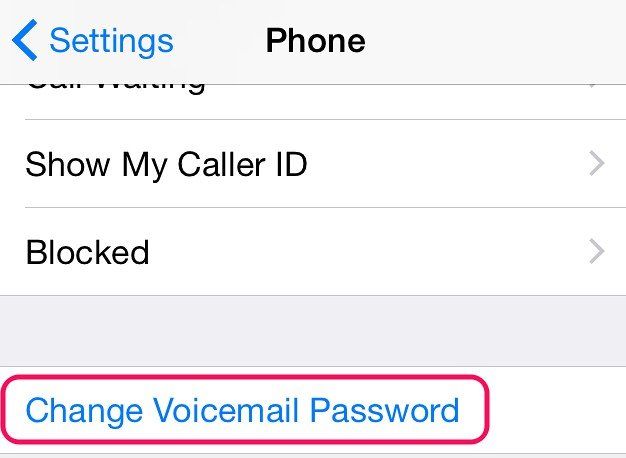 If you forget your voicemail password, you will not likely to reset it from your iPhone. You need to contact your carrier to reset your password.
2. Use Automated System to Reset Password (Call 611)
Call 611 and enter the wireless number starting with area code.
Press 3 to "get help with voicemail."
Press 3 to reset your VM password.
Enter the Billing Zip code for your account.
In a few seconds, iPhone will prompt you the message "Password Incorrect - Enter Voicemail Password."
Enter the last seven digits of the wireless phone number and tap OK.
The prompt will stop appearing. If the 611 Automatic System does not work for your carrier, you can head to your carrier's official website if youriPhone 6s keeps asking for voicemail password.
3. Reset voicemail password from your carrier's website
For AT&T iPhone
From the myWireless Account home page, select Phone/Device then choose the Reset Voice Mail PIN link from the left column.
Note: If there is more than one line on the account, make sure the correct wireless number is displayed in the Wireless Number list before selecting Reset Voice Mail PIN.
To reset the password for any of the lines on the account, choose a wireless number from the dropdown menu and click Submit.
In a while, iPhone will display "Password Incorrect - Enter Voicemail Password." Enter the last seven digits of the wireless phone number and tap OK.
For Verizon iPhone
Log into My Verizon with your cell phone number and password. If you've set up a username, use the username instead of your phone number.
Select My Verizon> Reset Voice Mail Password.
Choose your cell phone number from the drop-down menu, and thenclick on "I Will Create My Own Password."
Enter and confirm your new password. Click on "Submit" to save the change.
For Sprint iPhone
Sign in to My Sprint with your username and password.
Click"My preferences" tab. Under Things I can manage online, click on Change voicemail passcode.
Enter your new passcode and confirm.
Tap Save and you will get a message informing you the new password has been saved.
After you reset iPhone voicemail password, you will be able to receive new voicemail messages. Besides the "iPhone Keeps Asking for Voicemail Password" error, I believe you would could across a lot of iPhone error or stuck. I think it would be safe to have a tool like Tenorshare ReiBoot at hand, so that you can fix iOS stuck and repair iOS system all by yourself.
Free Download
For Win 10/8.1/8/7/XP
Secure Download
Free Download
For macOS 10.13 and below
Secure Download
Related Articles
comments powered by