2 Ways to Recover When You Forgot iCloud Password
by Jenefey Aaron Updated on 2019-07-25 / Update for iPhone Tips
Forgetting a password is always annoying. But forgetting something important like your iCloud password can be not only annoying but can stand in the way of your work. Although commonly your iCloud password is the same as your Apple ID, sometimes this isn't the case and while you might recall your IS your iCloud password eludes you.
Now of course, if you are afraid that you forget iCloud password, you should always write down any passwords, on paper, in a book, in your house. The threat to your passwords is not from people coming to your house and finding your passwords. The threat is from people obtaining your passwords digitally. You can't after all hack a piece of paper remotely.
Ok so late advice aside, how to do when you forgot iCloud password?
Way 1: Forgot iCloud Password? How to Recover?
Have you ever forgotten your iCloud password which allowed you not to access your backup files? Is there a simple way to find it back when you forgot iCloud password and cannot access email? Here 4uKey - iOS Password Manager is recommended for you to fix headaches. Here are the details about how to recover iCloud password.
Step 1 Download and install 4uKey - iOS Password Manager on your computer, launch the program to get started. Connect your iPhone/iPad to computer with the USB cable.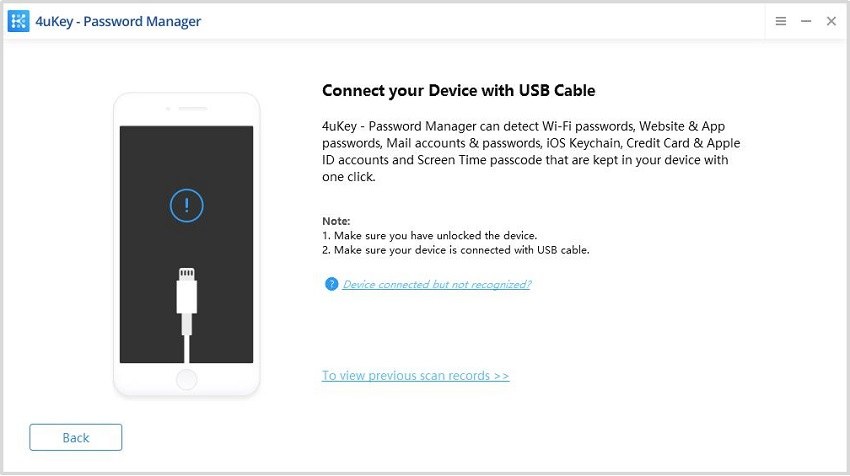 Step 2 The software will detect your device automatically and display your device information. Click "Start Scan" button to scan and find all passwords stored on your device.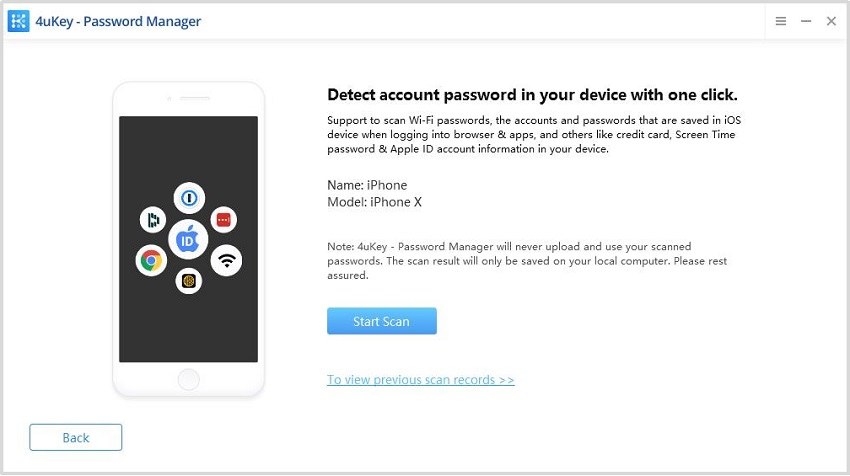 It may take some time, but please keep calm and wait until the scanning process is finished.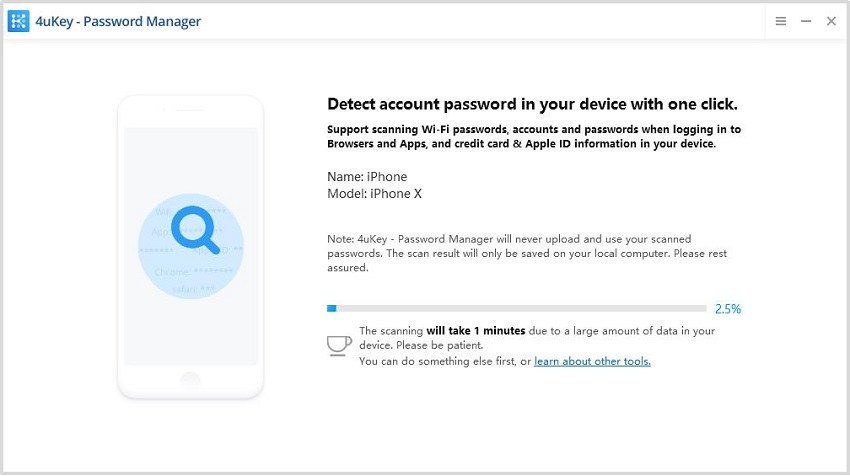 Step 3 After scanning, all the accounts and passwords of Wi-Fi, saved websites in Safari, apps, mails, credit card and Apple ID will be displayed by category.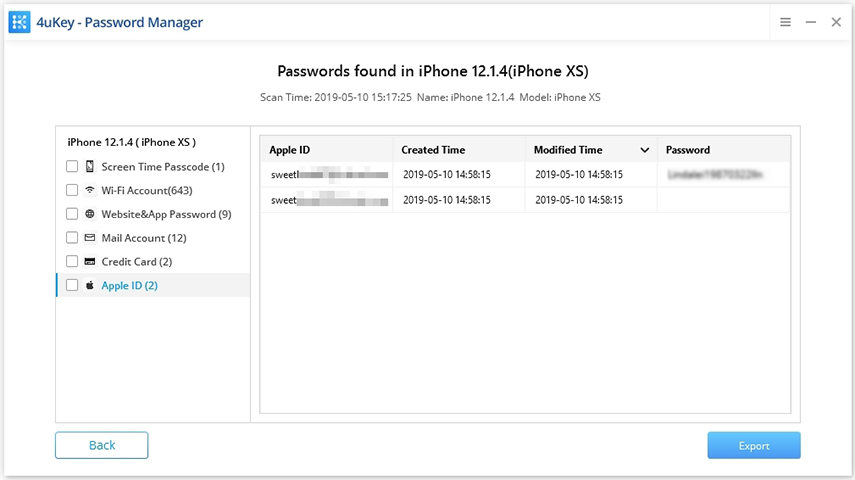 You can also preview and click "Export" button to transfer them to 1Passsword, Chrome, Dashlane, LastPass, Keeper or .csv files.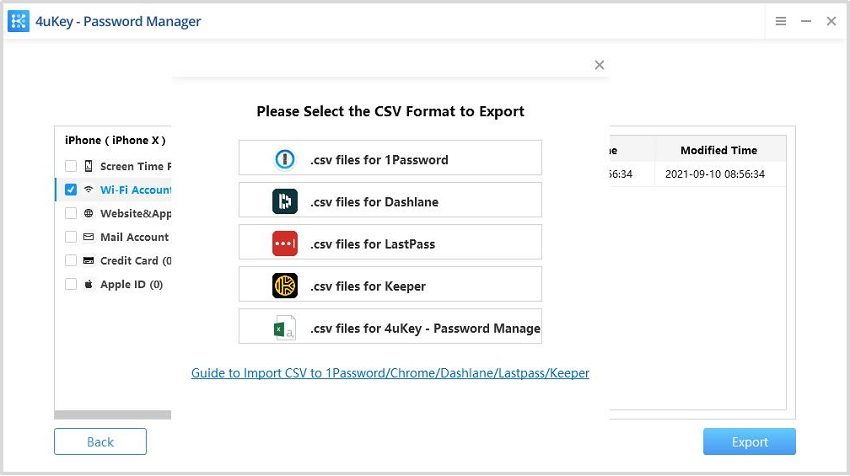 Way 2: Process of iCloud Password Reset
Well, it's actually quite simple once you know the procedure. You can learn about how to reset iCloud password from the official Apple ID website in following steps:
First of all open up a browser and go to appleid.apple.com. There you will see the following screen:

You see the small letters under your Apple ID login? Click on those. Now you will see the next screen. There you can verify your Apple ID.

After typing in your Apple ID, you are taken to a screen where you can reset passwords.

Select reset password. The password will be sent to your alternate email address, not the one you used to sign in. Obviously if your Apple ID was compromised and someone used that to sign in, you could then sign into iCloud too. So it's smart to have them as separate IDs.

Now you can go to your alternate email account and pick up an email with a reset link for your account.

So what if the email doesn't come through? Does that mean your account is locked forever? Of course not. Go back to the Apple ID website and sign in again as before. This time when you get to the choices choose security questions instead of email. Once you have passed the security you can change iCloud password!

Now you can return to iCloud and login with your new password.
Conclusion
Hopefully, this will solve all your questions and confusions regarding how to reset iCloud password. After reading this article you will surely get to know how to recover the lost iCloud password and ID from various sources.With the comparison above, we can clearly see that 4uKey - iOS Password Manager is the most simply way for you to recover your iCloud password back without any data loss. It can not only just find your iCloud password back but others which stored on your iPhone and iPad. And in this way, you don't even need to offer your Apple ID like the second method mentioned above.
Last but not least, this is a note for you. People are very easy to forget passwords, so make sure you don't trust them to your memory. Please write them down for the best reminders or just use 4uKey - iOS Password Manager mentioned above are ones you have to hand. You may interested in how to factory reset iPhone without Apple ID password.