[Solved!] How to Fix This Mac is Linked to An Apple ID
by Jenefey Aaron Updated on 2021-07-14 / Update for Mac OS
Hello there! I'm trying to log in to my Mac with another Apple ID, but it is denying the login request saying, "This Mac is linked to an Apple ID." The issue is that I have forgotten my original Apple ID password, and I couldn't sign into it anymore due to constantly entering the wrong passwords. Is there any solution I can fix and reactivate my Mac as I desperately need to sell it? And it seems to have stuck with my Apple ID I no longer remember. Please, help me out."
Hey Sir! We have noted down your issue, and this blog will help you in sorting out your ID login issue and fixing the Apple Linked account on your Mac, so scroll down for the complete procedure.
Part 1: Why This Mac is Linked to an Apple ID?
So our customer asked us: Why is this Mac linked to a different Apple ID? Well, there are multiple reasons why your Apple ID is linked to your Mac. The first one is that it was the default Apple ID you signed in to your Mac. Your iCloud is linked to this laptop, and due to strict Apple Privacy reasons, it cannot remove the Apple ID from the laptop unless you remove it from iCloud.
So, if you want to unlink your Apple ID from the laptop, then you first need to login to your iCloud, remove the Mac from the list of linked devices and then move forward to logging out. Another reason is that you have forgotten your Apple ID's password, and you cannot recover it because you have forgotten the security questions or any other alternate form of recovery.
Signing in, again and again, would lock your ID, and your Mac would not accept any other Apple ID, making your Mac completely unusable. You will get a "Server Error" message if you try signing in again. But, don't worry, there is always a solution for Apple ID-linked accounts.
Part 2: How to Fix This Mac is Linked to an Apple ID?
If you get the message that "This Mac is linked to an Apple ID." Bypassing it would be the first priority you would do. Here are some of the things you can try to fix the Apple ID linking to your Mac.
Way 1: Reset Apple ID Using Any Trusted iDevices
If you have your Apple ID locked and you want to reset it, then you can take the help of any friend or family member by using their trusted iDevices. You must ensure that your two-factor authentication is turned on; otherwise, this method wouldn't work.
It works like this: You sign in to the new device, you enter a password and 6-digit verification code. Then you enter and trust a device. You can trust any friend's device or a family one. You wouldn't need verification from the device again to log in, and you can easily reset the password.
Here's what you need to do:
Go to Apple's Support app, which is for forgotten passwords. Enter your linked Apple ID there and click on Continue.
A list of associated phone numbers would display. You can put the phone number you used for your Apple ID and click Continue.
Your trusted devices would notify you of the login. You can tap "Allow" in the Reset Password.
You can enter your macOS admin password and click on Continue. Then you can re-enter another Apple ID password. After verification, your Apple ID's password will change. The "This Mac is linked to a different Apple ID" message would stop displaying.
Way 2. Request for Account Recovery
A customer asked us: "How do I bypass activation lock on Macbook Pro?" Well, you can ask for a request to recover your account. It's easy!
Go to the iForgot website. The website will ask for as much information as necessary to recover your Apple ID. They would verify the account is yours.
The process can take quite a long time for verification. Once you are verified, Apple Support will send a confirmation email. It will include the date and time when you can access the account.
Recover your ID with another device, preferably. Once you submit your recovery request, avoid using other devices linked with your Apple ID. iForgot will tell you the time left for your recovery. You can, meanwhile, try your luck to log in again; it might help.
Once done, you will receive a call or message from Apple Support. The instructions would be provided, so follow them to recover the account. Your account will be back in no time.
Part 3: This iPhone/iPad is Linked to an Apple ID, How to Fix?
If your iPhone/iPad is linked to an Apple ID, then you can fix it easily.
3.1 What Does This Message Mean?
This message means that your iPhone or iPad has been factory reset without turnning off Find My iPhone. And your iPhone is stuck on Activation Lock. You cannot activate unless you sign in with the original Apple ID and password.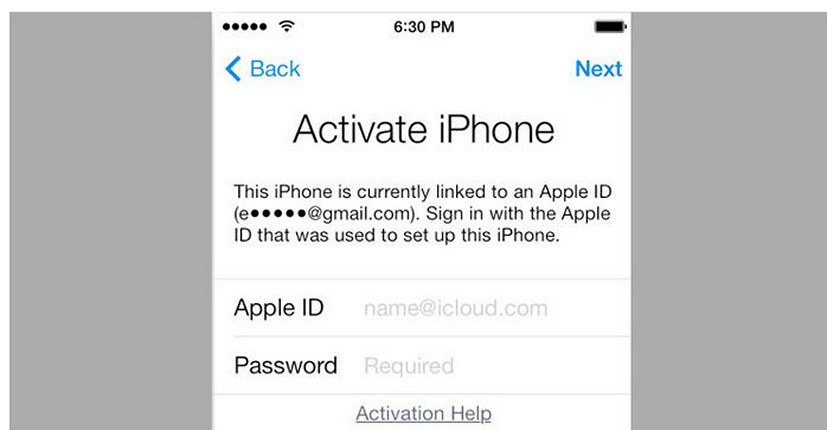 3.2 How to Get Rid of "This iPhone is linked to an Apple ID"?
If you want to get rid of the Apple ID linkage, then the Tenorshare 4MeKey tool would be of great help. It is fast, unlocks easily, and even removes iCloud.
Download/Launch 4MeKey on your PC and tap on "Remove iCloud Activation Lock."

Your iPhone will also jailbreak, so connect it to the PC, trust it, and click on "Start Jailbreak" to do it.

Once it's done, confirm your device info. Click on "Start Remove," which will remove iCloud within minutes. Note: Once you have started the process, you will not be able to send messages, do calls, etc.

However, keep in mind that all this process will require a few minutes so stay calm during the whole process.
Conclusion
If your Mac is linked to an Apple ID, then you can use Apple Support or the iForgot app to remove the issue. But, if you want to remove them fast, then use Tenorshare 4MeKey as it's free, fast, and efficient.