[No Passcode Required] How to Backup an iPhone with a Broken Screen 2023
by Sophie Green Updated on 2022-12-16 / Update for iPhone Tips
My iPhone slipped from the hand, and its screen has shattered completely. I tried to use iTunes for backing up my iPhone, but the device wasn't being recognized, so no data was backed up. Please help!"
So, all you need to know is how to backup an iPhone with a broken screen. Nobody can back up the data in the iPhone without having the proper knowledge of iTunes and the backup process. It is likely to access the data of your iPhone even after forgetting passcode or having a locked device with a broken screen. Get the right tool that we will discuss here and figure out other ways of how to get data off a broken iPhone.
Part 1: Things You Should Know Before Starting Backup iPhone with Broken Screen
An iPhone user can't backup data from it without connecting it to a computer. Your iPhone will prompt permission to trust a computer while connecting to the PC. Now, you are left with two situations for how to backup a broken iPhone. It is indispensable to know these things before starting the backup process of your broken iPhone.
Situation 1: If the Broken iPhone Have Trusted a Computer Before
When the broken iPhone have trusted a computer before, it becomes easier for you to take its backup. This permits the PC for accessing the data on your iPhone.
Situation 2: If the Broken iPhone Have Never Trusted Any Computer Before
This makes the situation complicated for you. Without granting permission to access your device, backup is impossible. Even for a once in your life, your iPhone must have been connected to a computer and trusted it. Otherwise, we have to try a different approach for knowing how to backup iPhone with broken screen and passcode.
Part 2: Top Ways on How to Backup iPhone with a Broken Screen
Way 1: How to get data off a broken iPhone with iCareFone (Work on 2 situations)
Tenorshare iCareFone is an all in one solution for iPhone users to back up your iOS device data, transmit unlimited files to iTunes, and do much more. It has the support for iOS/iPadOS 16, iPhone 14/13/12/SE (3rd) and all other latest and previous iPhone models. Windows or Mac users, the tool is available for both. Before you start wondering, here is the answer to "how can I backup my iphone with a broken screen".
Downloading Tenorshare iCareFone, connect your iPhone and unlock your device if possible, select "Backup & Restore" tap from the menu.

The subsequent thing to do is select the files that you want to back up, click on "Backup" and leave the rest on the program.

Wait for a few minutes, your data will be backed up to your computer.
Way 2: How to backup iPhone with broken screen and passcode (Trusted Computer)
1. Using iTunes
aunch iTunes, connect and wait to identify the broken iPhone. Click on the device icon provided on the top of the screen.
Click on "Summary" displayed on the left sidebar and select "This computer" present under Automatically Back Up.
To protect your backup with a password, check the "Encrypt Local Backup" box.

Click on "Back Up Now" to start, and backups will be stored on your computer or Mac.
Way 3: How to back up a broken iPhone (Never Trusted Computer)
1. Fix Screen
If your device screen has turned completely black and showing nothing, it's better to get it fixed as soon as feasible to avoid any further trouble. Repairing the screen may cost you some, but it's worth to do if you want to continue using your iPhone.
2. Using Bluetooth keyboard
Is this question is running in your mind "how to backup broken iPhone to iCloud?" Get the perfect answer here:
Connect the external keyboard to the charging port of your iOS device.
Press the "Home" button, and you will be asked to type the password. Perform this step only if there is any passcode lock setup before.
If the home button is not responding, enter the passcode using the keyboard.
Open the "Settings" application with arrow keys. Use the same keys to find your Apple ID in the "Settings" menu. Press the "Control, Option, and Space" keys simultaneously.
Navigate to the top of your Apple ID menu and choose "iCloud".
Turn on the toggle switch but only after selecting "iCloud Backup".
An alternate way of enabling iCloud backup is press "control, option, and space" keys together.

Find and Select "Backup Now" button located the bottom of the screen.

Tap "Ok" when confirmation pop up box appears on the screen.
Wait for the full backup of your iPhone.
Log in to your iCloud account and backup the files from iCloud backup.
Afterward, you can log in to your iCloud account and retrieve the required files from your iCloud backup.
3. Enable Voiceover mode
When nothing is suiting you, enable voiceover mode that allows you to use an iPhone without being able to view the screen. If your iPhone model features Face ID, then press and hold the side button for a few minutes, but if it's not there, you can use the home button to start Siri. Now, the command "Turn on Voiceover" and click the side or home button thrice. Open the "Control Center", go to "Settings" > "Accessibility" > "Voiceover" to turn it on or off.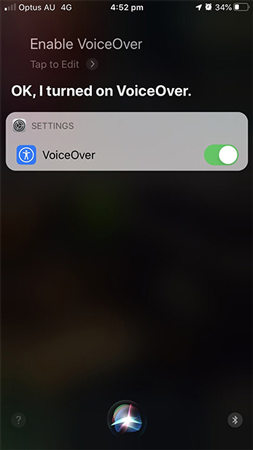 Conclusion
It's not hard to backup your iPhone when the correct tools are used, such as Tenorshare iCareFone. We expect that you have learnt iphone screen broken how to backup after going through all these. For more such technical help and solution, keep reading our blogs.
Searches Related to How to Backup an iPhone with a Broken Screen
Q1: How can I access my iPhone with a broken screen?
Utilizing the right tools and technique, you can access iPhone even after its screen is broken.
Q2: How to trust computer on iphone with broken screen
By using an external keyboard, you can trust a computer on iPhone. Or you can just change a screen.
Q3: How to backup iphone with unresponsive screen
Many times, a broken iPhone will not respond appropriately. So, you can backup this kind of device only be getting it repaired and replacing the screen.
The World's Best iOS 17 File Manager
Free backup everything you need on iPhone/iPad/iPod
Transfer music, photos, videos, contacts, SMS without limitation
Selectively restore files without erasing current data