Top 11 iPhone 12/11 Bluetooth Issues and How to Fix
by Jenefey Aaron Updated on 2020-10-23 / Update for iPhone 11
IOS 14/13.4.1 did not fix bluetooth problem. The bluetooth button is grey-ed out and unavailable. Cannot toggle on/off. I have performed all steps including reset network setting, but still not resolved. Pls help."
The newly launched iPhone in 2019 do not doubt a great deal since everyone is struck by their outstanding performance. It is reported by Forbes that almost 80 million iPhone 12s are expected to sell since their released in September. Having such a huge number, the interest speaks for itself. However, like most of the phones, the iPhone 12/11 seems to have some problems. Issues with Bluetooth are one of the most common problems in the iPhone 12/11. Users are desperate to find a fix that works for them; this is why we came up with this guide to address all the iPhone 12/11 Bluetooth issues and give you possible solutions.
Part 1: Common iPhone 12/11 Bluetooth Problems
Here are a few of the iPhone 12/11 Bluetooth not working problems that are reported to have occurred since its initial release.
iPhone 12/11 Bluetooth Does Not Show Available Devices
iPhone 12/11 Will Not Connect to Car Bluetooth
iPhone 12/11 Bluetooth Will Not Connect To Anything
iPhone 12/11 Bluetooth Will Not Stay Connected to Bluetooth Items
iPhone 12/11 Bluetooth Connection Works Only For Calls
iPhone 12/11 Bluetooth Does Not Show List of Available Device
iPhone 12/11 Bluetooth Issues With Earpiece
iPhone 12/11 Bluetooth Does Not Pair With Ear Buds
iPhone 12/11 Bluetooth Keeps Connecting And Disconnecting While Listening to Music
iPhone 12/11 Bluetooth Keeps Losing Connectivity To Apple Watch 5
iPhone 12/11 Bluetooth Can Not Do Anything At All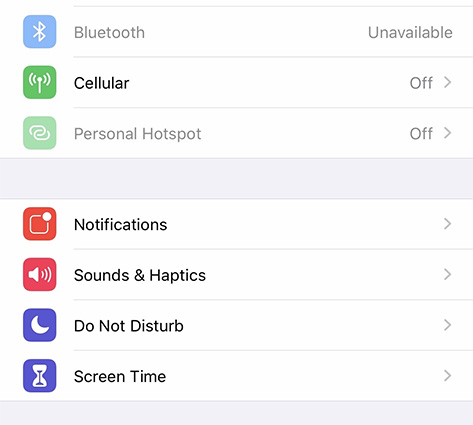 If the Bluetooth problems you are experiencing with your iPhone 12/11 are any of the above, then keep reading this guide to know exactly how to get rid of them.
Part 2: How To Fix iPhone 12/11 Bluetooth Issues
Below are a few of the most beneficial ways to fix the iPhone 12/11 Bluetooth issues.
Fix 1: The Easiest Soluiton with Using Tenorshare Reiboot (No Data Loss)
If you are having trouble with your iPhone 12/11 Bluetooth, then Tenorshare ReiBoot should be your top priority option. Tenorshare ReiBoot is the best way to get rid of all your iPhone 12/11 Bluetooth problems. It is an easy to use software that helps users fix all issues in their iPhones. This software is free of cost. However, it may require payment for premium packages.
Key Features:
It offers 1-Click to Enter/Exit Recovery Mode for free.
This IOS system recovery software is an all you need fix since it can recover 50+ IOS issues.
It allows you to even escape those problems which are not in your control like freezing, recovery mode looping, Bluetooth connectivity, auto shutdown, etc.
The best thing about it is that it does not involve data loss in the process.
Detailed Steps to Fix iPhone 12/11 Bluetooth Issues with ReiBoot
Launch the app as soon as it installs in your system. If you are on windows, a double click will do the job; if you are on a Mac, a single click is enough.

Next up, get an appropriate cable and connect it to your iPhone 12/11.

Click on Repair Operating System option in the ReiBoot app to go to restore panel, then click Fix Now to initiate the process.

Select a place in your computer to save the file and then click the download to initiate the process of downloading the firmware package.

Once you are done downloading, click the Repair Now initiate repairing your iPhone operating system.
This will enable your phone to be restored. Hopefully, all your iPhone 12/11 Bluetooth problems will now be fixed with Tenorshare.
What it Supports
The best thing about this system is that it is not restricted to one or two iPhones. It supports all new iPhone/iPad/iPod Touch and Apple TV. Whether your phone is provided by Verizon, Sprint, Vodafone, AT&T, or T-mobile, this system will take care of all.
Fix 2: Checking for Bluetooth Connection Conflicts
Even though it is a very simple step, most people tend to forget it most of the time, allowing your Bluetooth devices to be turned on most of the time causes conflict, which may lead to connectivity issues with iPhone 12/11 Bluetooth. Keep these devices off when not in use for optimum connectivity experience.
Fix 3: Checking Out For App Setting Conflict
Maybe there is an issue because of the conflict settings. Your Bluetooth might not be working correctly due to system bugs. To solve this issue, you can disable the sync option in your Bluetooth settings.
Go to the Settings app
Then Tap on Bluetooth
Choose the name of the device in the Bluetooth list
tap the ( i ) icon

Toggle the button that says Sync contacts to disable it.
Fix 4: Update to Latest IOS
Updating to the latest IOS version can also fix the iPhone11 Bluetooth not working. You can do this by:
Accessing setting
Go to about phone
Click Software update

Your phone will automatically start the process of updating.
You can also update the software of your phone through iTunes on your laptop.
Fix 5: Turn Off Bluetooth and Restart Your iPhone
Above all other methods you have tried, your iPhone may do need to be refreshed. This will flush out old data from the RAM of your device and also load the new data from the update. To do this, you should:
Go to Settings
Then tap Bluetooth

Toggle the Bluetooth button to disable it

Go to the Settings of your iPhone
Find and tap General
Then tap Shut Down
Turn on your iPhone 12/11 back by pressing the power button.
Fix 6: Forget Bluetooth Device and Pair Again
There is also a possibility that your Bluetooth is not working due to your current Bluetooth connectivity profile. To get rid of the old data and newly install your Bluetooth device all over again in your iPhone 12/11.
Go to general and tap Bluetooth
In the list of available devices, toggle (i) icon next to the device you want to forget
After that, click forget in the options

Now that the device is forgotten to connect your device all over again.
Fix 7: Reset Your iPhone 12/11's Network Settings
When everything stops working, resetting your iPhone 12/11 to get rid of iPhone 12/11 Bluetooth problems is the only option left. In this case, resetting your phone is the best option left.
Go to Settings on your iPhone
Now tap General
Next, tap Reset

Find and tap Reset Network Settings.
Fix 8: Reset to Factory settings
You can also help fix iPhone 12/11 Bluetooth connection problems by resetting your phone to the factory default network settings. To do this:
Go to Settings on your iPhone, then tap General
Next, tap Reset

Find and tap Reset all Content and Settings.
Fix 9: Contact Apple
After all, is done and said. The only option left is to contact apple. Reach out to the nearest Apple store in your area to get help.
Conclusion
We hope that you've learned a great deal from our guide regarding fixing any issues with your iPhone 12/11. You can try all these fixes when you have iPhone 12/11 Bluetooth issues. If you don't want to lose your data, then Tenorshare ReiBoot would be the best one for you.
In case you have further queries, you can let us know by commenting below. Also, tell us if you have experienced any Bluetooth issues with your iPhone 12/11?