Really a lifesaver, transfer WhatsApp from old Android to new iPhone gets stuck forever, tried twice with iOS restore in iCareFone Transfer, thanks a million.
Transferring WhatsApp from Android to iPhone 15 is no longer a cumbersome experience. Tenorshare iCareFone Transfer gets the job done without breaking a sweat. You can give it a try.
If you want to move your WhatsApp chats between Android and iPhone, iCareFone Transfer will help. You will easily transfer WhatsApp messages and attachments, including videos, images, and files between Android and iOS.
Multi-directional

Transfer WhatsApp & WhatsApp Business Between Android & iOS

iCareFone Transfer supports to transfer WhatsApp and WhatsApp Business messages and attachments, including videos, images, and files between Android & iOS, Android & Android, iOS & iOS without any limitations. (Latest iOS 17 included).

Notes: Google account does not support to transfer WhatsApp data from iPhone to Android.

* WhatsApp Transfer App Available on Google Play Now

new
Transfer GBWhatsApp
to WhatsApp/GBWhatsApp
Have you ever been worried about your GBWhatsApp data migration? Be at ease, iCareFone Transfer can handle it. All your GBWhatsApp data can be quickly transferred to WhatsApp /GBWhatsApp with the help of iCareFone Transfer.
From Android to Android From Android to iPhone
From Android to Android
iOS/Android WhatsApp Backup
One-Click

Backup WhatsApp & WhatsApp Business Chats to PC and Mac

new

iCareFone Transfer for WhatsApp Backup surpasses the official solution for WhatsApp chat backup from iPhone/Android to computer/Mac with amazing speed. Only one-click, WhatsApp and WhatsApp Business chat will be backed up to your PC/Mac.

You can also download WhatsApp backup from Google Drive to Windows and restore to Android or iOS device.

Note: Support macOS user for viewing data from WhatsApp backups (macOS 13 Ventura compatiable)
iOS/Android WhatsApp Restore
Fully Restore

WhatsApp & WhatsApp Business Backup to iPhone, iPad, Android

iCareFone Transfer enables you restore WhatsApp messages or WhatsApp Business chats to your iOS and Android devices. The 100% success rate ensures you won't be bothered by the trouble of losing data in your work or daily life.
Export & View

WhatsApp and WhatsApp Business

Whether you need to save WhatsApp or WhatsApp Business chats, contacts, photos or other data, you can use iCareFone Transfer to export them as file for viewing. The messages and links can be exported as HTML. All your data can be exported optionally, saving your time from the very beginning.
Backup & Restore iOS Social Apps
Backup Kik, and Viber
at No Cost
Does iCareFone Transfer for WhatsApp backup & restore other social apps like Kik, and Viber? 100% for sure. It supports to backup these apps free of charge and restore backups from iOS to iOS with high-efficiency. No worries anymore since you change to new iOS devices.
Note: Only support to restore backup from iOS to iOS.
Transfer WhatsApp Messages

Between iPhone and Android

Step 1: Download iCareFone Transfer .Connect iPhone and Android to the computer and then click 'Transfer'.

Step 2: Verify Target Account.Please verify the target device by entering country code and phone number and then click 'Verify'.

Step 3: Transfer Successfully .After generating data to the target device. Your WhatsApp data has been transferred successfully.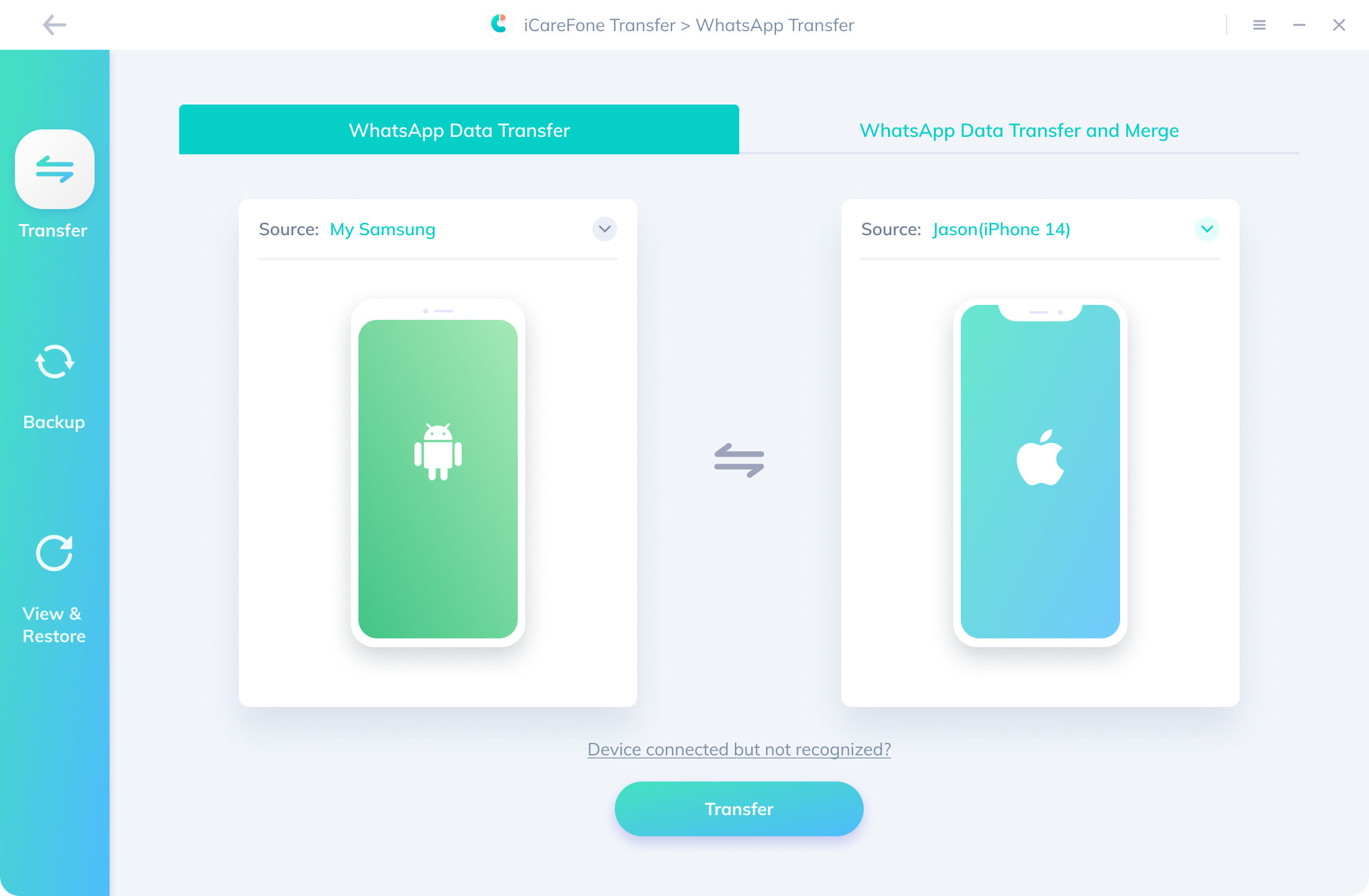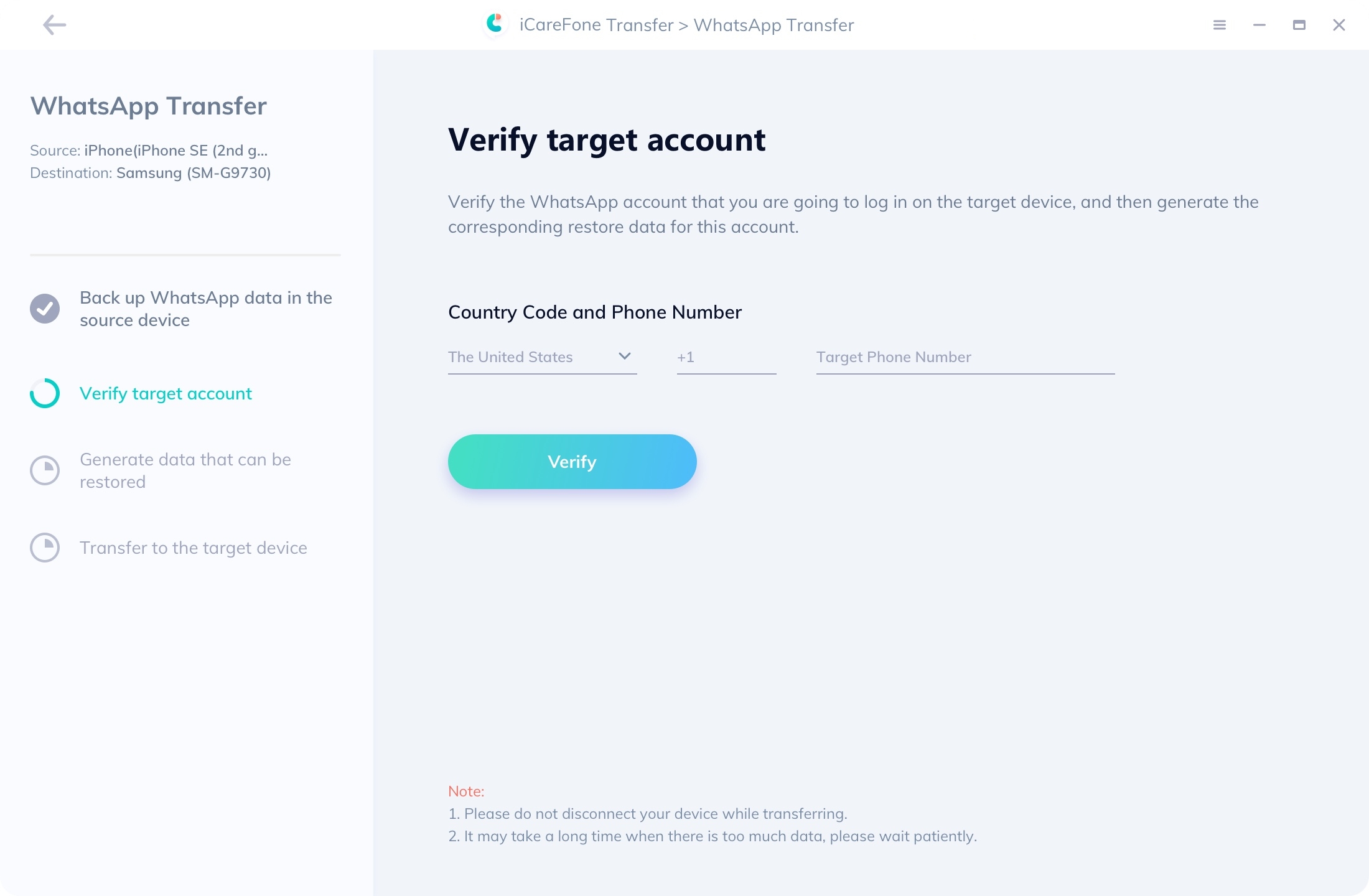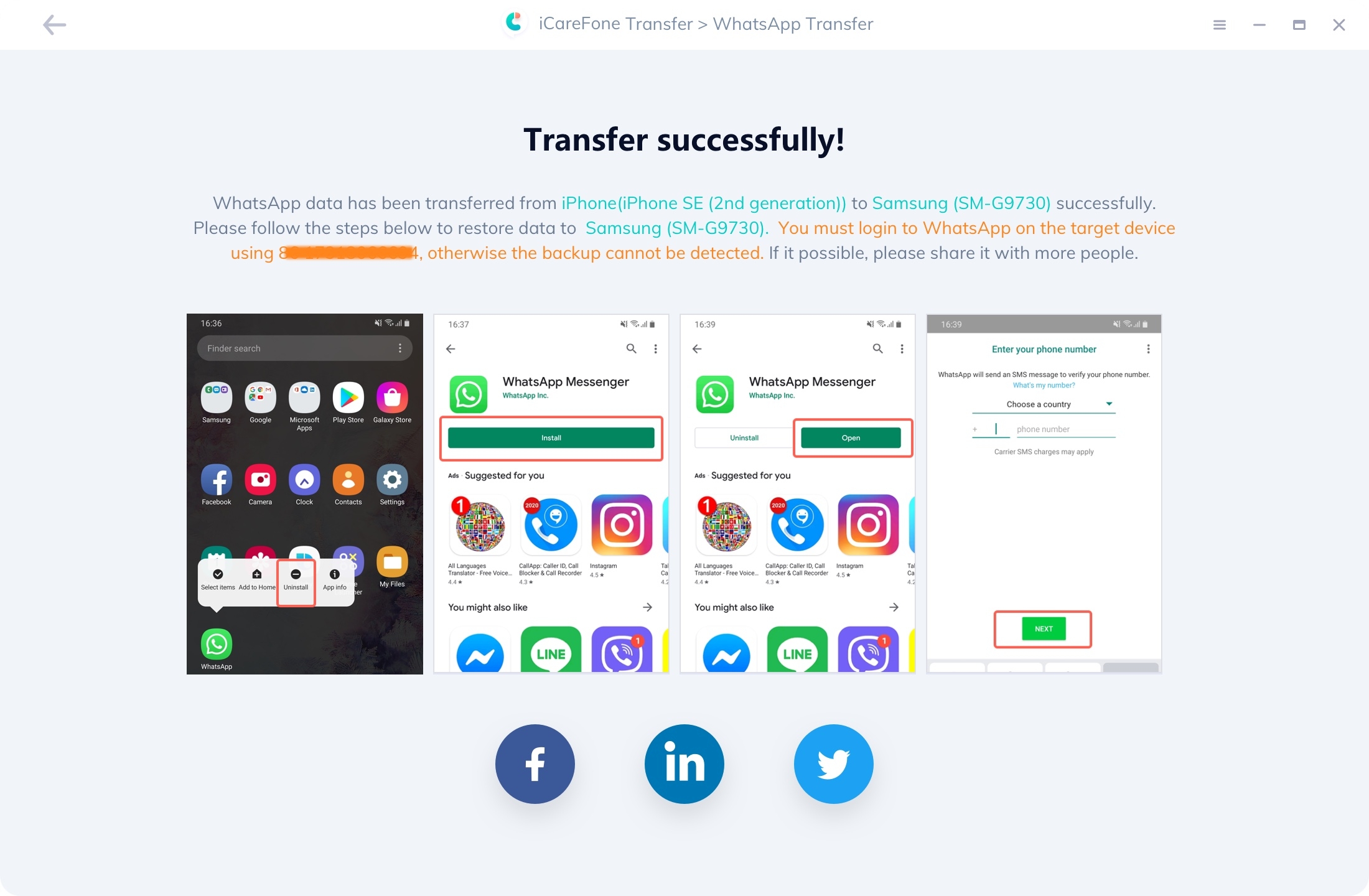 Why should you choose

Tenorshare iCareFone Transfer? FREE TRIAL

FREE TRIAL

Factory Reset (device data will be erased)

Low success rate (frequent frozen, stuck and error problems)

>30 Minutes (affected by many factors)

Merge Android and iOS Device Original WhatsApp data

Support Merging WhatsApp Data

Android 5 or above
iOS 15.5 or above

Android 2-14
Support all iOS versions

Different phone numbers are supported

Select Specific WhatsApp Data Type

Supported WhatsApp Version

WhatsApp Android 2.22.7.74 or above
WhatsApp iOS 2.22.10.70 or above

Accuracy of Transferred Data

Not perfect (sometimes the received data can not be transferred)

Perfect (transfer all your WhatsApp data)
Tech specification
Supported Devices:
iPhone:
iPhone 15/Plus/Pro/Pro Max, iPhone 14/Plus/Pro/Pro Max, iPhone 13/13 Pro(Max), iPhone 13 mini, iPhone 12/12 Pro(Max), iPhone 12 mini, iPhone SE(2nd), iPhone 11/11 Pro(Max), iPhone XS(Max), iPhone XR/X, iPhone 8 Plus/ 8, iPhone 7 Red, iPhone 7 Plus/7, iPhone SE, iPhone 6s Plus, iPhone 6s, iPhone 6 Plus, iPhone 6, and all models of iPhone.
iPad
All models of iPad Air(4th Gen), iPad mini, iPad Pro and iPad.
Android(Android 13 Compatible):
Samsung Galaxy S23/S22/S21/S20/S10, Huawei P30, OPPO, LG and other 5000+ Android devices.
Supported OS :
Windows:
Win 11/10/8.1/8/7
Mac:
14(macOS Sonoma), 13(macOS Ventura),12(macOS Monterey), 11.5(macOS Big Sur), 10.15(macOS Catalina), 10.14 (macOS Mojave), Mac OS X 10.13 (High Sierra), 10.12(macOS Sierra), 10.11(El Capitan), 10.10 (Yosemite)
iOS:
iOS 17, iOS 16, iPadOS 16, iOS 15/iOS 14, iOS 13.5/13.4/13/12.3/12, iOS 11, iOS 10.3, iOS 10, iOS 9 and former
Android:
Android 2.0 to 14
Other :
CPU:
1GHz (32 bit or 64 bit)
RAM:
256 MB or more of RAM (1024MB Recommended)
Hard Disk Space:
200 MB and above free space
FAQs

about iCareFone Transfer
Tenorshare iCareFone Transfer allows you backup iOS WhatsApp for free. But it doesn't include Android.
If you use iCareFone Transfer, 5 devices mean 5 different device models. For example: device "A" to "B", 2 devices are counted; vice versa, 2 devices are also counted; device "A" to "C", 3 devices in total.
There are 4 ways allows you transfer WhatsApp messages from iPhone to Android:
1. One click to transfer with iCareFone WhatsApp Transfer
2. Transfer WhatsApp messages using Email
3. Transfer WhatsApp messages using Chat Backup
4. Transfer WhatsApp messages using WazzapMigrator App
The Best way is iCareFone WhatsApp Transfer, it's easier and faster than several other ways. You can click here to know these 4 ways.
iCloud can only backup 5GB of data for free and iTunes backup can't selectively restore the WhatsApp data.
With iCareFone for WhatsApp Transfer you just need to: connect your two iPhone to computer > click "Transfer" and done.
Before we get started, there are some misunderstandings you gotta know.
#1. You cannot transfer WhatsApp messages via backup. Because Android devices backup WhatsApp to local storage or Google Drive. You cannot restore the backup on an iPhone.
#2. You can only view text file on your iPhone if you transfer WhatsApp messages via email chat.
#3. Move to iOS app does not support WhatsApp transfer.
You can restore WhatsApp messages with iCareFone Transfer, steps as below:
Launch iCareFone Transfer, click WhatsApp > View & Restore > Select the messages you want to restore > click Restore to iOS.
WhatsApp messages contains group chats and individual chats. The former one will be stored in your WhatsApp account, the latter will be stored in your phone.
Generally, if you've deleted WhatsApp messages and when you login WhatsApp on a new device, your deleted messages will not show up. It means your message has been wiped.
1. Find "Use USB for" option on the main drop down menu.
2. Switch to MTP Mode first, if the issue persists, switch to PTP mode. When PTP doesn't work, try MIDI mode for a change.
3. If you are using a LG, check PTP mode directly when connected.
4. If all the USB connection options don't work, check your USB port and cable and try restarting the program and re-connect the device.
Yes, iCareFone Transfer supports GBWhatsApp transfer from Android to iOS and Android to Android. And you can also use it to back up your GBWhatsApp data to computer and then view or restore the data to anywhere you want.
However, iCareFone Transfer does not support other modified WhatsApp apps, such as WhatsApp Plus, WhatsApp Go, YOWhatsApp, FMWhatsApp, WhatsApp Aero, OGWhatsApp, WhatsApp Prime, WhatsApp MA, WhatsApp Indigo, Soula WhatsApp Lite and so on.