Best 6 DFU Mode Tools for iPhone
Device Firmware Update is popularly known as DFU. You can get several reasons to put your phone in DFU mode. For jailbreaking or un-jailbreaking your iPhone, DFU mode is the best option. It furthermore can be utilized for updating an outdated beta. In addition, in case of any iPhone issue, when you have no hope to repair it and recovery mode also didn't help, DFU mode gives you that last hope.
The DFU mode gets your iPhone in a condition where the phone is able to communicate with your PC's iTunes. Nevertheless, this fact is also true that the mode simply does not load the boot loader or the iOS. Due to this, your iPhone is can be restored from any situation. Truth to be told, this is the major thing differentiating the DFU mode and Recovery mode. In the article, we will see few iPhone DFU mode tools that will help you enter DFU mode on iPhone with ease and simplicity.
1. ReiBoot
Tenorshare ReiBoot is among the best and well-known iPhone DFU mode exit tool available in the market when you wish to put your iPhone in the DFU mode without any complications. ReiBoot can be used in various scenarios such as iPhone crashes, iPhone stuck in recovery mode. The tool is also useful when your device is crashing repeatedly.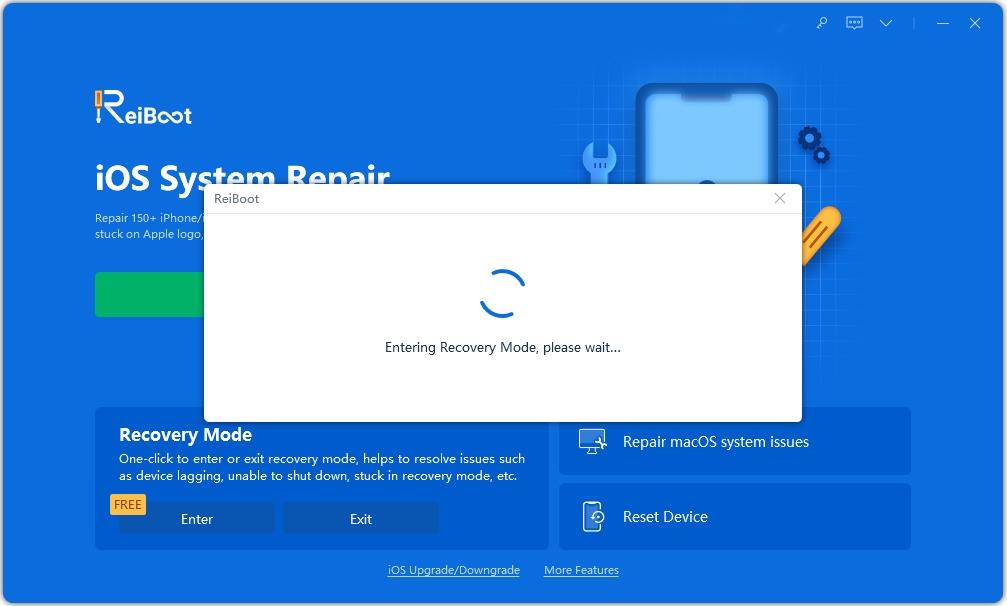 Pros:
The tool supports all the iOS versions (latest too) and major Apple devices also.
It is an easy-to-use software.
The tool also provides guidelines in case the problem cannot be solved with the tool.
The tool has a free trial version for its users.
The tool has a very simple and understandable user interface.
Cons: Sometimes the tool's auto-launch feature crashes after downloading.
2. RecBoot
Though the name is somewhat similar to the above-discussed iPhone DFU mode software Mac, it is quite a different tool. Nevertheless, the tool has the same task to be done. RecBoot also aids you get your iPhone stuck in any mode with ease. Many iPhones tend to be stuck mostly in recovery mode. The tool aids you to enter and exit the recovery mode. The tool is built also for Windows.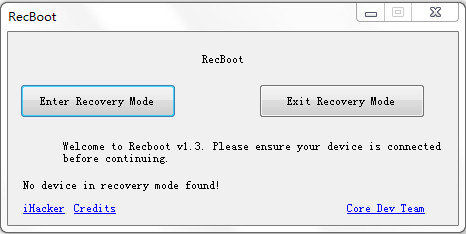 Pros:
The software size is samll and can be downloaded quickly.
Easy-to-use
Single click to fix iPhone DFU mode stuck.
Cons:
Not compatible with 64-bit versions
Limited to Recovery Mode alternative only
3. Tiny Umbrella
Another iPhone DFU mode tool that is quite difficult for using but on the other hand can do more than just help enter your device DFU mode is Tiny Umbrella. Even if Tiny Umbrella additionally has various functions in it, DFU mode not being the primary one, the tool performs the DFU mode function very well. The tool can also be utilized to exit and enter recovery mode, and also to get back your device stuck in a reboot loop.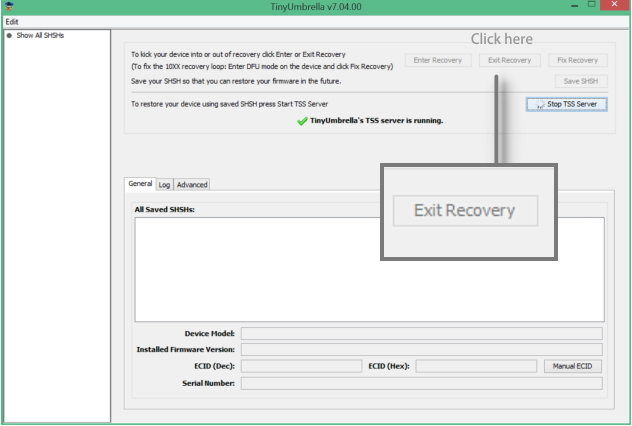 Pro:
Your problem can be fixed with just single button.
It is a multi-functional app.
Cons: Fails to recognize your device sometimes.
4. EasyiRecovery
In case your iPhone is stuck in any other mode or even recovery loop when you are trying to restore firmware, EasyiRecovery is the best option. The tool is also an iPhone DFU mode software. This makes the tool attract more users due to its functionalities. As the name suggests, the tool recovers your iPhone with ease and with zero complications.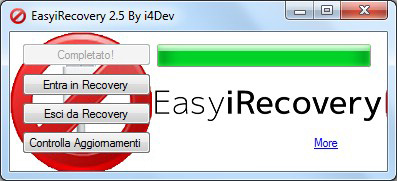 Pros:
With only 2 buttons, the tool helps to recover the iPhone.
Fast download due to its small size.
Cons: Doesn't support iPad.
5. iReb
If your iPhone is reponse-less and when pressing Home as well as Power button does not work, iReb will do the rest for you. The tool entirely reboots your iPhone. It can also be used as a to enter DFU mode on iPhone. The tool supports mostly all OS versions.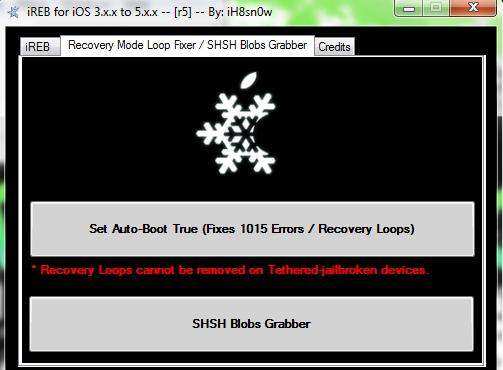 Pros:
Easy-to-use app having just 3 buttons.
Supports all OS on PCs.
Available for Windows too.
Cons:
Sometimes data loss is experienced.
Not reliable.
6. RedSn0w
If you want a tool that will aid you to enter DFU mode along woth additional functionalities, RedSn0w is what you are hunting for. The software is majorly known as a tool for jailbreaking. Nevertheless, the tool has additional functionalities such as exiting recovery mode, issue due to iTunes restore error, and so on.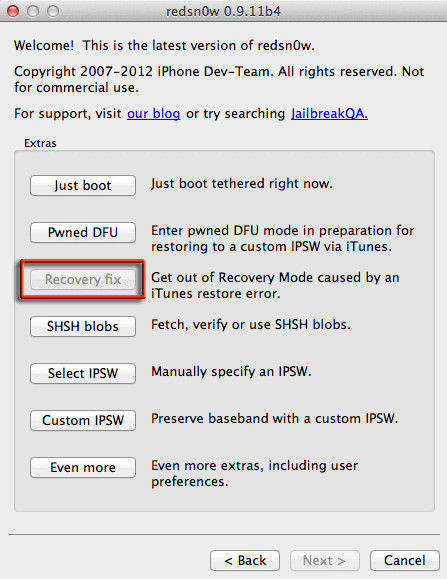 Pros:
Along with DFU mode function also provide jailbreaking function too.
Get your iPhone out when stuck in recovery mode loop.
Cons: Not an easy-to-use software.
What to do if iPhone Stuck in DFU Mode
The above-discussed tools you surely help enter your iPhone in DFU mode with ease. However, have you though what to do in case you get stuck in DFU mode itself? When you fail to get out of DFU mode for any possible reason, go for ReiBoot's Repair Operating System function. The tool's Repair Operating System feature will aid you exit the DFU mode with no complications and with ease. Importantly, the tool is also able to fix any iPhone-related issues, such as recovery mode, black screen, apple logo screen and more with no loss of data. So be worry-less when you come across any iOS-related issue, since ReiBoot is here for your help. The tool keeps your data safe from any damage while repairing your iOS device. Moreover, other iPhone system errors and problems can also be fixed with this amazing tool.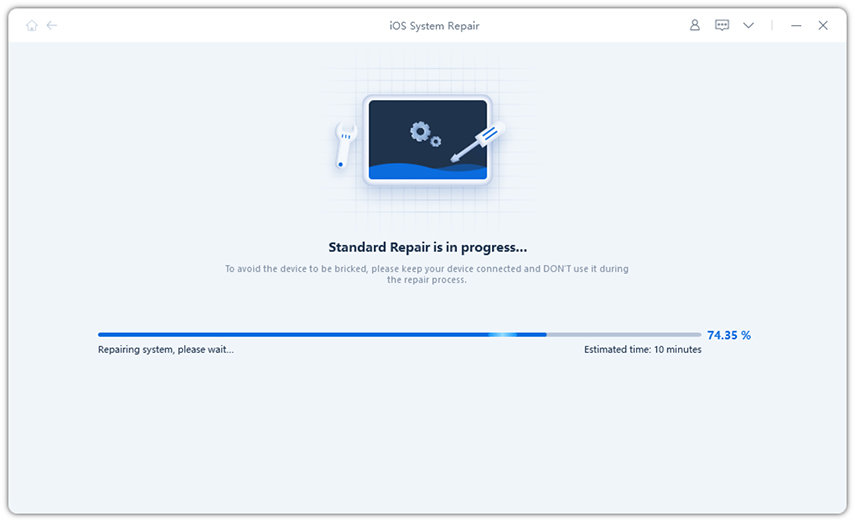 In the above article we have seen the best 6 iPhone DFU mode tool apps. Each and every DFU mode tool is unique and excellent in its own way. We also suggest to try Tenorshare ReiBoot in case you get stuck in DFU mode itself and wish to exit the DFU mode with no fuss. The tool will help you exit the DFU mode with ease. Share with us which is your favorite DFU mode tool from the above list in below comments.