5 Ways to Transfer Music from iPhone to Android
by Sophie Green Updated on 2021-11-15 / Update for iPhone Transfer
The internet is full of questions like how to share music from iPhone to Android, how to transfer music from iPhone to Android. If you are one of those people who have the same queries, then fear not. Even though this is a commonly encountered problem, it can be solved easily if you have proper information and guidance, and your audio files will be sent from your iPhone device to Android.
1. How to Transfer Music from iPhone to Android via Bluetooth
The first method of sending songs from iPhone to Android is by using the Bluetooth. Bluetooth help us transfer data wirelessly. This is a fairly easy method, but not all devices are compatible with it, and it may need not a short time to finish. Nevertheless, you can try it. Just follow the instructions below and transfer your music.
On both of your devices, the iPhone and Android, turn on Bluetooth from settings.

Open Bluetooth settings on your iPhone. Locate the name of your Android device from available devices. Now connect to it.
Now, from your iPhone, send the music you want, to your Android via the share option mentioning Bluetooth.
A notification will appear on your Android, tap on Accept and the transfer will start.
2. How to Transfer Music from iPhone to Android without Computer
Your laptop or PC might not be available for you all the time. You don't want that stopping you from transferring music from your iPad/iPhone to your Android. Lucky for us, there are certain applications available on the Appstore which will allow us to bypass the need for a computer in achieving our goal.
Shareit
Shareit is an application, which when installed on both of your devices, can help you transfer songs from iPhone to Android. Follow the directions and you will not face any problem.
Open the app on your Android and tap the receive button on screen to create a Wi-Fi hotspot.

On your iPhone, go to settings and open Wi-Fi. Connect to the hotspot using the password given by Shareit.
Now open Shareit on your iPhone, tap on Send and select the songs and music you want to share and it's as easy as that. Wait for it to finish.
Smart Switch
This one is for Samsung users, who have switched from an iOS device. Samsung has the built-in app Smart Switch that allows you to transfer data such as music from your old phone, may it be an iOS or any other android. How to transfer music from iPhone to Android phone? Let's solve it this time by using Smart Switch.
Note: Prepare a USB-OTG adapter and the charging USB cable of your iOS device. Also make sure your phones are charged sufficiently beforehand.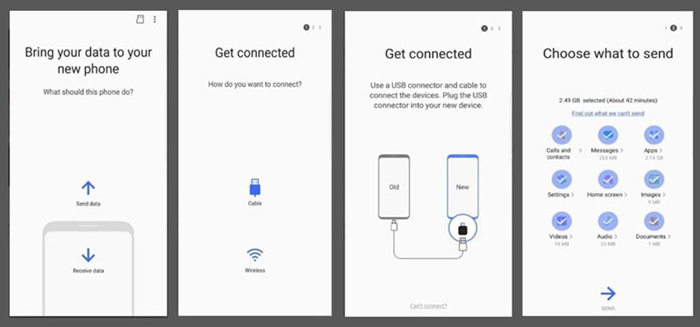 On your Samsung phone, open Smart Switch and select Receive data. Tap on iPhone/iPad.
Now connect your two devices using the OTG and the lightning cable. Continue to process and your Samsung will now search for data on your iPhone.
Now select the music file you want to transfer. Locate music and blue tick the box. Tap on transfer on the bottom.
This will transfer all the DRM-free music from apps on your iPhone to your Samsung.
3. How to Transfer Music from iPhone to Android with Computer
When a computer is involved, many other ways are opened up that can help you in transferring music from iPhone to Android, some of which are described below.
iTunes
iTunes is an application for you to transfer data between your iOS device and your computer. Later on, you may copy this data manually and move it to your Android phone. Follow the given steps to ensure problem-free transfer.
Open iTunes on your computer/laptop. Connect your iPhone to the computer.
On the iTunes, navigate to library and click on Music. Copy the songs and move them to any destination on your computer.
Now connect your Android to your PC. Copy the songs and paste them into the internal memory of your Android. Enjoy the beats!
Related Read: How to Transfer Music from iPhone/iPad to PC
iCareFone
iCareFone by Tenorshare, for both Windows and Mac, allows you to transfer eight different kinds of data like photos, audio, video, contacts from your iPhone to your computer and vice versa.
Using the guide below, you will be able to seamlessly import or export any kind of data between your iOS and your PC. After sending music from iPhone to PC, you may now simply move the music from your PC to your Android phone without any difficulty.
Start up your PC, download iCareFone setup and install. Now connect your iPhone using the USB cable.

After the device has connected successfully, click on the manage tab on the iCareFone application.

Go to Audio and select the music you want to export.

After choosing, move the songs from iPhone to PC by clicking on the export button and selecting your desired destination.

Connect your Android to your PC. Open the export destination, and simple copy and paste the data to your Android Mobile.
Conclusion
Transferring media data from iPhone to Android, most importantly music, seems like a hectic task to people. With many options available, you can transfer music from iPhone to Android using Bluetooth, mobile applications, wired transfers or even making your laptop as the middleman. Following the detailed instructions as mentioned above, you shall not have any problem in performing this difficult task.
The World's Best iOS 17 File Manager
Free backup everything you need on iPhone/iPad/iPod
Transfer music, photos, videos, contacts, SMS without limitation
Selectively restore files without erasing current data