Top Tips to Save Battery on iPhone 8/8 Plus
by Jenefey Aaron Updated on 2022-11-29 / Update for iPhone Tips
Although Apple has updated its devices time after time, power consumption is still one of the hurdles. The upcoming iPhone 8 is said to bring new breakthrough on battery with 2-cell design and OLED screen, but users shouldn't expect anything crazy. If you love playing games or watching movies on iPhone, you will still encounter battery draining quickly problem. Luckily, we've gathered 10 tips to help you improve iPhone 8 battery lifespan by a large margin.
Save Battery Tip 1. Quit Running Apps
If you are running too many applications at the same time, battery will drain fast on your iPhone 8. So the first thing you need to do is quitting some background running apps. Press the Home button two times quickly to access the app switcher, swipe up on the app's preview to close it.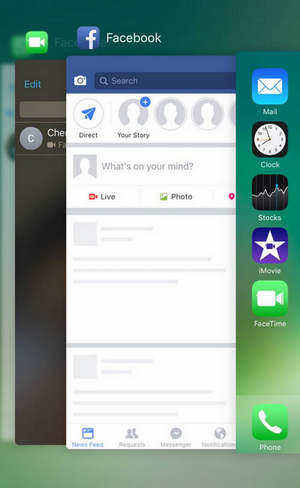 Save Battery Tip 2. Turn Down Screen Brightness
Some people used to have a bright screen on their iPhone, it will do harm to the eyesight and also drain phone battery. To stop iPhone 8/8 Plus battery running out quickly, it is recommend to turn down the screen brightness. Just Go to Settings -> Display & Brightness, slide the brightness slider to left.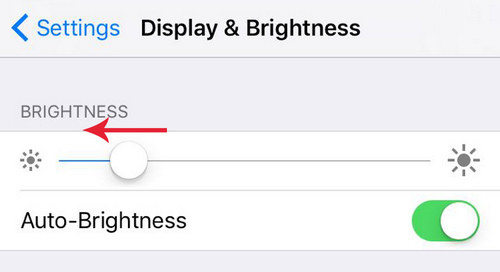 Save Battery Tip 3. Check Battery Usage
As there are so many applications on your device, you don't know which the top power-draining program is. Go to Settings -> General -> Battery, scroll down the screen and you'll see which the biggest battery drainer is. You can turn off the app and disable notifications to extend battery life on your iPhone 8.
Save Battery Tip 4. Turn Down Volume
If you are a movie lover or music guy, your iPhone 8 battery goes fast when you keep the volume in a high level. Thus, turn down the volume will also be a way to prolong your iPhone 8 battery life. You can tune down the volume using the volume buttons.
Save Battery Tip 5. Turn on Low Power Mode
For most iPhone users, low power mode is not strange. When the power is less than 20%, your device will automatically push a warning and inform you to turn on low battery mode. If you want to save power, you can enable Low Power Mode without waiting for your iPhone to reach 20%. Go to Settings > Battery and turn on Low Power Mode.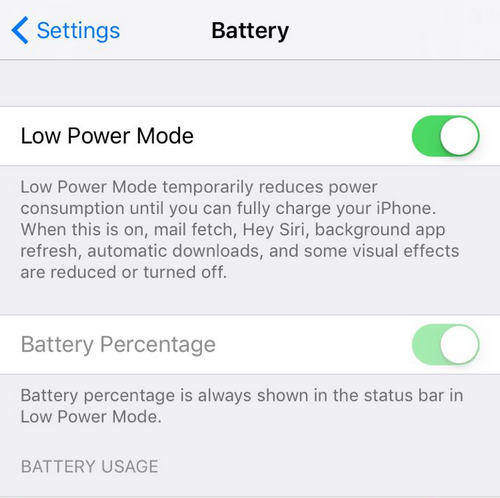 Save Battery Tip 6. Disable Bluetooth and AirDrop
Sometime people forget to close the Bluetooth or AirDrop after using them, which remains them keeping search for other device to match. So disable the Bluetooth and AirDrop when not using is another simple iPhone 8 lifesaving tip. Swipe up on Control Centre and disable them.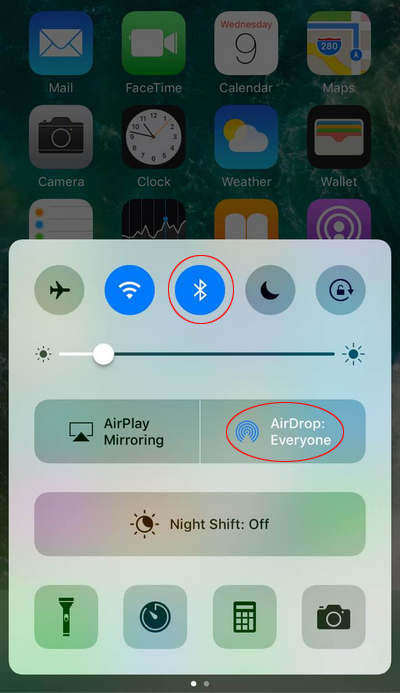 Save Battery Tip 7. Update to the Latest Software
If an update is available, you can connect to a Wi-Fi on your iPhone and update wirelessly. The second method is using USB to connect your iPhone to the computer and update with the latest version of iTunes. If you think it troublesome, then you can try an easy tool called Tenorshare ReiBoot to update iPhone with several mouse clicks.
Below is a video showing how to update iPhone in 3 ways.
Save Battery Tip 8. Turn off iCloud
iCloud also uses a bit of data and power, to increase battery life on your iPhone 8, you can turn off every unused features. Tap Settings > iCloud and turn off everything you don't use.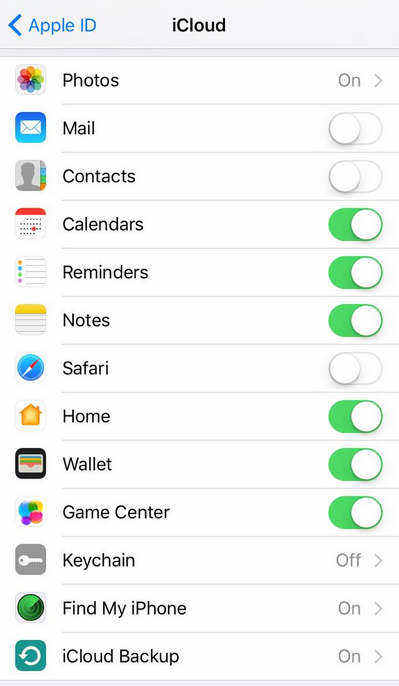 Save Battery Tip 9. Disable Location Services
Location Services is used in many apps, such as App Sore, Calendar, Camera and Maps. Sometime when people stop using the apps, but forgot to turn off Location Services. To save battery life on iPhone 8, turn off Location Services after using it.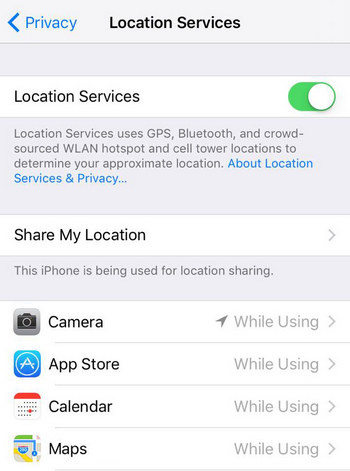 Save Battery Tip 10. Turn off Background App Refresh
iOS 7 allowed background apps to periodically refresh their data, and so does iOS 8, iOS 9, iOS 10 and iOS 11. This is a useful features but most of the time, it just waste the power. So to get the most out of your battery, go to Settings > General > Background App Refresh to turn off this feature.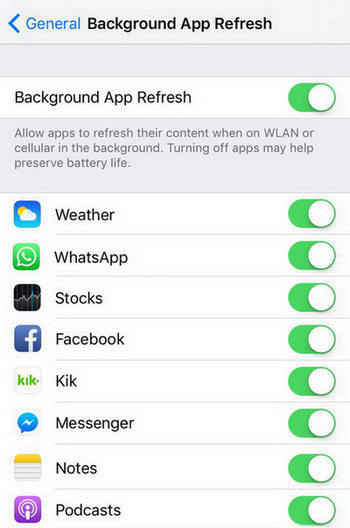 With the 10 tips introduced above, you have a clear picture about how to maximize battery life on iPhone 8 and iPhone 8 Plus. If you have any other ideas on saving iPhone battery, you can share with us by commenting below.
Fix iPhone Stuck and Update Issues without Data Loss