iOS 14 Question: iPad Shows Apple Logo then Goes Black, Fix It Now
by Sophie Green Updated on 2020-10-23 / Update for iPad
My iPad won't turn on? but apple logo appears. Around every 10-20 seconds the apple logo appears as if it's about to turn on but then the screen goes back to the black screen and sometimes the charging symbol appears.
If your iPad shows Apple logo then goes black, chances are it has an issue with its software. Your device going to the boot screen proves that it works but there may be something preventing it from booting up to the main screen. Here we show how you can get around the iPad only shows Apple logo then turns off issue on your iOS based device.
There are actually more than one ways to fix the issue on your device. Depending on what you feel comfortable with, you can use any of the following methods and see if it works for you. If it does not, move onto the next method until you find one that works.
Way 1. Charge Your iPad Using Apple Certified Charger and Cable
The first thing you will need to do is check if your iPad has sufficient charge available on it. Most of the time an iPad will not boot because it does not have enough battery charge available on it.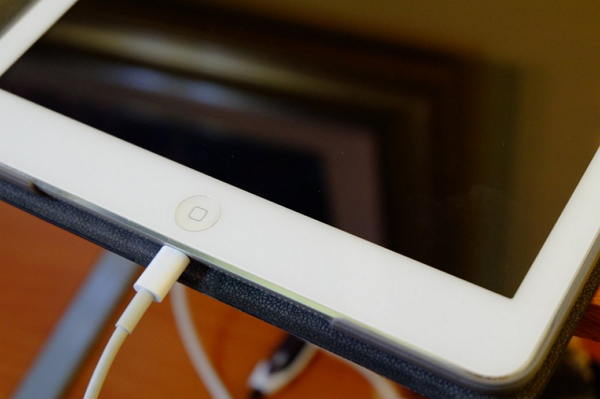 Use the official Apple certified charger and cable to charge your iPad. After a while, you can try turning on your iPad.
Way 2. Force Restart Your iPad
Another way to get around the iPad only shows Apple logo issue is to force reboot your iPad. Force reboot resets many temporary items on your device and allows your operating system to boot-up in a fresh mode.
Depending on what iPad model you have, you will need to use an appropriate method to force reboot it.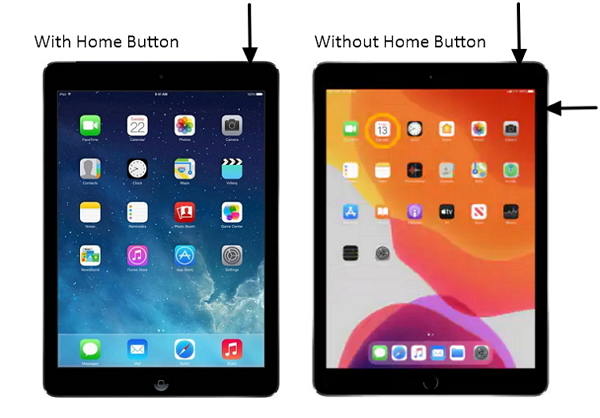 Force Reboot iPad with Face ID: Press Volume Up and let it go. Press Volume Down and let it go. Press and hold down the Power button.
Force Reboot iPad with Home Button: Press and hold down both Home and Power buttons at the same time. Your iPad will force reboot.
Way 3. Update or Restore iPad with iTunes
If force rebooting did not fix the issue, the other option is to use iTunes to restore your device. Restoring your device basically reinstalls the entire iOS operating system on your iPad. This way if there was an issue with the OS, this would solve it for you. The following shows how to fix the iPad shows Apple logo then turns off issue by restoring it.
Connect your iPad to your computer using a USB cable.
Launch the iTunes or Finder app on your computer.

Select your iPad when it appears on your computer and click Restore to restore your iPad.

Your iPad will be restored and the iPad shows Apple logo only issue will be gone. But in most cases, iTunes won't recognize your iPad unless you recently have synced your iPad with it.
Way 4. Fix iPad Only Shows Apple Logo Then Turns Off with ReiBoot
If you have not had luck with any of the above methods, it is time you turn to a professional iOS 14 Beta/13 repair software to fix the issue. Tenorshare ReiBoot is such a program that you can use it to fix various iPad issue like iPad Stuck in DFU Mode, iPad Stuck in Recovery Mode Loop. The iPad 2 just shows Apple logo issue can also be fixed with this software and it will only take a few clicks and you are all set.
The following is how you get rid of the iPad shows Apple logo then shuts off problem from your iPad.
Install the software on your computer and connect your iPad to your computer.

Click on Repair Operating System in the software.

Click on Fix Now on the following screen.

Hit Download to download the firmware for your iPad.

Allow it to repair your iPad using the downloaded firmware. Your iPad will be repaired.

At this point, you can disconnect your iPad from your computer. It should no longer have the iPad just showing Apple logo issue on it.
Way 5. Contact Apple for Help
If none of the above methods worked for you at all, there might be a serious issue with one of the hardware pieces of your iPad. In that case, it is suggested that you directly get in touch with Apple and let them deal with the device.
Depending on whether an Apple storey is available nearby, you can either give Apple a call and ask them for a solution or you can bring your iPad to the nearest center. They will be happy to look into the issue for you.
Which is the Best Way to Fix iPad Only Shows Apple Logo
The following table will help you compare each of the aforementioned methods. You can choose the best way to fix iPad showing apple logo only.
| Feature | Charge iPad | Force Reboot | Restore in iTunes | ReiBoot | Contact Apple |
| --- | --- | --- | --- | --- | --- |
| 100% Fix iPad Problems | No | No | No | Yes | Yes |
| No data loss | Yes | Yes | No | Yes | No |
| Easy to use | Yes | No | No | Yes | No |
| Time consuming | Long | Short | Long | Short | Long |
| Free | Yes | Yes | Yes | No | No |
Summary
There are many methods you can use when your iPad just shows Apple logo and it will not get past that. We hope our guide and the table at the end helps you decide what method you should be going for to fix the issue on your device. Tenorshare ReiBoot will be your best choice to when iPad shows Apple Logo then goes black and many other iPad issues as well.