How to Unlock iPhone XS/XS Max/XR without Passcode
by Jenefey Aaron Updated on 2021-12-20 / Update for Unlock iPhone
What if you forgot the passcode of your new iPhone XS/XR? You may have tried putting in codes several times but every time it failed. So, what now? There is nothing to be worried or embarrassed about, it happens to a lot of people and it can happen to you as well. But getting locked out of the iPhone is terrifying. It is a very expensive device and the data in the device is very precious to you. So, it is better you do something immediately to bypass the passcode and enter the device. But, how to unlock iPhone XS/XR without passcode? Well, the procedure will be similar to the previous iOS devices, this one may be a new model but it is still manufactured by the same company. But for your convenience, we are going to discuss the 3 best ways to unlock your iPhone XR without passcode.
Way 1: How to Unlock iPhone X/XR/XS without Passcode with 4uKey(No iTunes or iCloud )
As an iOS device user, it will be natural for you to seek help from Apple associated app when you are in trouble and such apps are available to help in this specific situation. But what if those certain apps fail you at the most deciding moment? One of the most reliable apps for iPhone users is iTunes. This app is fully capable of helping you in this situation but it is possible you may not be able to connect to iTunes, if that happens then you won't be able to unlock the device. The other app you can use is iCloud but it uses the "Find My iPhone" feature to unlock the device. It is simple and convenient but if you haven't used it before to locate your device then you wouldn't be able to use it in your time of need.
So, basically, it looks like that two of the most valuable options to unlock your device isn't so reliable after all. So, how to unlock iPhone XS without passcode? It would be better for you if you just forget about the whole official options and use the convenient Tenorshare 4uKey software to unlock the device. It is a simple iOS unlocker tool developed by a third-party company named Tenorshare and it is built specifically to unlock/bypass any type of passcode with ease. Whether it is a Touch ID, Face ID or numerical, it can unlock anything. Here's the procedure that will get you out of trouble.
Step 1: You need to start by installing 4uKey software on your computer and then launch it. This software is operable on both Mac and PC so you needn't worry about it.
Step 2: Then, you have to use a data cable to connect the new locked iPhone XS to the computer.
Step 3: After that click "Start" on the main interface of the software.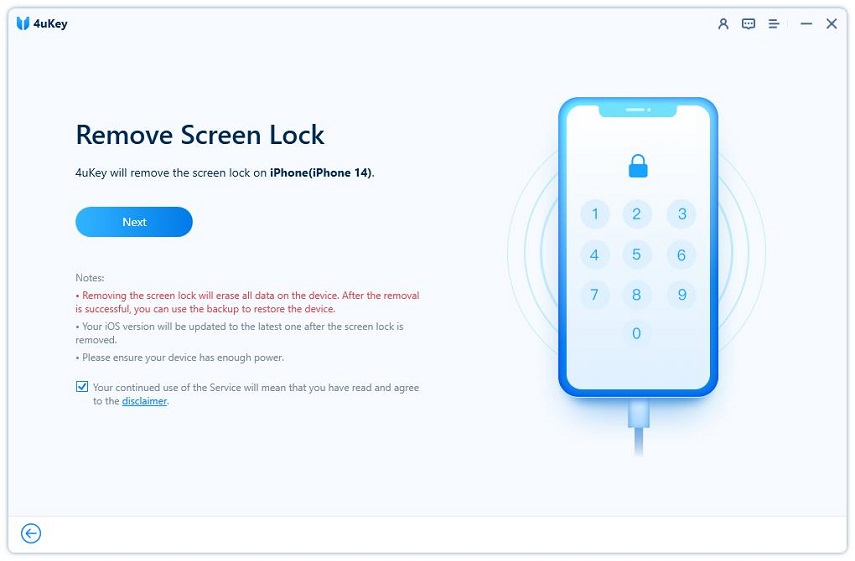 Step 4: Now, the software will prompt you to download the necessary firmware for the procedure.
Step 5: You need to click on "Browse" and choose a secure location for it.
Step 6: Then click "Download" to proceed.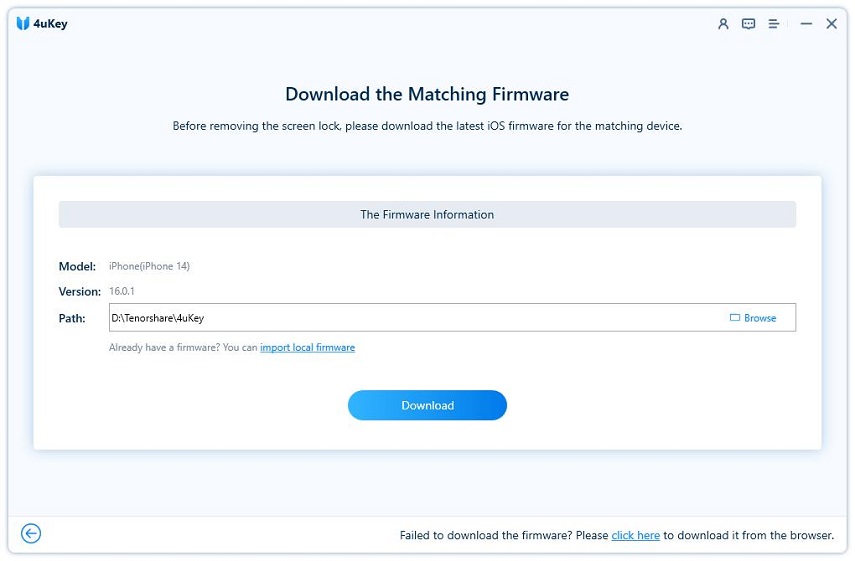 Step 7: After it gets downloaded, click "Unlock Now" to start unlocking the device.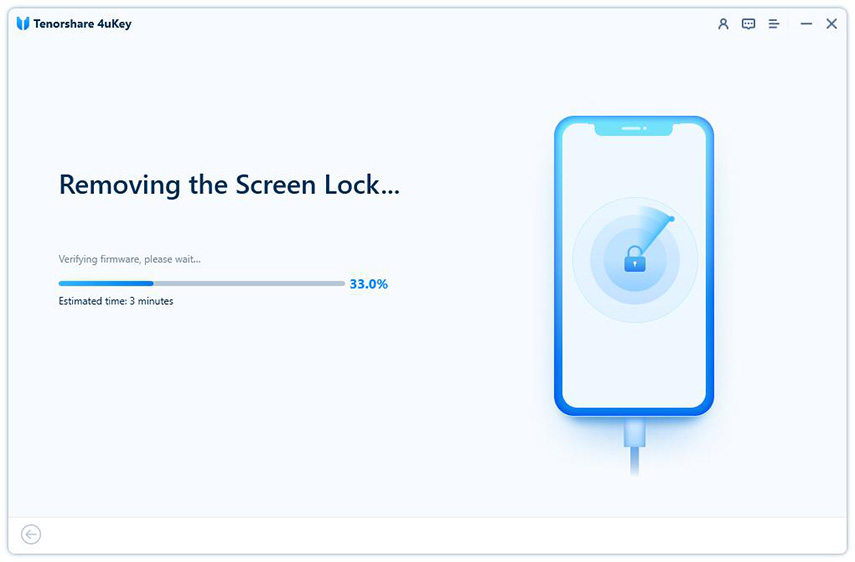 So, this is how to unlock your new iPhone XS with the help of Tenorshare 4uKey. The entirety of the process is very straightforward and effective. All the files on your device will get eliminated along with the passcode that was interrupting you to enter the device. Don't miss this amazing tool!
Way 2: Unlock iPhone XS/XS Max/XR with iCloud
Let us come to one of the official procedures to unlock any iPhone if you are unable to get into it. The iCloud app is very popular for its various exceptional features and advanced options. One of them is to remotely erase your iOS device in case of theft to protect your files from getting into the wrong hands.
So, how to unlock iPhone XS without password with the iCloud app? It is very simple, the app uses the "Find My iPhone" feature to erase the device and it also eliminates the passcode that was blocking you. Here are the steps to use it:
Step 1: As the iPhone is locked you won't be able to use it, so, you will need another iOS device if available or a computer will suffice.
Step 2: Now, open that other device and go to iCloud.com.
Step 3: Now, you have to use your dedicated Apple ID and password to get into your iCloud account.
Step 4: Once you enter the account you will have to click on "Find My iPhone" feature.
Step 5: Then, head for "Devices", a list will be opened and you have to choose your iOS device so that it can be erased.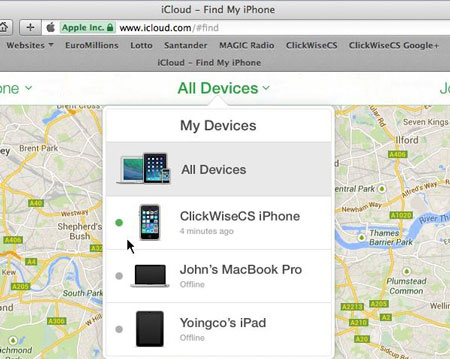 Step 6: Finally, you have to click on the blue icon adjacent to the name of your device and select "Erase iPhone".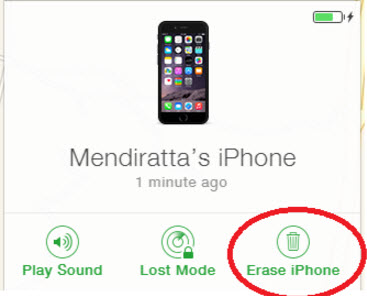 That's it! You have successfully erased your iPhone XS and that too remotely. The procedure mainly uses the "Find My iPhone" feature to locate and erase the device and the passcode gets deleted along with it. It is very simple and convenient procedure but the problem with this method is that if you haven't used the same procedure to locate your iPhone before then at the time of crisis this method will never work.
Way 3: Unlock iPhone XS/XS Max/XR with iTunes
The iTunes app is also the official procedure to unlock an iPhone but if you don't know how to unlock disabled iPhone XS then you should know that it is very simple. You have to connect the device to the computer and then send it to recovery mode, iTunes will do the rest.
Step 1: For this procedure, you have to use the latest version of the iTunes app, if you haven't updated it then do it now.
Step 2: Then connect your iPhone XS to your computer using a data cable.
Step 3: After the connection established you have to send the device into the Recovery Mode.
Here's how to get into Recovery Mode. Unfortunately, we are not really sure about the Recovery Mode sequence of the new iPhone XS but hoping that it will be same as iPhone X.
Step 1: Switch it off.
Step 2: Then, tap Volume Up key and then again the Volume Down key. Now, keep holding the Side button until the Connect to iTunes is displayed.
After the device is in the Recovery Mode, iTunes will prompt that it has detected a device that is already in Recovery Mode.
Step 5: Then, on the following message you have to click on "Restore".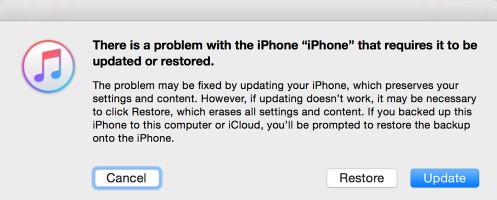 Step 6: iTunes will verify to factory reset your iPhone. Tap "Restore and Update" here.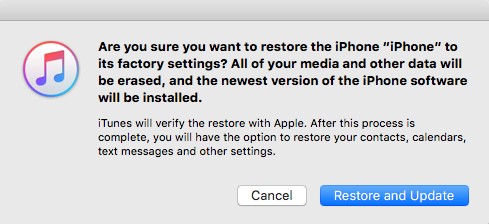 This will automatically download the software and restore your device with that new software. iTunes is one of the official ways other than iCloud to unlock your locked iPhone XS and this is how you can do it!
Way 4: Unlock iPhone X without Third-Party Tools
If your iPhone X is running the iOS 15.2 system, then congratulations, there is an easier method you can try - erase iPhone. On iOS 15.2, users can erase their device if they've forgotten the screen password and entered the wrong password many times.
Keep entering the wrong password many times and wait, until the "Erase iPhone" option appears. Then tap on it.

You need to enter your Apple account's password to erase the device.
Note: Your device should have the Apple account been signed in and should have an internet connection.
Conclusion
Some people wonder how to unlock iPhone XS/XR/XS Max passcode without a computer, the procedures we have mentioned are the best and the most convenient. But all of them will require a computer to fix the device. You can say that the official iCloud method does not need a computer as you can use another iOS device but you will need one available urgently. Other than that all of them are very useful if you want to bypass the password of your iOS device but they will definitely erase all the data and settings. If you want the best option, you know which one to go for, we highly recommend Tenorshare 4uKey. The best hassle - free iPhone unlocker period!
Best Tool to Turn OFF Find My iPhone/iPad/iPod touch without Password
Disable Find My iPhone/iPad/iPod touch without password;
100% working to sign out of iCloud without password quickly.;
Most efficiently remove Apple ID from iPhone/iPad/iPod touch without knowing the previous owner;
Support iOS devices from iPhone 6S to iPhone X (iOS 12.0-iOS 14.4)