Vivo FRP Bypass without Computer (Y20/Y21/Y120 Supported)
by Sophie Green Updated on 2023-08-31 / Update for Unlock Android
If you did a factory reset on your Vivo smartphone, the next step is to bypass the FRP lock. The FRP lock is a security feature by Google that protects your device from data theft and unwanted access. The quick and easy way to bypass it is to enter your Google account and password. Most users do not frequently log in and out of their Google accounts. As a result, it is common for them to forget their Google password.
In case you are in a similar situation, you don't have to worry because there are other ways to do Vivo FRP bypass without a password. In this article, you will learn the easiest ways of Vivo bypass google account. Without further ado, let's get into it.
Part 1: What Is FRP And Why You Need to Bypass FRP
Google introduced the FRP or the factory reset protection lock to make sure that your device is protected even if someone tries to use it after doing a factory reset. As you know, you can unlock your smartphone without a password after doing a hard reset. If your device gets stolen or you lose it, anyone can reset it and start using it. It was the case for earlier Android phones, but when Android 5.1 came out, Google added the FRP lock for security and privacy.
Now, every Android device has an FRP lock, including Vivo, and you need to do a Vivo FRP bypass whenever you do a factory reset. Suppose you have a Vivo Y20, and you want to reset it for some reason. After you complete the reset and set up your device, Google will ask you to open the FRP lock. For the Vivo Y20 FRP bypass, you have to enter the user's name and password of the recently logged-in Google account on your device. If you can't unlock the FRP, Google will block your device for good.
Part 2: How To FRP Bypass Vivo with Two Common Ways
If you are looking for common ways for Vivo Y21 FRP bypass, we got you covered. This guide will enable you to bypass the FRP lock on most Vivo devices. Follow each step precisely and remove the FRP lock without a computer.
1. Vivo FRP Bypass APK
The easiest way for a Vivo FRP bypass is by using an FRP removal APK. But, when you reset your phone, you have to set it up before you can download or use any apps. Before you complete the set-up, you encounter the FRP lock, so it is impossible to download any app on your device through common methods. These steps will help you solve this problem and remove the FRP lock.
Power on your Vivo smartphone and connect it to the internet through WIFI.

Tap on the "arrow" next to the WIFI network to view more settings. Turn on the "Use Static IP" toggle and tap on the "IP Address" option.

Type any number or word, Press and hold it until you see the "Web Search" option. Search for the "Quick Shortcut Maker" APK and download it.
Install the APK and launch it, search for "Settings", and tap on the "TRY" option. Proceed by setting a new password for the "Pattern lock."
Go to "Fingerprints, Face, and Password > Screen Lock > Pattern." Set a new screen lock pattern and tap on the "Finish" option.
Go back to the main page and use the new screen lock pattern to unlock. Next, tap on the "Skip" option to bypass the FRP lock.
Also Read: Quick Shortcut Maker FRP Bypass and Its Best Alternative
2. Recover Google Account
If the FRP bypass APK methods look complicated to you, instead of using other ways, you can try to recover your Google account and remove the FRP lock with it. The whole reason you are stuck at the FRP lock is that you forgot your Google password. In that case, just recover it through Google and use it for your Vivo Y12s FRP bypass.
Open any browser on your PC and visit Gmail.

Click on the sign-in option and type your Google username.

Click on the "Forgot Password" option and set up a new one with your mobile number.
After recovering your Google account, it will take up to 24 hours for Google to sync the new password with all your devices. After that, you can bypass the FRP lock by entering your new Google password.
Part 3: How to Disable FRP Vivo Bypass Easily and Promptly
When you factory reset your smartphone to unlock it after you forgot your lock screen password, you don't have any option other than dealing with the FRP lock. But if you are resetting your device for any other reason and you know about the FRP lock. Instead of dealing with it, you can disable it before the factory reset to make sure it doesn't bother you. Here is how you can disable Google FRP lock.
STEP 1: Open settings and navigate to Accounts > Google. Tap on your currently synced Google account.
STEP 2: Tap on the "More" button at the top-right corner.
STEP 3: Select the "Remove Account" option. It will disable the FRP lock on your device.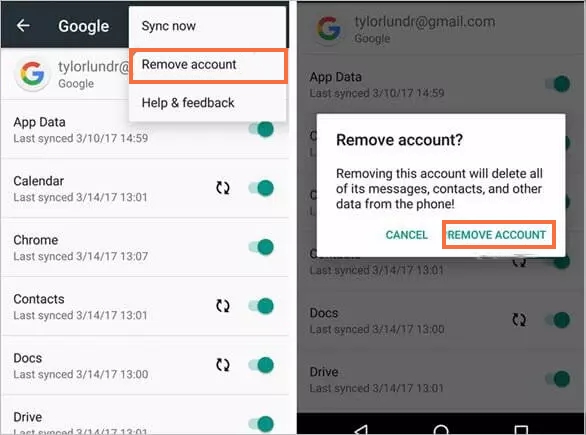 Part 4 : How to Bypass Google Account on Vivo with the Best Vivo FRP Bypass Tool
The best way to do a Vivo FRP bypass without a password is by using an expert tool like Tenorshare 4uKey for Android. It supports all Vivo devices with the Android 10-12 operating system, and you can use it to bypass Google lock if you are stuck at the welcome screen after completing the factory reset.
Tenorshare 4uKey for Android is fast, safe, and easy to use. Its FRP bypass tool only requires a few clicks to disable the Google lock. Here are steps to remove the FRP lock on your Vivo device using 4uKey for Android.
Download and install Tenorshare 4uKey on your PC and launch it. Connect your device to the PC with a USB cable and select the "Remove Google Lock (FRP)" tab on the homepage.

Click "Remove Now" button to bypass FRP on Vivo devices.

After receving notification on your Vivo device, follow the on-screen instruction to set up your Vivo. Click "Next" button to proceed with the process.

It may take a few minutes for the Vivo FRP bypass process to complete. Once your Vivo device restarts, you won't be asked to verify your Google account and you can just follow the onscreen instructions to set up your phone as new.
Also Read: Top 3 Vivo Pattern Lock Removal Tool
Conclusion
Let's conclude our guide on how to do a Vivo FRP bypass here. If you don't want to use a computer to bypass the FRP lock, all you need to do is download the quick shortcut maker APK and use it to remove the Google protection lock. If that doesn't work, you can use a third-party tool like Tenorshare 4uKey for Android and disable it with one click. 4uKey for Android is a one-stop solution for any of your smartphone issues. You can use it to remove screen locks on all Android devices and remove FRP on Samsung devices.
Remove Android Screen Lock & Bypass Samsung FRP Lock
Bypass Google account verification on Samsung devices (Android 6-13)
Remove Android password, pattern, PIN, and fingerprint lock just one click away
Support removing screen lock and FRP on both Win & Mac