Everything about MIUI Recovery 5.0 [Can't Miss]
by Jenefey Aaron Updated on 2023-01-14 / Update for Android Tips
Every Android smartphone comes with a special mode called the recovery mode. Recovery mode comes in handy when your phone starts to malfunction and you want to recover your phone to normalcy. The mode is equally useful for advanced users who want to install custom ROM and break free from the boundaries of stock Android. If you are a Xiaomi device user, you know that it has a customized version of the stock Android called MIUI.
If you want to fix any issue on your Xiaomi device, you have to enter MIUI recovery mode. If you are using the latest Xiaomi device, you will have MIUI Recovery 5.0 mode to get into. We will illustrate how you can boot into and exit from MIUI Recovery 5.0. We will also address the MIUI Recovery 5.0 stuck issue and state how to fix this common issue among Xiaomi users.
Part 1: What Is MIUI Recovery 5.0?
Xiaomi phones come with MIUI OS which is based on Android OS. There is a special mode present in Android OS called the Recovery mode. The Xiaomi recovery mode in MIUI OS is labelled as MIUI Recovery. If you have the latest MIUI version on your Xiaomi phone, you will find the recovery mode as MIUI Recovery 5.0.
MIUI Recovery is very crucial for advanced smartphone users. By entering into recovery mode, Mi users can perform a hard factory reset or to  to update the previous MIUI version. This is useful when your phone becomes slow or gets affected by virus and malware. You can also wipe cache partition when previously saved data interferes with your phone or app operation.
Most importantly, advanced users flash their Xiaomi phones with custom ROM, kernel, and more via MIUI Recovery. There is an option called Connect with MiAssistant to boot into Fastload mode and flash the device with custom ROM. With custom ROM, users can break free from the limitations of MIUI and explore the advanced and hidden features.
Part 2: How to Boot and Exit Xiaomi/Redmi into MIUI Recovery 5.0?
Learning how to boot your Xiaomi or Reimi Phone into recovery mode can prove very useful for troubleshooting problems with your device. By booting into recovery mode, you can perform tasks like clearing cache, wiping data, and factory resetting to recover your device when things go wrong. Here are two methods on how to get into MIUI Recovery 5.0.
1.Boot Xiaomi/Redmi into MIUI Recovery 5.0 by Key Combinations
Using key combinations on your Xiaomi phone is the most basic way to get into the Recovery Mode. Just press the right button combinations and release them at the right time, you can easily boot Xiaomi into MIUI Recovery 5.0. Follow the steps below:
Press and hold the Power button to switch off your Xiaomi phone.
Once the phone turns off, press and hold Power and Volume up buttons together for some time.
When the Mi logo appears on the screen, release all the pressed buttons.

You will see the Main menu of the MIUI Recovery 5.0. You need to use the Volume buttons to navigate through the recovery menu and press the Power key to select any option.
Once you have performed your desired operation in recovery mode, you need to go for MIUI recovery 5.0 exit successfully. The changes you have made in the recovery mode will be reflected only when you exit recovery mode and restart in normal mode. Here are the steps on how to get out of recovery mode on your Xiaomi phone.
You need to go back to the main menu of MIUI recovery 5.0.
Use the Volume keys to navigate to the Reboot option.
Press the Power button to exit recovery mode.

On the next screen, select the Reboot to System option and press the Power button. This will reboot your phone back into normal mode.
2. One Click to Enter and Exit MIUI Recovery 5.0
hot
While entering recovery mode by key combinations is not a tricky task, you may fail to get into recovery mode if you don't press or release the correct buttons at the right time or your phone's keys are not working or broken. In this case, you can avail Tenorshare ReiBoot for Android to enter and exit Android recovery mode with one-click, and for free.
ReiBoot for Android does many things including enter & exit Android Fastboot Mode, Recovery mode, and download mode, fix various Android system issues like Samsung stuck on Samsung logo, apps keep crashing, and clear Android system cache. Let's see how you can enter and exit MIUI Recovery 5.0 by one click.
Connect your Xiaomi or Reimi to the computer via the USB cable and enable USB debugging according to the instructions.

Once enabled, select "One-Click to Enter Recovery Mode".

Your Xiaomi or Reimi phone will enter the Recovery Mode without pressing any hardware keys.
When you finish with recovery mode, go back to the main page of Reiboot for Android, simply click Exit Recovery mode. The program will end the recovery mode and allow the system to boot again.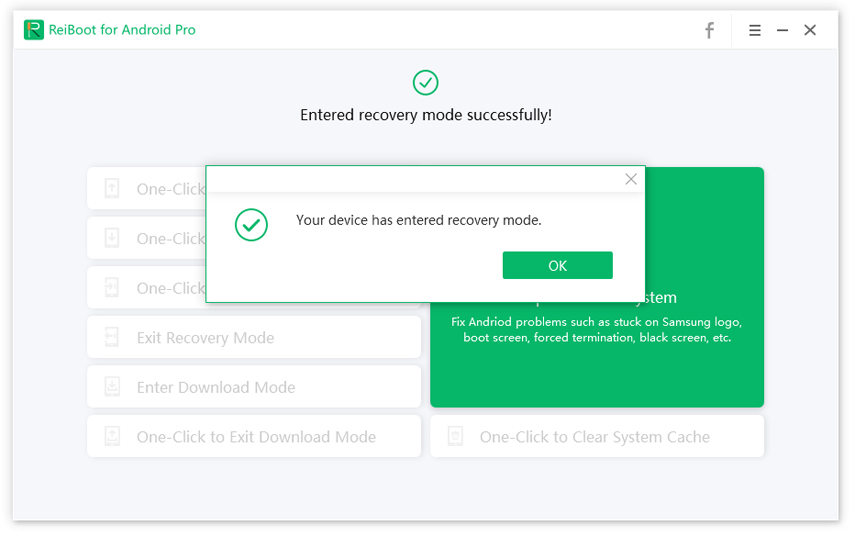 Part 3: MIUI Recovery 5.0 Stuck? How to Fix It?
One of the most common complaints from Xiaomi users is that their phones have got stuck in recovery mode. When the phone gets into MIUI recovery 5.0 stuck mode, the phone literally freezes, and you cannot perform any action at all. You cannot get an exit in the normal way. But don't panic, we've compiled a list of possible solutions for the MIUI Recovery 5.0 stuck issue. Check the guide blow to learn how to fix Xiaomi stuck in recovery mode.
First of all, you need to check that the power or the volume buttons are not stuck. Secondly, you should try and exit the recovery mode in the usual way. If these solutions are not working, you should perform the following solutions to fix your phone stuck in recovery mode.
Fix 1. Go For a Hard Reboot
To perform a hard reboot, you should press and hold the Power button on your phone for 10-20 seconds. This will force your phone to reboot in normal mode. When the phone reboot, release the power button.
If the above step does not work, there is an alternative hard reboot method. You should select the Connect with MiAssistant option.
Connect your phone to your computer via USB cable.
Press the Power button and hold it. After 10 seconds, disconnect the phone from the computer while still holding the Power button.
Thereafter, the phone should reboot back to normal mode.
Fix 2. Go For Wipe Data Option
Wiping data proves to be useful when your Xiaomi phone is stuck on MIUI recovery 5.0 screen. But note that you'll lose all your data on the phone during the process. That said, here's what you can do.
Go to the main menu of MIUI Recovery 5.0. Use the Volume keys to go to the Wipe Data option.
On the next screen, select the Wipe All Data option.

On the next screen, select Confirm and wait for the data wiping process to complete.

Once the process is finished, you'll see a success prompt on your phone's screen. Reboot, and the phone should be back in normal mode.
Wrap It Up
So we have illustrated how to enter into and exit from MIUI Recovery 5.0 mode when you want to perform a factory reset, flash a custom ROM or install updates. You can either try the key combinations to get into recovery mode or one-click to access the recovery screen through Tenorshare ReiBoot for Android. In case your phone get MIUI recovery 5.0 stuck, simply try the solutions stated above to get the issue resolved.