How to Fix iOS 14/12/11/10/9/8/7 Wi-Fi Connection Problem after iOS 12/11/10/9/8/7 Upgrade
by Jenefey Aaron Updated on 2020-09-10 / Update for Other iPhone Tips
Many iOS users are suffering from iOS 14/13/10/7 update. The iOS 7.0.2 update does fix the lockscreen security vulnerability; however, this seems far from being enough as the iOS 7 Wi-Fi issue is still bothering a lot of iOS users.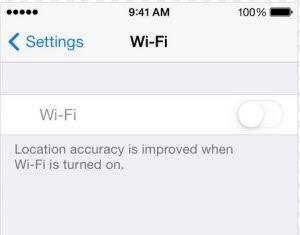 Gustavojosedf77 from Apple forum complained that "After upgrading iOS 7 on my iPhone 4S, the wifi is not working. It cannot detect any wifi nor am I able to enable wifi under settings. Is there a way for me to fix this?"
Problems like Wi-Fi doesn't work with iOS 7, iDevices cannot access Wi-Fi after iOS 7 update and other iOS 7 connection problem also trouble you a lot? Here is several trouble shooting tips for you.
Updated: It's reported that iOS 8.2/8.1/8 has the same issues. In this case, you can also use the following tricks to fix iOS 9.3/9/8.2/8.1/8 Wi-Fi problems.
Note:
Want to recover lost data but can't restore iPhone data without Wi-Fi connection? You can try
iPhone Data Recovery for Mac
which could recover contacts, text messages, photos, notes, calendar, WhatsApp messages and more from iPhone.
Option 1: Reset the network settings
The Wi-Fi connection issue may be caused by wrong network settings. As a result, you should reset network settings.
1) Firstly, make sure that airplane mode is off by tapping Settings > Airplane Mode.
2) Reset the network settings by tapping Settings > General > Reset > Reset Network Settings.

Note: This will reset all network settings, including Bluetooth pairing records, Wi-Fi passwords, VPN, and APN settings.

3) Launch Settings again. The problem should be fixed and you should now be able to locate your personal Hotspot.
If your issue is still unresolved, perform a software restore in iTunes.
Option 2: Change APN settings
If Wi-Fi still not working after you reset the network settings, you can try to change APN settings.
1) Navigate to Settings, choose General> Network> Cellular Data Network.
2) From Cellular Data Network, search for an option called Internet Tethering.
3) Re-type APN and Username/Password if required.
Option 3: Change iPhone's name
Those who have updated their devices to iOS 7 and cannot access Wi-Fi should change their iPhone's name. The latest firmware reportedly has some issue with apostrophes, so deleting an apostrophe in the device's name will solve the problem. This is also true with iPad and iPod touch.
1) Turn off Wi-Fi connection
2) Launch Settings and select General > About
3) Open Name section and edit your iPhone's name
4) Turn the handset off/on and start using Wi-Fi again
If all the instructions are followed strictly, the Wi-Fi hotspot not working issue after iOS 7 update should be resolved. You can also check how to fix iOS 7 battery drain for more info relating to iOS 7.