[Step by Step] How to Reset Encrypted Data iPhone
by Anna Sherry Updated on 2020-03-12 / Update for Reset iPhone
iOS is packed with numerous features, it is one of the most primal reasons to use for using iOS. But, most iOS users utilize barely only half of its true potential, a number of users do not even know the meaning of "reset encrypted data iPhone".
So, what does it mean to reset your end to end encrypted data iPhone? Or what happens when you reset encrypted data on iPhone?
This is actually a very simple procedure where iOS adds encryption to your backup files, keeping it safe and secure. iTunes will even store the set password onto your set device and afterward, all the created backup files will be encrypted. But if you want to avoid the later part of the procedure, you will need to reset the encrypted data. The procedure is not very difficult, all the necessary details are provided below.
Part 1: What Is Encrypted Data on iPhone
iTunes app was designed as storage where iOS users can keep their backup files safely. But in order to achieve that level of security, iTunes uses state of the art password protection and security. This level of security is much appreciated by the users but if you try to reset end to end encrypted data iPhone, you will face the issues.
The encrypt backup feature of iTunes first locks your information and then encodes it. The encrypted iTunes backups includes several types of information like;
Your Passwords
Wi-Fi Settings
Website History
Health Data
Now, iTunes does not automatically encrypt your backups, it is not a default feature but you have to activate the feature manually. The first time backup encryption is easy, you have to turn on the Password-Protected encrypt backup option. After that, iTunes starts to create encrypted backups for that device, automatically
So, basically this is a very handy and useful feature but there is actually no feasible way to recover that stored information or even turn off encrypt backup if you lose or even forget the password. Basically, if you want to reset encrypted data on iPhone, it will be impossible for you without the password.
Part 2: How to Reset End to End Encrypted Data iPhone
If you take a good look at the online forums dedicated to iOS, you will see that a lot of users are discussing issues like "can't approve this iPhone reset encrypted data".
For a number of users resetting the end to end, encryption has become really difficult but there is actually a way to do it. The procedure is really simple and it is provided by the developer themselves. So, let's have a look at the guide below;
iOS 11 or above
The procedure varies depending on the version of iOS you are using at the moment. The procedure we are about to discuss is integrated into iOS 11 or any above version of iOS.
Step 1. Open your iPhone and go to "Settings".
Step 2. After that, navigate to "General" and tap on "Reset".
Step 3. Afterward, you need to tap on "Reset All Setting" and you also have to provide your iOS password.
Step 4. Then, you will have to follow the on-screen instructions or reset all your settings.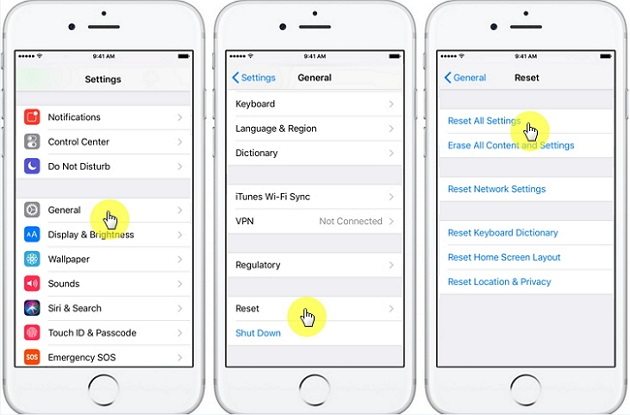 After completing the said procedure, the password for the encrypted backup file will be removed and all your settings will get reset. But after this, you can connect your device to the iTunes to create a new encrypted backup again.
iOS 10 or below
The procedure will be a bit different if you are using iOS 10 or below;
Step 1. Just like the previous procedure, you need to go to "General" via "Settings" and tap on "Reset".
Step 2. After that, tap on "Erase All Content and Settings" and you also have to type in your iOS password.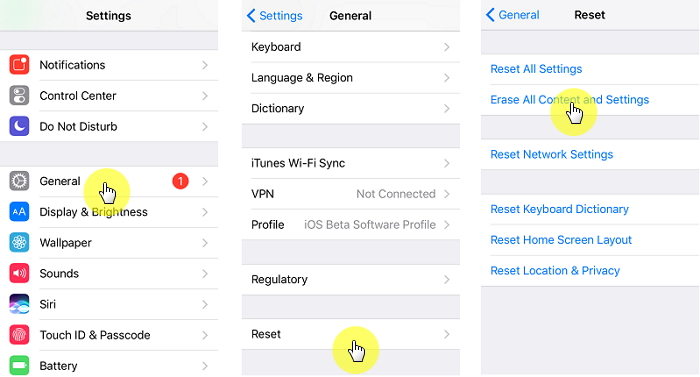 Executing these steps properly will erase everything from your iOS device including the encryption password.
Part 3: What Happens When You Reset Encrypted Data on iPhone
We went through several iOS related forums, including the official and the unofficial ones and we came across to many questions regarding the reset of encrypted data on your iPhone.
The users mostly asked the same thing is a different way; "what happens if I reset encrypted data on my iPhone?" or "what does reset encrypted data mean on an iPhone?" or "what happens when you reset encrypted data on your iPhone?"
The answer is actually very simple; if you make the reset, you won't be able to use any of the previously encrypted backup files, anymore. But you can use iTunes to back up your iOS device again and set a new password for your backed up data.
Part 4: How to Turn off iPhone Backup Encryption Settings with Password
You will be able to easily turn off the encryption password of your iPhone if you have the password. Just follow the steps below;
Step 1. You need to connect the iPhone to your computer with a USB cable.
Step 2. Launch the iTunes app and choose your iPhone from the iTunes panel.
Step 3. Now, click on the "Summary" tab.
Step 4. You will see the option called "Backup", there you need to untick the box beside "Encrypt Local Backup".
Step 5. Finally, you will be asked to type the password for that encryption. You also need to confirm it and only then the encryption will be removed.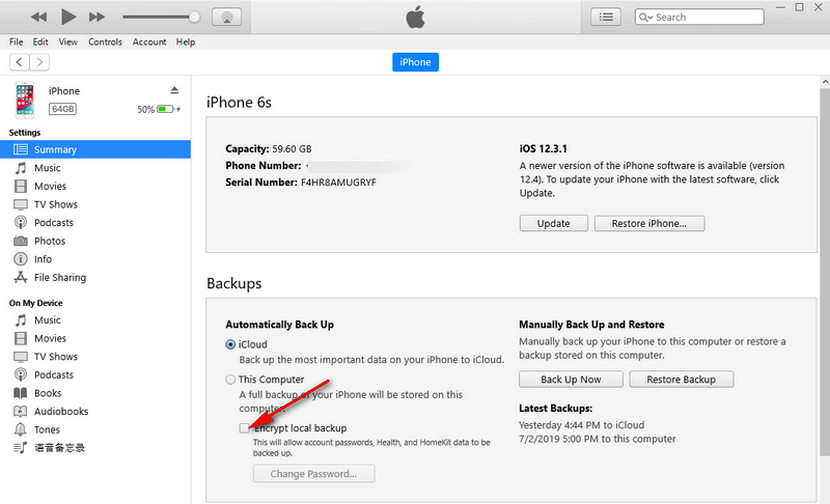 This procedure will only work if you have the password for your encrypted backup file. There is also a catch, if you turn off the backup password in iTunes, the backup password in the phone is not turned off, and the backup still has the backup password.
Part 5: If You Forgot the Password for Your Encrypted Data on iPhone, How to Fix?
If you have forgotten the password for the encrypted data on your iPhone, then you will need the help of professional programs that are designed to crack the encryption.
One of the best software for such use is Tenorshare 4uKey - iPhone Backup Unlocker. The said program is capable of removing iTunes backup encryption settings and it is quite good at it. The program provides you the ability to perform the said task only with a single click. The guide to remove your iPhone's backup encryption setting is detailed below;
Step 1First, you need to download and install Tenorshare 4uKey-iTunes Backup on your computer.
Step 2 After the installation is finished, launch the program and select "Remove Backup Encryption Settings" option from the main interface.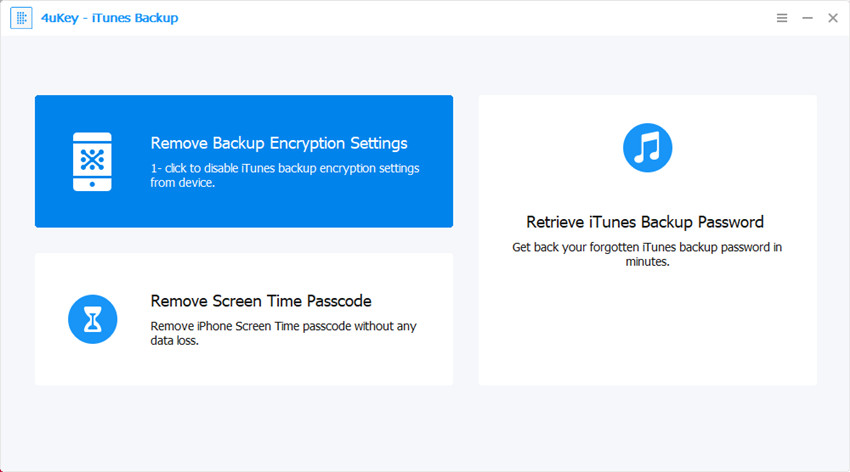 Step 3After that, you need to connect your iOS device to the computer, with a USB cable.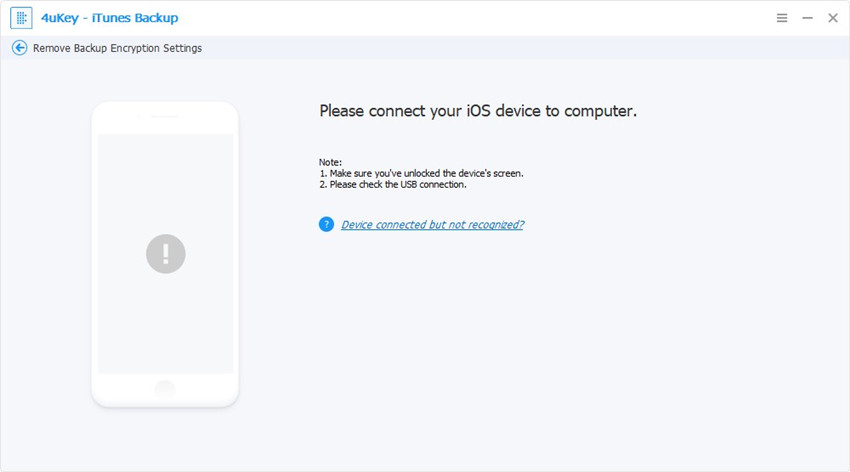 Step 4After the device is detected by the program, click on the "Start" button in order to remove the backup encryption settings. It will take no more than a few seconds to complete the procedure.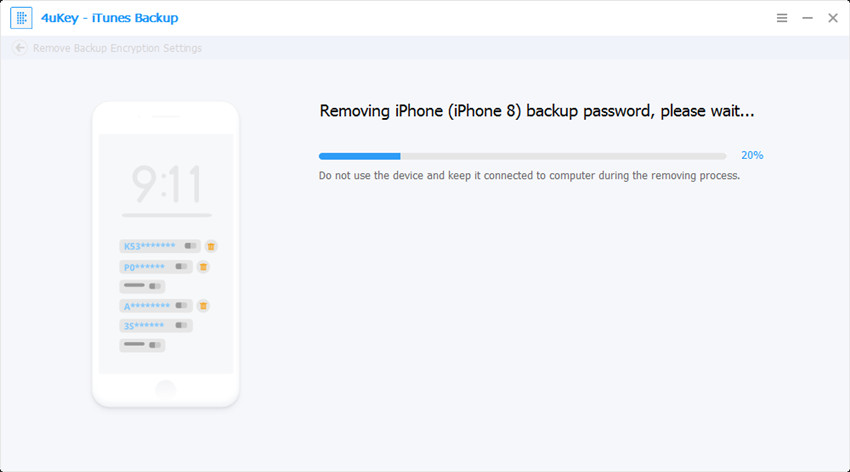 Step 5After the procedure is completed, you will see that the backup encryption settings are removed successfully.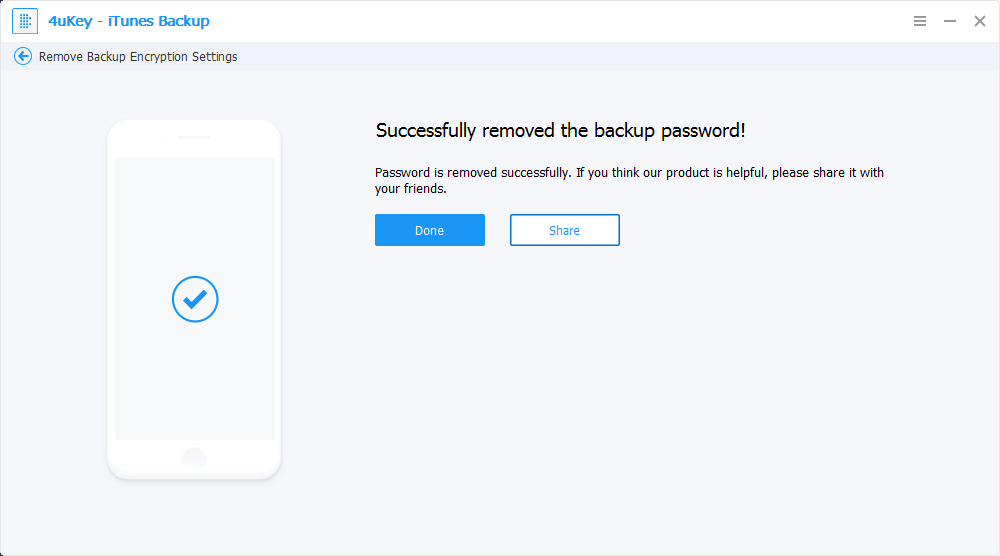 This is the simplest way to remove the backup encryption settings from your iOS device successfully, but you will need to install this third-party.
Summary
Needless to say, extreme is one of the most wonderful and reliable features of iOS devices. Quite surely, the procedure is pretty complicated but if you mess up and forget the password, it will very complicated for you. But if you use the 3rd party software called Tenorshare 4uKey - iPhone Backup Unlocker, you will be able to make iPhone 6 reset encrypted data or iPhone 7 reset encrypted data, easily.