Quickest Method for Samsung S22/S23 FRP Bypass [Android 12]
by Anna Sherry Updated on 2023-02-14 / Update for Unlock Android
If you are struggling to get into the home screen of your Samsung S22/S23 after factory reset, then you need to learn some Samsung S22/S23 FRP bypass methods. This is because the Factory Reset Protection (FRP) feature has been switched on; hence, you will have to bypass it before you can continue utilizing your Samsung device.
The good news is that there are many ways you can explore to bypass the Samsung S22/S23 account and enter into the home screen of your device. In this article, we will show you some of the trusted methods you can use for Samsung S22/S23 FRP unlock.
Part 1: What Is FRP on Samsung Galaxy S22/S23
Basically, Factory Reset Protection (FRP) is a top-notch feature that helps you to protect the data on your Android smartphone from unauthorized access. When you register a Google account on your Samsung Galaxy S22/S23, the FRP feature will be enabled instantly and automatically on your device. As a result of this, after you have factory reset your device, this data protection feature will ask you to input the details of the Gmail account you used for logging on to your Samsung Galaxy S22/S23. Once the needed information has been supplied, all data on your device will be restored after a factory reset. Therefore, the Samsung S22 FRP lock is a powerful feature that can come in handy numerous times.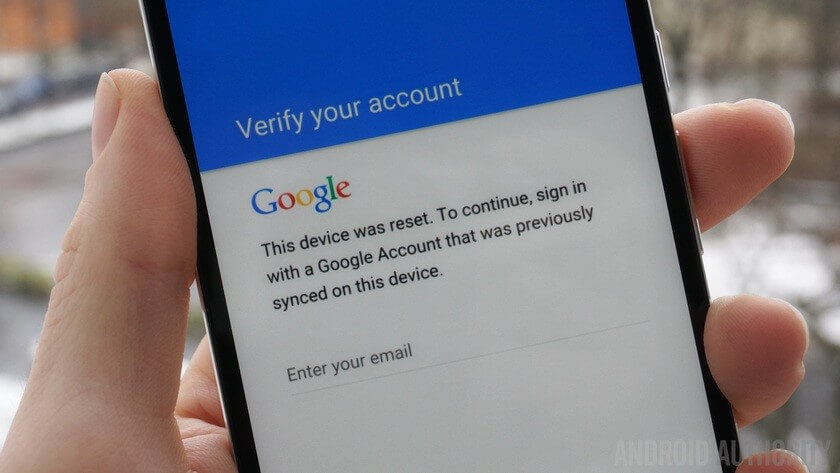 However, there are instances when you don't know the Gmail ID and password attached to your Samsung S22/S23. This could be because you have forgotten them or you bought a used phone. In this case, you will have to bypass Samsung S22/S23 FRP to enjoy using your Android device once again. Below, we will highlight how you can bypass Google account on Samsung with ease.
Part 2: The Quickest Method for Samsung S22/S23 FRP Bypass
So, when you need to bypass Samsung S22/S23 FRP as quickly as possible, we recommend that you use a reliable Samsung S22/S23 FRP tool. This tool is known as Tenorshare 4uKey for Android. It is a reliable FRP bypass tool for PC.
Apart from being effective and reliable, this Samsung S22 FRP tool works perfectly for almost all Android devices. Besides, you don't need to spend several hours watching any YouTube videos and hire an expert before using this tool. You just have to follow the simple steps that we will explain below in this article.
To bypass Samsung S22 FRP, you should start by downloading and installing 4uKey for Android on your PC or Mac.

Run the software on your computer and connect your device to the computer. On the software, click "Remove Google Lock (FRP)."

Next, choose the Android version of your smartphone. It is noteworthy that Samsung S22 is running Android 12, so choose "Android 11/12" and hit "Start."

Now, follow the onscreen instructions to set up your frp-locked device. After tapping Emergency call on the welcome screen, dial *#0*# and then click "Next."

The program will begin to bypass Google account on your Samsung S22. This will take only a few seconds and do not disconnct your phone during the Samsung S22 FRP bypass process.

When the Google lock is successfully removed, your Samsung S22 will reboot and you can get into it without entering your Google account details.

Video Guide on Samsung S22 FRP Bypass
Other Questions about Samsung Galaxy S22
Q1. Samsung S22 Price in America
If you want to buy the new Samsung S22 in America, you should be ready to spend at least $799. For Samsung S22 Plus, the price is S22 $999 whereas the price of Galaxy S22 Ultra is $1,199.
Q2. How to Disable FRP on New Samsung Phone S22
Navigate to the "Settings" app on your S22 and open it.
Go to "Accounts and Backup."
Choose "Accounts."
Choose the Google account you want to remove and tap "Remove Account."
Conclusion
With the information provided in this article, you should now be able to bypass Samsung S22/S23 FRP with this Samsung FRP bypass tool for PC. Follow the steps above to achieve Samsung S22 FRP bypass in the quickest manner and get the device unlocked without any problem. Tenorshare 4uKey for Android is easy to use, effective, and dependable. So, start using this program today.
Remove Android Screen Lock & Bypass Samsung FRP Lock
Bypass Google account verification on Samsung devices (Android 6-13)
Remove Android password, pattern, PIN, and fingerprint lock just one click away
Support removing screen lock and FRP on both Win & Mac