Fix 'This Apple ID Has Not Yet Been Used in The iTunes Store' Error
by Anna Sherry Updated on 2022-03-29 / Update for Apple ID
Whenever I try to download something from the AppStore it says 'This Apple ID wasn't used in the AppStore yet.' Please help, I can't even use the AppStore."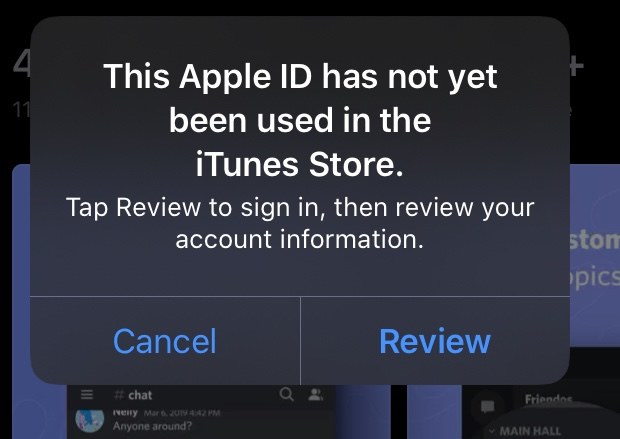 In most cases, you will get this error message after creating a new Apple ID and trying to get your first media. Even after trying to sign in several times, you will continue getting this error message. Also, if you click the "Review" option, you will likely see a blank page on the Apple store. Hence, you will still not be able to do anything.
Why This Apple ID Has Not Yet Used in iTunes
The most common reason for this error is that you have not added billing and shipping addresses to your Apple ID. As a result of this, Apple will want you to add these details as you need them to make any purchases on the iTunes store.
Another possible cause of "this Apple ID has not been used in the iTunes store" is a bug. Sometimes, a bug may be hindering you from enjoying your device, and you won't be able to use the store until you have fixed it.
How to Fix 'This Apple ID Has Not Been Used in the iTunes Store' Error
No matter the cause of the "this Apple has not yet been used with the App Store" error, we will show you some reliable solutions below and you can watch the video to learn what to do.
Method 1. Set Billing and Shipping Address
The first solution to the "this Apple ID has not yet used in iTunes" error is to try to fix any issues with the billing and shipping address. Check the billing and shipping to confirm whether it is right or not. You can do this login to www.appleid.apple.com and visit the "Payment & Shipping" section. You may want to reset the address.
Method 2. Sign out and Sign again on the Same Device
This is an easy and quick method that may fix the error in some situations. Foremost, you have to sign out of your Apple ID on your device. Then, you need to sign in to your Apple ID again on the same device. In some cases, iTunes will be able to recognize your Apple ID; hence, the problem will be solved.
Method 3. Sign in from Another Device
The next solution is to try to sign in through another device. You can use your iPhone, iPad, Mac, Apple TV, or any other Apple device. On the other device, you need to accept the terms and service. You will be prompted to reenter your billing and shipping address. Now, try to use iTunes with your Apple ID. Normally, this method should solve the problem.
Method 4. Verify Your Email Address
If you didn't verify your email after setting up your Apple ID, you may also experience the "this Apple ID has not been used in the iTunes store" error. You can fix this issue by just visiting www.appleid.apple.com. On the site, you can confirm whether you have verified the email address or not. If you have not verified, go to your email address to verify it.
Method 5. Repair iOS System with Tenorshare ReiBoot
Sometimes, an unexpected system bug may prevent you from using the iTunes Store. Thus, you can try to use a specific software to troubleshoot and repair this kind of issues. Like Tenorshare ReiBoot, this software is able to fix most iOS issues without data loss and it's very easy to use.
Fix iPhone Stuck Issues without Data Loss
Method 6. Apple ID Still Fails to Activate? Contact Apple Support
Are you still unable to fix the error with the solutions above? Then, you shouldn't hesitate to get in touch with Apple Support. In most cases, the Apple Support team will provide the assistance you need to solve the "this Apple ID has not yet been used in the iTunes store, tap review to sign in".
Conclusion
Having read this article, you should now be able to fix the "this Apple ID has not been used in the iTunes store" error on your device. If you have forgotten your Apple ID password, you may not be able to use the iTunes Store, iCloud, and several other things on your Apple device. But you don't have to worry too much about this, you can try to remove your Apple ID password with Tenorshare 4uKey.