How to Jailbreak iOS 14/13/12/11/10/9/8/7/6 Device with Evasi0n
by Jenefey Aaron Updated on 2020-09-10 / Update for Other iPhone Tips
As an iOS device user, you must have heard of jailbreak for a long time. And there are quite a number of people crazy about iPhone jailbreak. If you haven't yet jailbroken iPhone, iPad or iPod, you can read this article to learn how to jailbreak iPhone, iPad and iPad.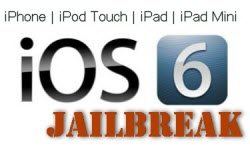 What's Jailbreak
Jailbreak is the process of removing the limitations on Apple devices running the iOS operating system through the use of software and hardware exploits – such devices include the iPhone, iPod touch, iPad, and second generation Apple TV.
Jailbreaking permits root access to the iOS operating system, allowing the download of additional applications, extensions, and themes that are unavailable through the official Apple App Store. Jailbreaking is a form of privilege escalation. A jailbroken iPhone, iPod touch, or iPad running iOS can still use the App Store, iTunes, and other normal functions, such as making telephone calls.
Backup Data before Jailbreak
Before you start to jailbreak, sync and backup your iOS device. If you fail to jailbreak, it's quite likely that you might lose data on your iPhone, iPad or iPod. Alternatively, you can keep the iPhone Data Recovery for Mac, a data recovery tool for iOS devices, on your desktop. The Windows version of this tool is called iPhone Data Recovery.
It's easy to backup iOS devices with iTunes. Just connect iDevice to computer and open iTunes. Under Devices right-click the iPhone, iPad or iPod and select backup and Sync.
How to Jailbreak iPhone, iPad and iPod
Head to evasi0n and download evasi0n 1.4. The downloads are available for Mac, Windows, or Linux. The official website of evasi0n is http://www.evasi0njailbreak.com/.
Save the evasi0n app to your desktop, and run it.
Connect your iOS device to Evasi0n, and ensure that evasi0n detects your device. Evasi0n is compatible with iOS 11.3.1/11.3/11/10/9/8/7/6.x firmware from iOS 6.0 to iOS 11.3.1. In this case, you will be using iOS 11.3.1.

Click the jailbreak button, and wait for a while. You will notice your device reboot several times throughout the entire process.

Finally, evasi0n will ask you to unlock your device, and tap the Jailbreak icon on your Home screen once. Make sure that you tap the icon only one time, and then leave the device alone and let it continue.

The evasi0n app will complete its course, and you will be able to click the Exit button. The iOS device, however, still needs to finish up a few additional steps.
When the jailbreak finishes, you can unlock your iOS device, and open the Cydia app on your Home screen. Cydia will need to initialize. When this finishes, reopen Cydia, select Hacker, and you've successfully jailbroken iOS device running iOS 11.3.1/11.3/11/10/9/8/7/6.x.
Besides jailbreak, you can find more info concerning iPhone here, for instance, How to Factory Reset iPhone.