iTunes Can't Backup My iPhone Under Windows 10
by Jenefey Aaron Updated on 2019-07-25 / Update for iTunes Tips
By: Robert GrSep 14, 2015 3:06 PM
"iTunes is unable to backup my iPhone 6 to my Windows 10 desktop. I get an error: iTunes could not back up the iPhone "my iphone" because the backup was corrupt or not compatible with the iPhone. This started after I tried the Encrypt iPhone Backup option was selected.Now I can not do any backup - with or without the encryption option."
(Source: Apple Support Communities)
Cannot Backup Problem
Like the example above, many people may come across the problem that your computer pops up a warning that you cannot backup your iPhone data on your computer. And this may happen more often in Windows computer since iPhone devices are not using the same system as Windows. Have you ever experienced the following warning in your computer?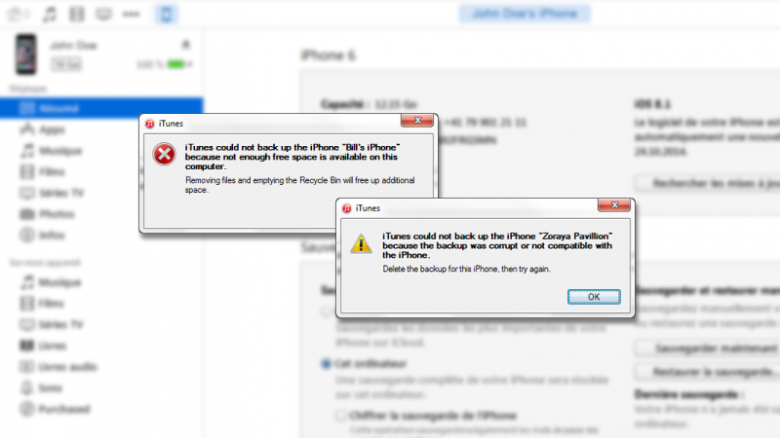 "the iPhone refused the request."
"an error occurred."
"the backup session failed."
"a session could not be started."
"an unknown error occurred -1."
"the backup could not be saved on this computer."
If the answer is yes, then you are in the right place. Here we would like to summarize all the possible solutions to the "cannot backup problem", so as to help you get out of the annoying problem.
What Can I Do with the Problem?
1.Restart your iPhone. It may bring the quick fix. Since the problem also appears on Windows 10, you would also recommend you restart your computer.
2.Install the latest iTunes version. iOS drivers required by your PC to correctly recognize your iPhone come with iTunes. Getting the most recent version of iTunes will make sure that you have the latest drivers.
3.Change USB slot. Sometimes it maybe the problem of the USB, change them if you have other slots.
4.Free up space on your computer. Most iOS backups require at least 1 or 2 GBs of free space on your system drive. Make sure you have enough space in your iPhone.
5.Fix iTunes with professional software. When iTunes won't backup iPhone on Windows 10, try
What If Your iTunes Still Failed to Backup your iPhone Under Windows 10?
It still may happen that your iTunes turns out to fail in backup your iPhone's information. In that case, you need an iTunes fix tool to help you. We recommend you Tenorshare iPhone Care Pro to fix your iTunes media through either your Windows or Mac computer.
Downloaded and installed the iPhone Care Pro. Connect your iPhone in iOS 10/9/8 to the computer via a USB cable and start the program.
Click on "Files Manager" from the main interface and select red icon "Music" to click. Click "Add" on the menu to add music to your iPhone.
Click "Refresh" and all the changes will be synced with your iOS devices. During the sync progress, iPhone Care Pro will recover your missing or corrupted iTunes Media files.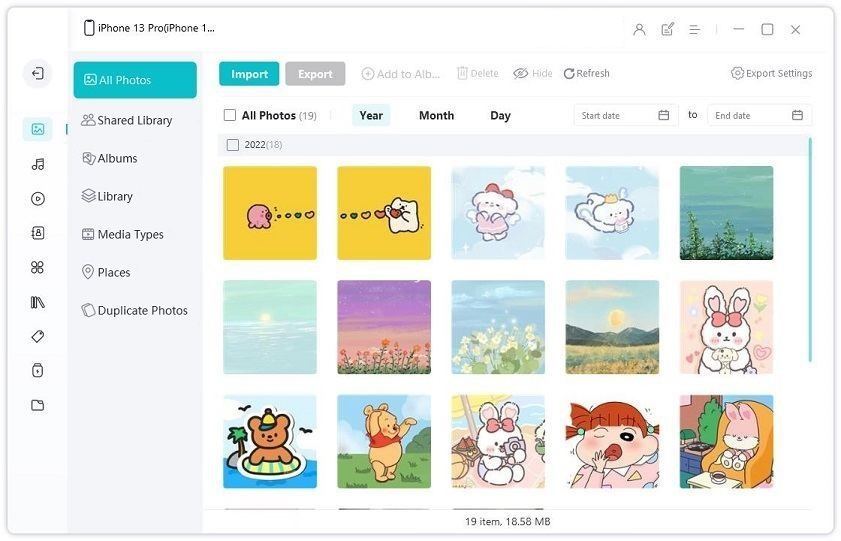 Hopefully, these methods can help you fix the problem that iTunes will not backup iPhone under Windows 10. And you can read iTunes Tips: Fix iPhone or iPod Not Detected in Windows 10 as well.