Is the iPhone 12/11 Waterproof? Can I Shower with My iPhone 12/11?
by Anna Sherry Updated on 2020-10-22 / Update for iPhone 11
The iPhone 12/11 was introduced and most of us are still enjoying the various features of this spectacular device. Like some other iPhone models before it, the iPhone 12/11 is known to be able to withstand some deep into the water. So, if your iDevice accidentally falls into water, you can rest assured that it will not have a problem.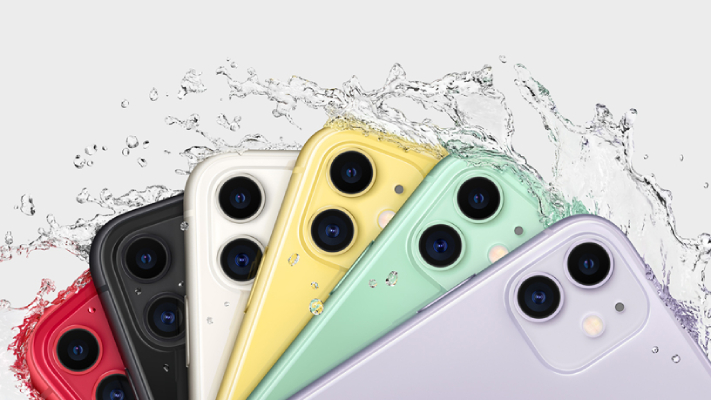 However, to what extent is the iPhone 12/11 capable of withstanding a fall into the water? Is this device waterproof or water-resistant? Can you show with your iPhone 11 without experiencing any problems? Let's answer these questions.
Part 1. Is the iPhone 11 Waterproof?
Without mincing words, the iPhone 11 is waterproof. As specified by the maker, this device comes with a water-resistance rating of IP68. Based on this rating, this device can be submerged in water with a depth of about 6.6 feet or two meters for as much as 30 minutes without it having any issue.
However, you should realize that the ability of this device to resist water, splash, and dust is not permanent. In other words, the resistance may reduce over time because of the wear that the phone would have experienced. Therefore, you should be careful when submerging your iPhone 11 inside water.
Part 2. Can I Take iPhone 11 in the Shower?
Well, from my experience, taking your iPhone 11 to the shower for use is not a good idea. Although the phone may be able to resist some levels of water damage, showering with it will expose it directly to a stream of water and this can lead to problems. Besides, an excess rush of water vapor can penetrate your iPhone 11; thus, causing damage to it. Also, soap and other products that you use for showering can lead to various problems that will affect the use of your phone.
Therefore, despite the waterproof nature of the iPhone 11, we don't recommend that you use it in the shower.
Part 3. What to Do If The iPhone 11 Got Wet?
If the unexpected has happened to your iPhone 11 and, as such, it has become wet already, you should do the following thing to lower the chances of any problem.
Dry the iPhone 11 off

– the first thing you need to do is to get a dry cloth or towel and utilize it to wipe off any moisture that may be found on the exterior of the device. If you notice that water has entered into the iPhone 11, put it in a dry place and let the water evaporate. As an alternative, you can put the phone inside rice grains so that the grains can absorb the moisture.

Don't use the device until dry

– don't be in a haste to continue using the iPhone 11. Let it dry completely before trying to turn it on and charge it. Generally, charging or turning on the device when it is still wet will make the sensitive circuits to be overloaded and, as a result, burn.
Once you have followed the steps above, your phone will dry completely and you can start using it once again without any major damage.
Useful Tip: How to Recover Data from Water Damaged iPhone 11/11 Pro (Max)
While your iPhone 11/11 Pro (Max) is waterproof, it is still not entirely free of possible water damage. Unfortunately, if your iDevice is already damaged by water, you may not be able to access the files or documents that you have on it again. Fortunately, you can use Tenorshare UltData to recover your data without much hassle.
Here is a step-by-step guide to use UltData for data recovery from a water-damaged iPhone 11 or 11.
Connect your iPhone 11 to a computer. Then, open UltData and select "Recover from iOS Device".

Scan your iPhone to find lost data, you can just choose all data to ensure a detailed and deep scan. Afterward, hit "Start Scan" to continue the data recovery process.

At this stage, a list will show all scanned files based on their categories. Select "Show All" or "Only display the deleted items" to decide what you want to recover.

Confirm the files you want to recover and tap "Recover". UltData allows you to recover your data to the computer or device.
Conclusion
In conclusion, it is not recommended for you to shower with your iPhone 12/12 Pro/11/11 Pro or even any other smartphone. This is because it can damage your iPhone if water penetrates it. Also, any damage caused by water damage to your iPhone is not covered by Apple's warranty. Therefore, you are advised to avoid it.