[New] How to Get iOS 17 on iPhone X in 2023 with Video Guide
by Sophie Green Updated on 2023-10-10 / Update for iOS 17
If you have an older Apple device like the iPhone X and want to enjoy the new iOS 17, you must look for creative ways to update to the new iOS version. This article explains how to get iOS 17 on iPhone X with a step-by-step guide. Learn which Apple device supports iOS 17 and how to fix your iPhone X stuck issue without sending your device to get fixed.
Part 1: Will iPhone X Get iOS 17
After Apple announced their new iOS 17 software update at WWDC, most users were taken in by the tons of new usability features and the apps it carried. Although Apple hasn't released the stable version yet, users have already downloaded the beta version to check out the new features. However, similar to previous iOS updates, iOS 17 is only available to the newer Apple devices. It cuts off the rest of the older models.
If you are on this post, it means you are looking for methods on how to get iOS 17 on iPhone X, as you can't get it directly from your device or from the Apple beta software program. Well, as you already know, the iPhone X will not get the iOS 17 update even when the stable version comes out. Whenever Apple releases a new iOS update, it is only made available for the newer generation models; althoughAlthough iPhone X doesn't seem like an old device, it was released in 2017 with iPhone 8. For Apple, the old A11 bionic chip is not good enough to utilize the new iOS 17.
Also Read: How to Get iOS 17/16 on iPhone 6s
Part 2: Which iPhones will get iOS 17
Now that you know the iPhone X is not getting the iOS 17 update, you can easily rule out similar or older Apple devices. To make things clear, here is a list of devices that Apple confirmed are getting the iOS 17 update.
iPhone XR, iPhone XS, iPhone XS Max
iPhone SE 2, iPhone SE 3
iPhone 11 , iPhone 11 Pro, and iPhone 11 Pro Max
iPhone 12, iPhone 12 Mini, iPhone 12 Pro, and iPhone 12 Pro Max
iPhone 13, iPhone 13 Mini, iPhone 13 Pro, and iPhone 13 Pro Max
iPhone 14, iPhone 14 Plus, iPhone 14 Pro, and iPhone 14 Pro Max
iPhone 15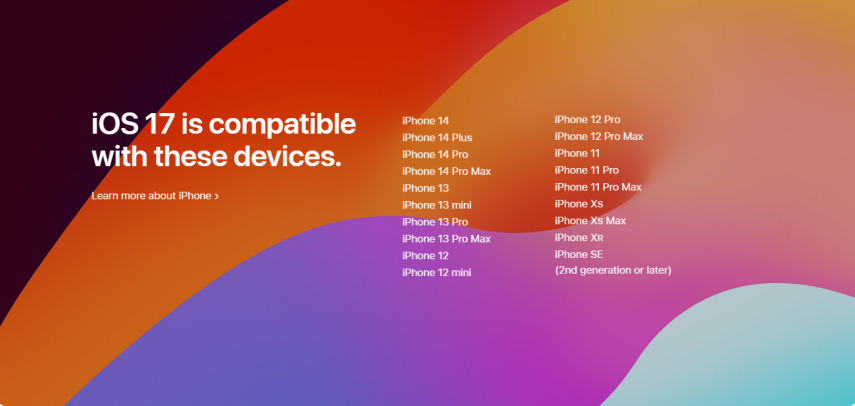 If you are worried about your iPhone's compatibility with iOS 17, you can go to "About" in "Settings" and look for your device's model name. If it is not on the Apple official list, your device is not getting the update.
Part 3: Does iPhone X Still Support iOS 16
If you are thinking about how to get iOS 17 beta on iPhone X, you might be disappointed to know that Apple is not providing a new update for it. It means iPhone X still supports iOS 16, and it will be the latest iOS version for it. The iOS 16 works perfectly fine on iPhone X, and although it is a letdown that the device will not get the iOS 17 update, it is still fun to use. There is no need to worry, as you can still enjoy most of the iOS 17 features on older devcies by downloading some apps from the App Store.
Part 4: How to Update iPhone X to Newest iOS Version [Video Guide]
As the A11 bionic chip can't support the new iOS 17, older devices like the iPhone X or iPhone 8 are not getting the update. That is why it is meaningless to look for ways to get iOS 17 on the iPhone X. However, something you can do is update your iPhone X to the latest iOS it supports, which is the iOS 16.6 version. It came out in July 2023 and is the final iOS update for older Apple devices. Here are the steps to update iPhone X to the newest iOS version.
Step 1: Go to Settings on your iPhone X and tap on "General".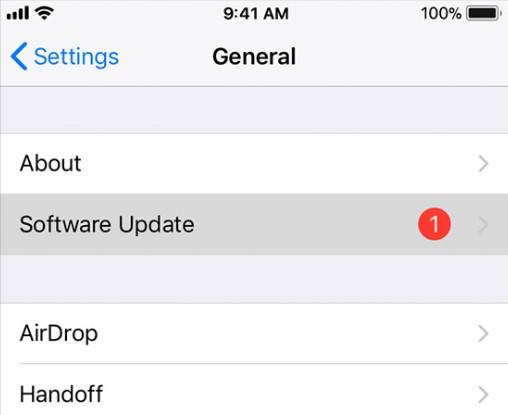 Step 2: Tap on "Software Update" and wait to see the latest available update for your device.
Step 3: Before updating, make sure to back up your data and charge your device so you don't face any problems later.
For those of you who want to enjoy iOS 17 on iPhone X but can't afford to upgrade their device, here are some useful tips. Open the App Store and download apps like the "Day One Journal," a similar app to the new Journal App in iOS 17. You can also get the "Shortcuts" app with most of the iOS 17 handy features and "YouMail Voicemail" that replaces the live voicemail features of iOS 17.
Bonus Tip: Best iOS System Repair Tool to Fix iPhone X Stuck Issue
If you recently updated your iPhone X to a new iOS version and now it gets stuck on the boot screen or when you are using any apps, here is how you can fix it without sending it to the Apple repair store. The Tenorshare ReiBoot is an expert iOS system repair tool that can fix more than 150 iOS system-related issues, including the iPhone X screen. Its standard repair option is a one-click solution for your iOS problems. ReiBoot can also help you put your device in recovery mode for free. Here is how to repair the iPhone X with ReiBoot.
Download and install ReiBoot on your PC. Run it and connect your iPhone to your computer. Once the device gets recognized, click "Start".

Select the "Standard Repair" tab and read the note below. Next, click on the "Standard Repair" button.

Use the "Download" option to download the latest firmware for your device.

Click on the "Start Standard Repair" button and wait for the process to complete.

After the repair is complete, click "Done" to end the repair.
Conclusion
Let's conclude our guide on how to get iOS 17 on iPhone X. The iOS 17 is not available for devices with A11 bionic chip, which includes iPhone X, so you can't update it no matter what. However, you can still enjoy similar features by downloading some free apps from the App Store that work exactly like some of the new features in iOS 17. If your iPhone gets stuck or faces any problem after the update, you can easily fix it with Tenorshare ReiBoot. It is a one-stop fix for iOS issues and can repair your device as long as there is no hardware damage.
Fix iPhone Stuck and Update Issues without Data Loss