Fix iCloud Unable to Load Storage Info with 5 Effective Ways
by Jenefey Aaron Updated on 2020-12-03 / Update for iCloud Tips
Case: I'm restoring an iPhone 12 Pro from an iCloud backup and this has happened: None of the apps download. iCloud said "Unable to load Storage info" and the phone restoration doesn't start downloading.
Are you facing this common issue, "iCloud Unable to Load Storage Info" on iPhone and iPad? That is happening with everyone after the iOS 14/13 update. However, this needs to be resolved as soon as possible because without getting the storage information, you won't be able to manage your storage details which can be frustrating.
In case you face the iCloud storage problem several times, don't panic because we have collected 5 risk-free methods that will help you resolve this issue in a few minutes. Read the details below for more information!
Part 1: Why Does My iPhone Say iCloud Unable to Load Storage Info?
iCloud is a computing service by Apple that syncs various types of data so your content can backup on the iCloud server. However, many people face issues when iCloud says it's unable to load storage info". Possibly this could be due to network errors, backend issue, or you have recently updated your software. There are few things that you can try to fix it, such as check your network, restart your iPhone, etc. You can check out the steps mentioned below to fix this issue.
Part 2: How to Solve When iCloud Unable to Load Storage Info?
Is iCloud unable to load storage info on the iPhone? Now, it's time to resolve this issue forever. We have gathered 5 different techniques that are straightforward and don't require technical expertise. However, make sure to follow the steps properly and don't miss anything if you want to get fast results.
Solution 1: Force Restart iPhone
If iCloud is unable to load storage info, then you can try this simple method. Most of the time, force-restarting an iPhone could help to solve this issue. Below are the steps that you can follow to restart iPhone: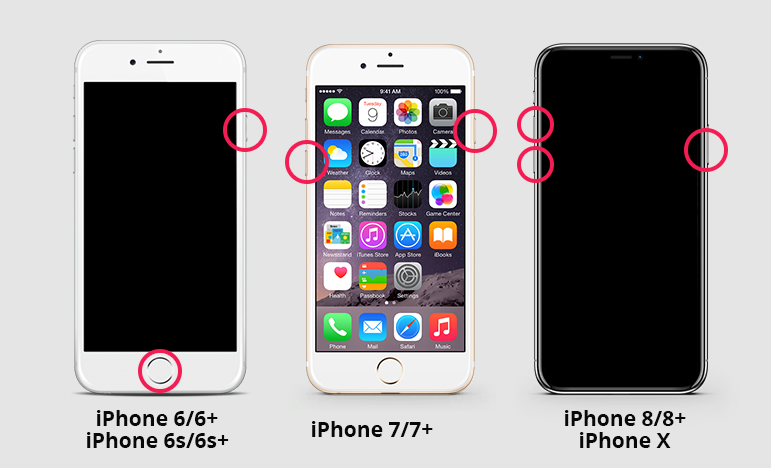 iPhone 6s, SE, or Earlier:

Hold the home and power button for some seconds to see the power off slider. Hold them until you see the Apple logo on the screen. Once the logo has appeared, let go of the buttons and wait for a while. Enter your password to use the phone.

iPhone 7 or 7 Plus

Hold power and volume key simultaneously. It will take a few seconds for the device to turn off. After that, wait for more seconds, and again press and hold the power button until you see the Apple logo. This process will restart your device.

iPhone 8 or 8 Plus

This method will also work for all the latest mobiles, including iPhone X, XS, XS Max, etc. First, press and release the volume up and volume down buttons. Make sure to do it quickly. Now, press the Power button and wait for the Apple logo. Once it's appeared, you can enter the password.
Solution 2: Reset Network Settings
The common cause of iCloud unable to load storage info could be possible due to the network error. Don't worry because it can be resolved easily after resetting network settings.
First, go to your iPhone's Settings.
Now choose the "General" option, tap reset and go to Reset > Reset Network Settings.

This method will also reset your Wi-Fi password along with cellular settings, VPN and APN settings.
If the issue is still unsolved, you can try repairing your device using a third-party application. Check solution number 3 for more details.
Solution 3: Repair iOS System with ReiBoot
Sometimes iOS can cause unexpected errors that are difficult to resolve. Even after trying several attempts, you can't get reliable results. Tenorshare ReiBoot will help to repair the iOS system without causing any data loss. It supports old and latest versions of iPhone, including iPhone 12 mini/12/Pro/Pro Max. It's fast and requires minimal installation process. Plus, if iCloud is unable to load storage info on the iPhone, it can also be solved using it.
Furthermore, it can fix 50+ stuck issues, enter and exit recovery mode, fix update issues and much more. So, if you are facing an iCloud issue, try this software for efficient results.
Here are the steps that you can follow to solve the iCloud issue.
Download the latest version of ReiBoot and then install it on your PC or Mac. Run it and select the "Repair Operating System" option from the screen.

Note: Don't forget to connect your iOS device with the help of Apple's original USB cable.

You will be moved to the "Fix All iOS Problems" screen. Click on "Fix Now" and read the instructions on the screen.

Now, download the required firmware package. You can do it by simply clicking the "Download" button on the screen.

After the firmware package is downloaded, you can click "Repair Now" and wait until the procedure is completed.

Finally, the repair process is completed and now check if iCloud is showing the storage details or not.
Solution 4: Factory Reset and Restore from iCloud Backup
If iCloud says unable to load storage info, try the factory reset method. This procedure is simple and doesn't require much time. However, you can loss data, but if you have already created a backup file, you don't need to worry about anything.
The first step: Navigate to Settings, choose "General," and tap "Reset."
You will see the "Erase All Content and Settings" option, so choose it. It will take a few minutes to complete the process.
Once the process is done, you will be moved to the welcome screen. From there, you can set the language, Wi-Fi details, etc.
To restore the backup from iCloud, enter your account's credentials, agree to the terms and conditions.
Now, select the "Choose Backup" option, and you will see your recent backups.
By following this method, you will be able to fix the iCloud issue. In case the problem is still there, try contacting Apple Support. There are chances that this problem is from the server-side.
Solution 5: Contact with Apple Support
If the above steps are not working, the only option is to contact Apple support. There is a possibility that it might be a backend issue. Contacting them will clear all your doubts.
FAQs About iCloud
1.Why Does my iCloud say Unable to Load Mail?
This could be happening because you don't have much storage available or you haven't upgraded to the latest version. In case you are using Safari, make sure to update the browser and clear the browser cache.
2.How Can I Get My iCloud Storage Down?
To downgrade your storage, you can delete your old content, clean your mailbox, organize your contacts, notes, and reminders. Besides that, extracting and deleting old backups will also adjust the space for you.
3.How Do I Buy iCloud Storage with Load?
To buy iCloud storage, you can try different methods provided by Apple, such as Apple Pay, Store Credit, and adding the funds to your Apple ID.
Conclusion
If iCloud is unable to load storage info on iPhone, then you can definitely try the 5 methods mentioned above. With these tips, your issue will be resolved, but in case you didn't get any leads, you can try ReiBoot because it's the most recommended method for iPhone users.