4 Questions About Two Factor Authentication iOS You May Ask
by Sophie Green Updated on 2022-03-25 / Update for Apple ID
In today's world of increasing digitalization and every aspect of life shifting over to the Internet, security has become exponentially risky. With everything being so accessible, the threat to information leakage and hacking has also risen. To reduce this risk, most servers have adopted the system of two factor authentication iOS.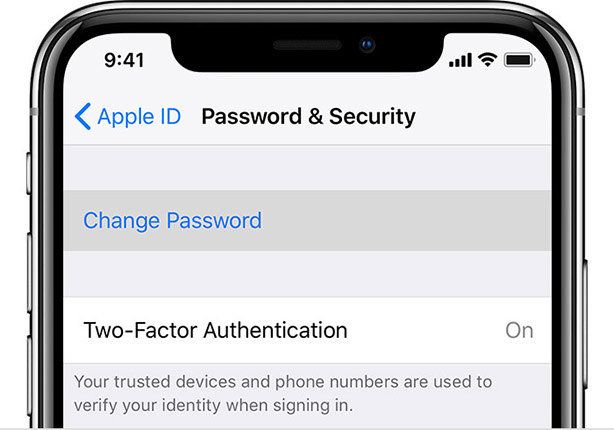 Part 1: What Is Two Factor Authentication iOS  
Simply put together, two factor authentication iOS is a system that elevates the security of a device, account, or profile. It means adding security measures, other than the password, to grant access to a digital piece of information. It is like an extra protection layer that ensures only you have access to your Apple ID, even if someone knows your password. You can set up trusted devices using find my iPhone two factor authentication or opt for trusted phone numbers to receive OTPs. 
Part 2: The Benefit of Using Two Factor Authentication iOS  
Using on your iPhone, 2 factor authentication brings many benefits. 
Stronger security: The most important benefit of two factor authentication on iPad or iPhone is that nobody but you can access your device and information. 
Increased flexibility: At work, people can work on the same device without having to worry about information leakage. 2 factor authentication sends an SMS or asks security questions to ensure safety.
Reduced customer service costs: With two factor authentication iOS, users don't need to repeatedly reset passwords for security. In case they forget their passwords, they can still access their accounts using 2FA. This reduces the cost of customer service.
Reduce cyber theft: A two factor authentication sends an SMS or notification to ensure safety. This prevents cyber theft, since knowing your password, which is usually easy to guess, is not the only detail required to access accounts and devices. 
Part 3: How to Enable Two Factor Authentication iOS  
Enabling two factor authentication iOS is easy and reduces the risk of information loss and leakage. Follow these steps and enable iPad or iPhone 2 factor authentication in seconds. 
Go to settings>Your name>Password and security.

Tap turn on two factor authentication.

Click on continue.
Type the phone number you wish to receive messages or calls on.
Click on next and verify your number.
You can also set up trusted devices using the find my iPhone 2 factor authentication feature. This replaces the need for sending SMS and OTPs and safeguards your accounts and devices using other trusted devices you own. 
Before opting to turn on two factor authentication iOS, remember that you must remember your apple id password, keep your trusted phone numbers and devices safe and updated, and keep a passcode on all your devices active to prevent sneaking and receiving secret codes by intruders.
Part 4: How to Turn off Two Factor Authentication iOS  
If you're already using two factor authentication iOS devices, Apple does not allow turning it off. The reason is that multiple features on new iOS devices require extended security and must be backed with two factor authentication. But if you have updated your account recently, you can unroll from the 2FA within two weeks.
Open your enrollment confirmation email.
Click on the link to return to your previous settings.
By doing this, you cannot use high featured applications and you reduce the security of your devices and accounts. 
Part 5: How to Remove iCloud on iPhone without Two Factor Authentication iOS
If your device has 2FA on already, then you will normally need the 2FA to log Apple ID. But with Tenorshare 4uKey, you can do so without two factor authentication iOS. 
If you have forgotten your Apple ID or password, you won't be able to access your device. This also happens when people buy second-hand iOS devices with iCloud locked. Removing the iCloud lock without having the apple id or password or the answers to two factor authentication is easier with 4uKey. 
Follow these steps to quickly remove Apple ID from your iPhone or iPad. 
Download 4uKey on your computer and install it. Launch it and choose "Unlock Apple ID."

Connect the device needed to remove Apple ID to PC with a USB cable.

Tap "Start Remove" on the 4uKey.

If your Find My is off, the whole removing process is easier. 4uKey will start to remove Apple ID automatically after tapping Start to Remove.

A few minutes later, the Apple ID with 2FA will be removed from your device.
Wrapping Up
A two factor authentication iOS is an insightful technique to reduce information-related risks and make security more robust. It usually exists and works in the form of trusted devices, phone numbers, or security questions and helps make your devices and information accessible by only you. But when you need to remove the Apple ID on your devices, Tenorshare 4uKey will be your best assistant.