How to Change Apple ID on iPhone
by Jenefey Aaron Updated on 2019-07-25 / Update for iPhone Tips
If you are living in the Apple environment, you must have an Apple ID. It's the one thing that connects all of your iDevices together. You also need the ID for just about every Apple service that you use such as sending and receiving iMessages, making FaceTime calls, app shopping in the App Store, backing up your data to iCloud, etc.
But there are times when you would want to change an Apple ID associated with a specific iOS devices. For example, if you want to switch hardware or give your iOS device to someone else. And since an Apple ID is connected to a specific country, international users might want to create a new ID related to the current country where he/she is in to enjoy the country-specific benefit.
Part 1: Things to Consider Before Changing the Apple ID
There are some things that you should consider before changing an Apple ID on your devices, especially if you are not planning to restore them to the default factory settings - or in another word, delete everything and start from scratch.
If you keep everything intact and only change the Apple ID on a device, it's possible that there will be an unexpected issue with iOS and conflicts with some apps. Since every app is tied to a unique Apple ID, you will not be able to update any app under different Apple ID. Some apps that related heavily on Apple services like iCloud or Game Center might not work at all.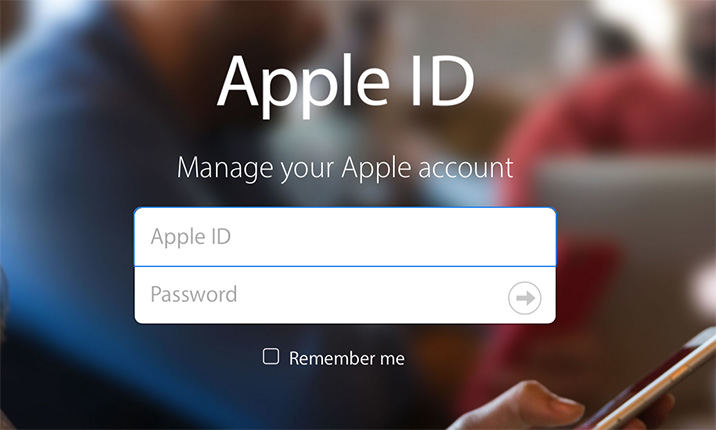 The possible solution is to re-download the apps under the new Apple ID. And if it's a paid app, you will need to purchase the app again.
Or if you don't want to shell out another buck for the same app that you've already purchased under different Apple ID, you might need to switch between the various IDs continuously.
How do you change your Apple ID? Here are some steps instructions.
Part 2: How to Change Apple ID
2.1 How to Alter Apple ID On Webpages
Luckily, if you remember the password to your Apple ID, then you can change the email address associated with your account in a couple of ways on the official website.
Go to this website (appleid.apple.com).
Sign in with your defunct email address and your password.
Under the Account section, click Edit.
Click Change Apple ID under the Apple ID section.
Enter the email address you'd like to use as your new Apple ID.
Click continue.
Or you can change your Apple ID directly from your iPhone, iPad, or other iDevices settings if you're running at least iOS 10.3 or later.
2.2 Change Apple ID On Device Directly
The first step is to log out by going to the Settings app in iOS and find iTunes & App Store.
Tap on the "Apple ID: [email protected]" text at the very top of the Store screen. This email address should be the one that you use for that ID.
At the Apple ID management pop-up window, tap on Sign Out.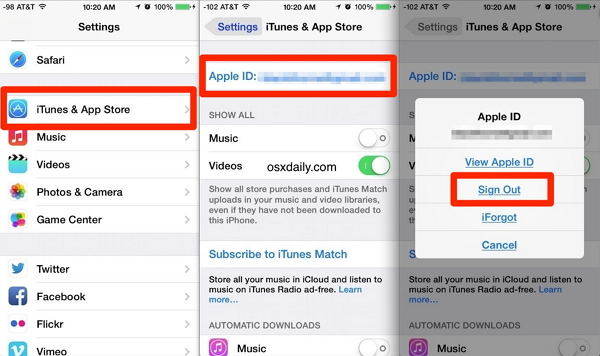 You will be logged out from the existing Apple ID on that device, and it will leave the sign in screen blank. You can continue by choosing one of this two options.
1. If you already have another Apple ID pre-created and ready to use, for example, the one that you use on another device, you can enter that appropriate login details on that blank screen. If this option is not available, you can also try the next one.
2. Create a new Apple ID by tapping the Create New Apple ID button. Follow the process, and you will be logged in with your new ID afterward.
What If you already have the ID but forgot the password? You can use the option to recover it under the Sign In button or follow the next solutions.
Part 3: How to Do if You Forgot Apple ID Password
If you don't remember the password to your Apple ID (and you don't have access to the email address on your account), you might not be entirely out of luck.
3.1 Without Two-Factor Authentication
If you've inputted security questions, then you can choose to answer those questions during the password reset process to reset your password. Or you can try going through the password reset steps on a friend's or family member's iOS device. Just open Find My iPhone, ensure that the email field is blank, and tap Forgot Apple ID or Password.
3.2 With Two-Factor Authentication
You can also reset your Apple ID password on a trusted iOS device by going to Settings > iCloud > (Your Name) > Password & Security > Change Password.
On a trusted Mac device, go to the Apple > System Preferences, and click on iCloud. Click Account Details and then on Forgot Apple ID or password.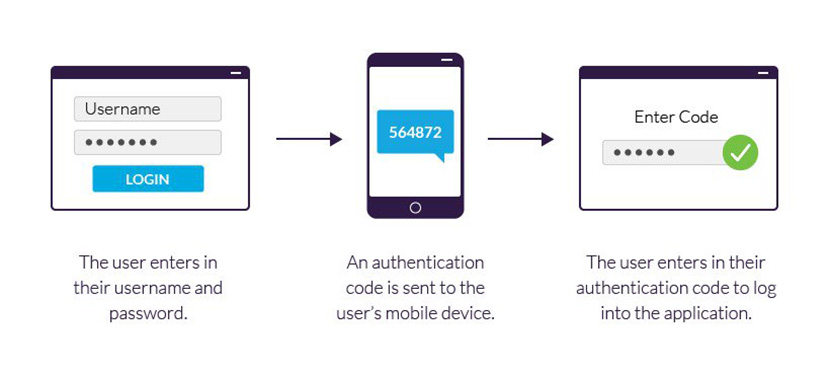 If all else fails and you have two-factor authentication set up, you can always try Apple's account recovery process. It's the last resort for when you can't sign in or reset your Apple ID.
3.3 Have a Recovery Key?
If you updated your Apple ID from two-step verification to two-factor authentication in iOS 11+ or macOS High Sierra+, AND you have a recovery key, use that recovery key to help reset your password.
3.4 Use The Third-Party Tool - change apple id without password
If you have no need to use the previous Apple ID which used before and try to change a new one, then 4uKey - iPhone Passcode Unlocker is highly recommended to you which can help you to remove Apple ID without password once and for all. Here are some details.
Step 1 Download 4uKey on your PC or Mac, then launch the program, next you'll see "Unlock App ID" on the main interface.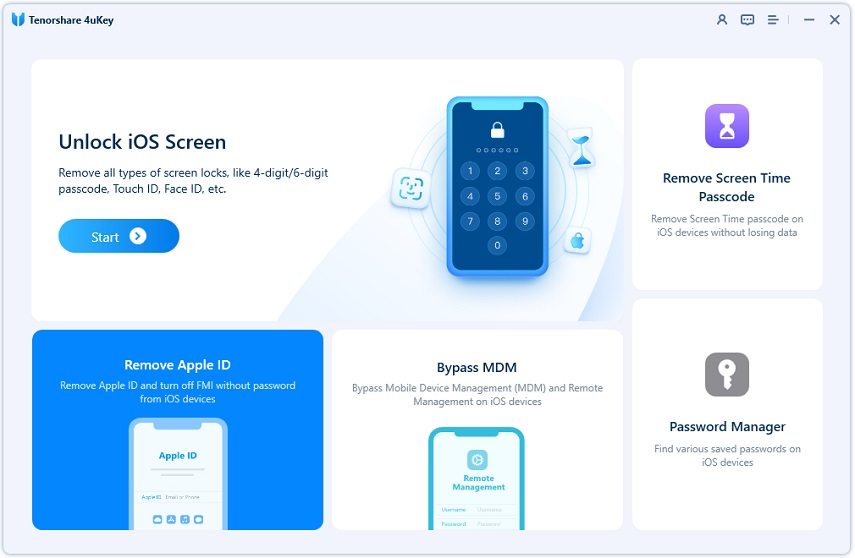 Step 2 Connect your iOS device to the computer. (Trust Required)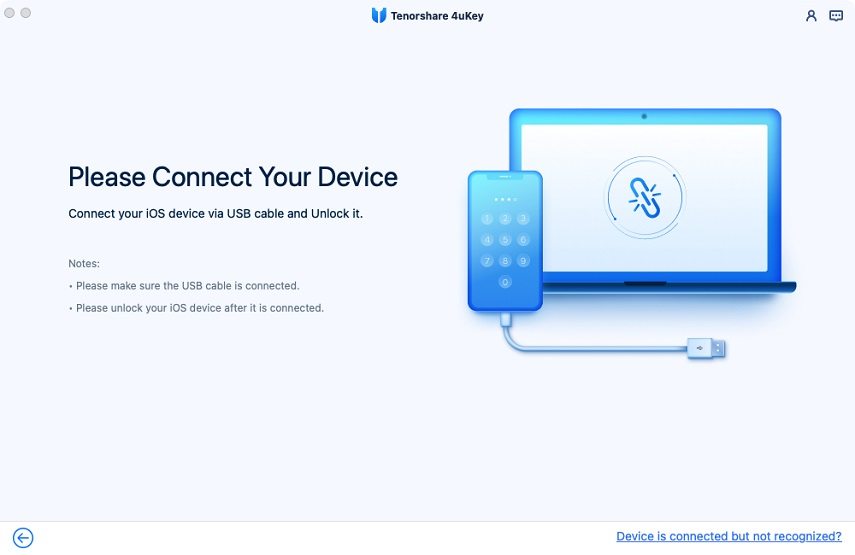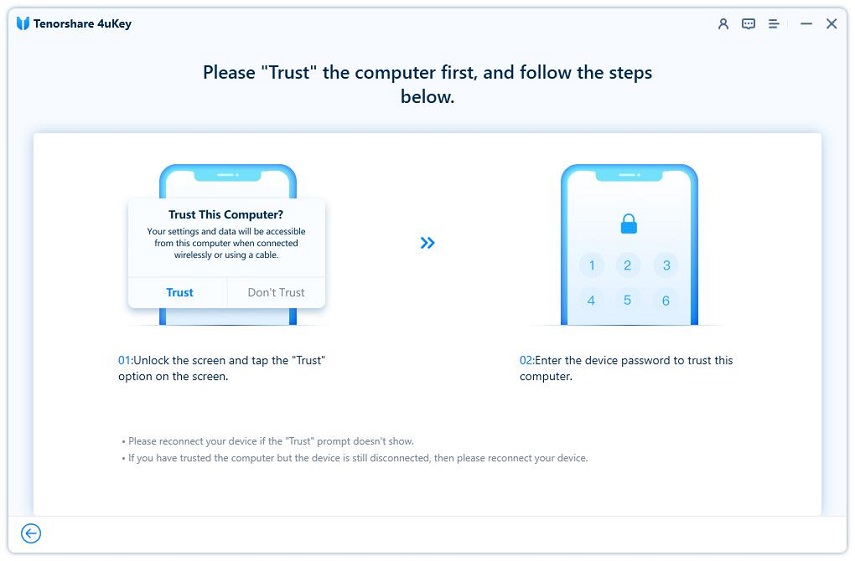 Step 3 Click "Start" to unlock your Apple ID and iCloud account which associated with your iPhone, iPad or iPod touch.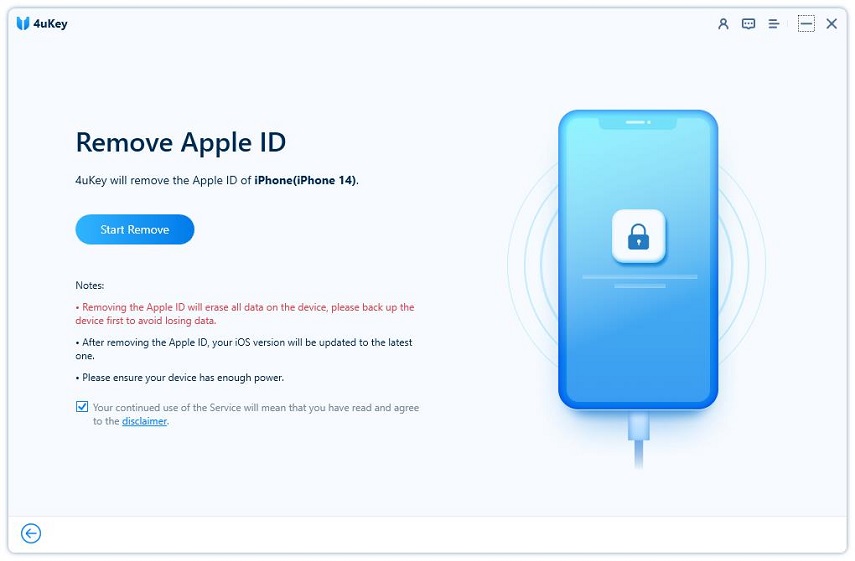 Note:
Do not erase all contents and settings on device or restore iPhone with iTunes after Apple ID removal. Because the original Apple ID is necessary to activate your device after restarting, and you will not be able to remove the Apple ID through the software again!
Conclusion
After finishing either one of the processes, you can start using your devices under the new Apple ID. Among these methods, 4uKey - iPhone Passcode Unlocker is recommended for your abandoned Apple ID deletion once and for all with its simplicity and availability.
And there is one thing that you need to keep in mind that it's recommend to start from a clean state before you change Apple ID. But you also need to keep your old data safe so that you can restore your device quickly should the need ever arise. If you unfortunately lost data on your iPhone, restore your iPhone data swiftly and easily is Tenorshare iPhone Data Recovery.