If you are living in the Apple environment, you must have an Apple ID. It's the one thing that connects all of your iDevices together. You also need the ID for just about every Apple service that you use such as sending and receiving iMessages, making FaceTime calls, app shopping in the App Store, backing up your data to iCloud, etc.
But there are times when you would want to change an Apple ID associated with a specific iOS devices. For example, if you want to switch hardware or give your iOS device to someone else. And since an Apple ID is connected to a specific country, international users might want to create a new ID related to the current country where he/she is in to enjoy the country-specific benefit.
How do you change your Apple ID? Here are the step by step instructions.
Changing Apple ID and Apple Store Login from iPhone Settings
You can change your Apple ID directly from your iPhone, iPad, or other iDevices settings.
The first step is to log out by going to the Settings app in iOS and find iTunes & App Store.
Tap on the "Apple ID: [email protected]" text at the very top of the Store screen. This email address should be the one that you use for that ID.
At the Apple ID management pop-up window, tap on Sign Out.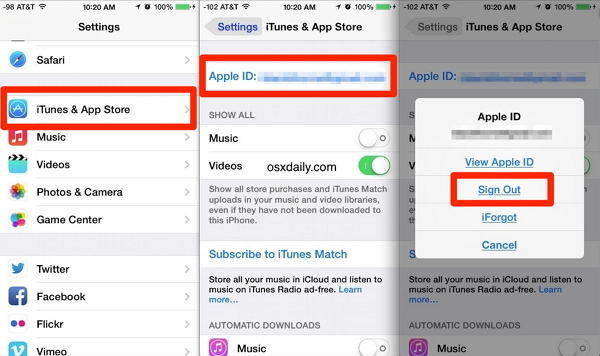 You will be logged out from the existing Apple ID on that device, and it will leave the sign in screen blank. You can continue by choosing one of this two options.
1. If you already have another Apple ID pre-created and ready to use, for example, the one that you use on another device, you can enter that appropriate login details on that blank screen. If this option is not available, you can also try the next one.
2 Create a new Apple ID by tapping the Create New Apple ID button. Follow the process, and you will be logged in with your new ID afterward.
What If you already have the ID but forgot the password? You can use the option to recover it under the Sign In button.
After finishing either one of the processes, you can start using your devices under the new Apple ID.
Things to Consider Before Changing the Apple ID
There are some things that you should consider before changing an Apple ID on your devices, especially if you are not planning to restore them to the default factory settings - or in another word, delete everything and start from scratch.
If you keep everything intact and only change the Apple ID on a device, it's possible that there will be an unexpected issue with iOS and conflicts with some apps. Since every app is tied to a unique Apple ID, you will not be able to update any app under different Apple ID. Some apps that related heavily on Apple services like iCloud or Game Center might not work at all.
The possible solution is to re-download the apps under the new Apple ID. And if it's a paid app, you will need to purchase the app again.
Or if you don't want to shell out another buck for the same app that you've already purchased under different Apple ID, you might need to switch between the various IDs continuously.
Keep Your Data Safe
It's recommended to start from a clean state before your switch to a new Apple ID. But you also need to keep your old data safe so that you can restore your device quickly should the need ever arise. If you unfortunately lost data on your iPhone, restore your iPhone data swiftly and easily is Tenorshare iPhone Data Recovery.
Free Download
For Win 10/8.1/8/7/XP
Secure Download
Free Download
For macOS 10.13 and below
Secure Download
Related Articles
comments powered by