Best Ways to Create an Apple ID Without Credit Card 2023
by Jenefey Aaron Updated on 2019-07-25 / Update for Apple ID
iOS users undoubtly know the importance of Apple ID. It is an intricate part of getting access to all the services provided by the company. Without this ID you will not be able to access any of the offered services, even the App Store. So, most of the users create one Apple ID with credit card as soon as they bought an iOS device. But time and time a question from these has popped up, is it possible to have an Apple ID without credit card? Well, this article will answer this. Just read the detailed procedures below.
Part 1: How to Create Apple ID without Credit Card When You don't Have Before
If you are an iOS user you must know the importance of an Apple ID to access the offered services by the company. But a lot of users have asked if it is possible to set up an Apple ID without providing the credit card information. It is actually, possible and the procedure varies from device to device. The methods are specified below;
1.1 On iPhone/iPad/iPod
You can easily create Apple ID without credit card on iOS devices like iPad, iPhone or even on iPod. The procedure is really simple if you follow the guide mentioned below.
Step 1: First make sure that you are not logged into any Apple account. Sign out if you are already logged in.
Step 2: Then, go to the App Store and find an app available for free. Tap on the "Get" button.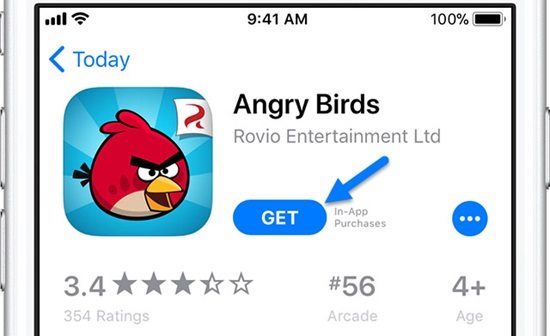 Step 3: The download process will begin and the App Store will direct you to select among the three available options. As you are looking to create an account you need to choose "Create New Apple ID". And you also have to specify your country.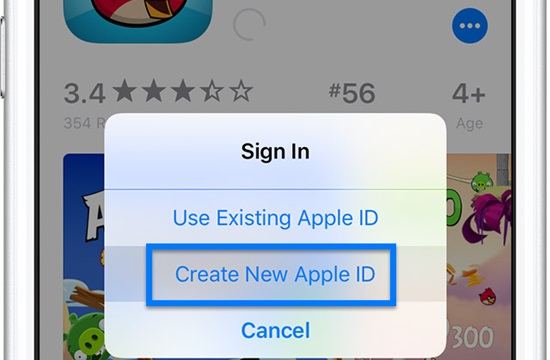 Step 4: Now, Apple will provide the "Terms & Conditions", click "Agree" to proceed.
Step 5: Then, fill out the form. Provide your email address, date of birth and answers for security questions. Make sure that the provided email address is not associated with any Apple ID.
Step 6: Finally, you will reach the "Billing Page". Choose "None" among the options, then you have to provide your address to complete.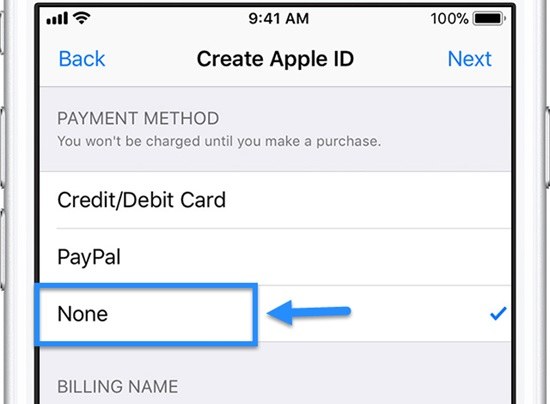 Lastly, the Apple ID will be created but only after you have verified the link provided via your email address.
1.2 On Mac
You may have already know how to create Apple ID with credit card but it is also possible to make one without it. If you are using a Mac device then here's the guide you should follow:
Step 1: Run the App Store on your Mac and click on your Account.
Step 2: Click on the link called "Create Apple ID".

Step 3: Click "Continue" to proceed, then click on "Checkbox" and "Agree" to the Terms & Conditions.

Step 4: You will be asked for several information and you need to provide them accordingly. The provided email address and the password will be associated to your Apple ID forever so, please remember carefully.
Step 5: Then, click "Continue" to proceed. Provide your billing information and here you can add a credit card but if you don't want to then you don't have to. Then click "Create Apple ID".

Afterward, you will receive a verification email on that provided email address. Click on the provided link and the Apple ID will get activated.
1.3 On PC
If you are using a Windows PC then you can also create an Apple ID without using your Credit Card. But the procedure here is a little different from the previous one and you have to do it via iTunes app. Here's how to create Apple ID without credit card on a PC:
Step 1: You need to install iTunes app on your PC. If you had it installed already then update the app to its latest version Sign in with your new Apple ID.
Step 2: The payment information will pop-up automatically before you enter the iTunes Store. Click on "None" to finish the process.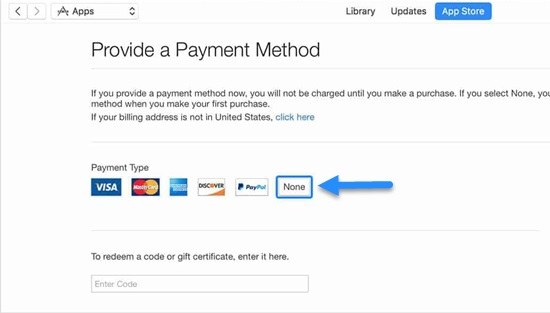 Step 3: Now, you will be able to use your new Apple ID without adding a Credit Card.
After this, whenever you sign in to App Store with your Apple ID via your iOS devices, you will be able to download apps for free.
Part 2: How to Create Apple ID without Credit Card When You Already Have Before
So, you already have created an Apple ID with the Credit Card, don't worry the situation would be changed very easily. You just need to remove the payment information related to your Apple ID. It is very easy, the procedure also varies between iOS devices and Mac devices. You will get detailed info below.
2.1 On iPhone or iPad
If you use iPhone or iPad to create Apple ID, it would be very simple. Do the following steps.
Step 1: Go to "Settings" and tap on "Apple ID Profile" then tap on "Payment & Shipping".
Step 2: You will be asked to enter your password, type it.
Step 3: You need to choose your present payment method and delete your information. Then just tap "Save" and you are done.
2.2 On PC or Mac
If you are suing PC or mac device then it is also very simple Please continue reading.
Step 1: Run iTunes on your preferred device.
Step 2: Then, click on "Account" followed by "View My Account".
Step 3: You will be asked to provide your Apple ID password. Do it and view the account.
Step 4: The, click on "Payment Type" and then click "Edit". Lastly, select "None" to remove the payment method.

After the process you just need to click "Done". The information has been removed successfully.
Part 3: Bonus Tips: How to Unlock your Apple ID when You Forgot the Password
If you have forgotten the password, don't worry. You can still bypass Apple ID but you have to use professional third-party programs for that. There are a few of such professional programs available but we found Tenorshare 4uKey is best among all. We have tried and tested this software and came out with outstanding and satisfying results. Here's the guide that you can follow.
Step 1 Download and install the 4uKey on PC/Mac, connect device to it then choose "Unlock Apple ID" from the main interface.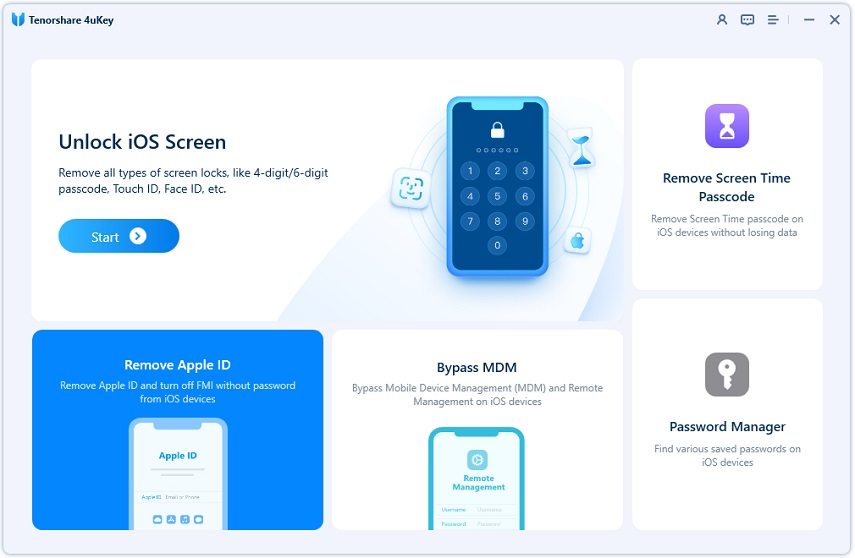 Step 2 Now, 4uKey will detect your device immediately. If necessary, you need to unlock your iPhone first. Then click "Start" to remove the Apple ID.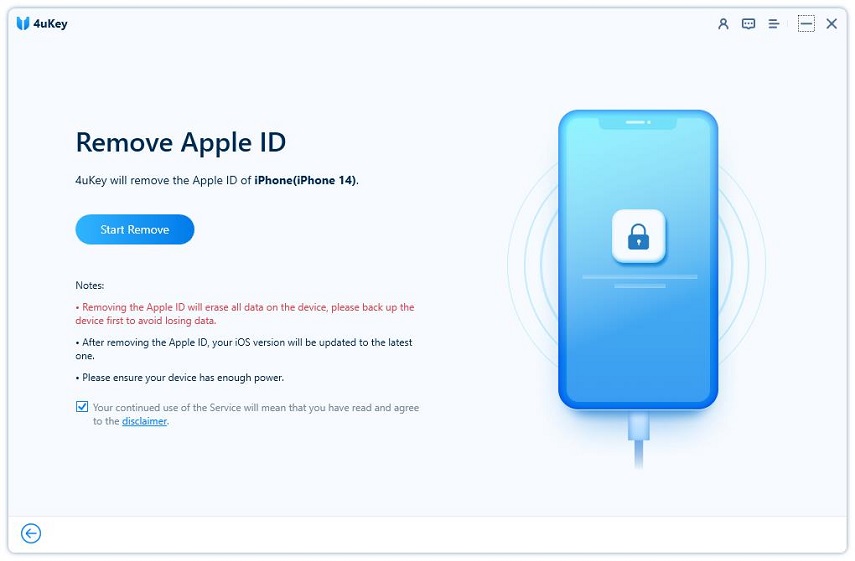 Step 3 In this step, you need to check if "Find My iPhone" is on or off. It will be different.
Scenario 1:
If the "Find My iPhone" feature is turned off on your iPhone then the program will immediate unlock the Apple ID and all your data will be safe and secure.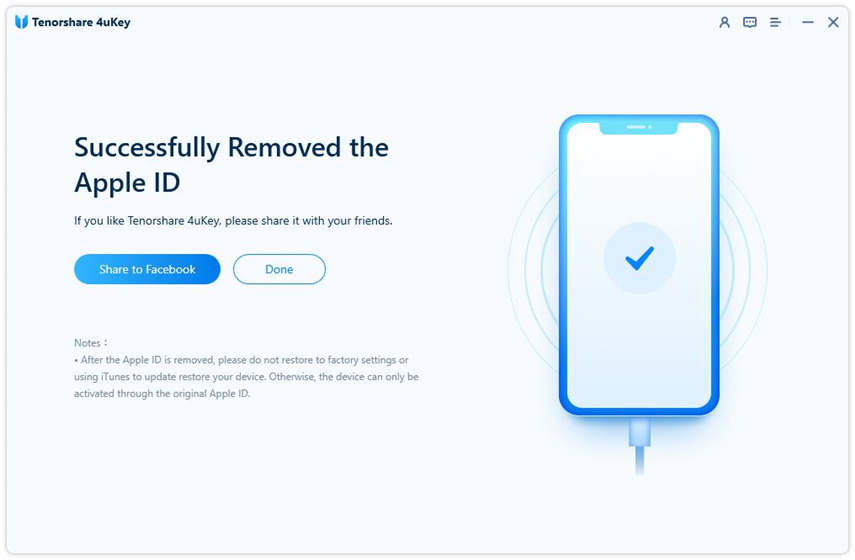 Scenario 2:
If Find My iPhone is turned on then you have reset all settings first, afterward the iPhone will restart automatically. Then, Tenorshare 4ukey will start eliminating the Apple ID.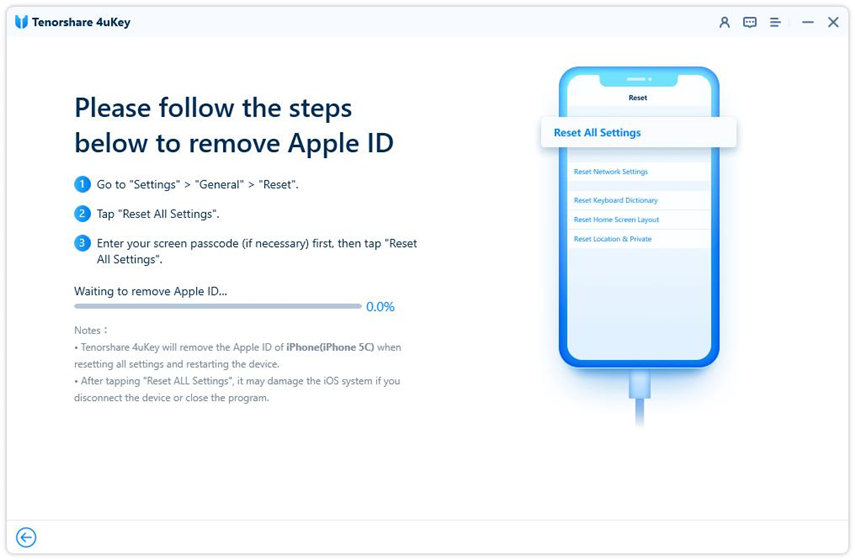 Wait for a short time, the unlocking of Apple ID is complete. And you can set up a new Apple ID now. But Here are some friendly notes you should remember:
You can't use the original Apple ID to register this device again.
If you are using an iOS version that is below 10.2 then all your data will be lost after the procedure is complete. So Please back up the data first.
Finally, if your device is using iOS version 11.4 or above or your device is not activated then 4uKey will not be able to remove the Apple ID.
Conclusion
The above article provided answer for that what will they do if users do not have a credit card, and it is pretty simple. An Apple ID can be created without a credit card from Mac, any iOS device and even from a PC. Furthermore, even the unlocking of Apple ID is possible without password if you are using a professional program such as Tenorshare 4uKey.