Best Alternative of Spyzie Free
by Anna Sherry Updated on 2020-04-15 / Update for Alternative
When your closest friend, your life partner or your child fall prey to the hands of some evil person who is making their life a chaos, its right time to make use of a spy app. with the help of a convenient spy app, you can have a good record of the messages, calls and other data types of the other person and then you can monitor the activities going on in the target device. The scenario can be different, i.e. in case your spouse performs some doubtful activities like behaving weirdly or responding improperly to you; chances are he/she is cheating on you. And then also a spy app comes in handy.
One of the most used apps for fulfilling this particular purpose is Spyzie free. However, many people; before proceeding with any app naturally come out with some uncertainties and confusions. If you're one of those, fret not! We are going to clear all your confusions through this article. You might be wondering what Spyzie free exactly does and how one can make use of it or the qualities it contains and the like. We will be going to jot down all nitty-gritty of this app and also a better alternative to it. Hence, read on this article and get the things cleared if you're indefinite about anything.

Overview of Spyzie Free
Spyzie free is an app that aims to prepare the users to track down the activities of others. Putting differently, with the help of this app or software, the users are enabled to monitor the devices of the others in real-time. It has got 3 simple steps that are needed to be performed to get the goal achieved. Also, you get the opportunity to monitor different data type with the usage of this app. let's explore more about it. Keep reading!
Main Features:
You can track the location, call log, messages, browsing history etc. via Spyzie free.
The popular messenger apps like Facebook, Kik, WhatsApp, Line can be easily tracked with the help of this tool.
It can simply work with latest iOS and Android versions.
You can even get the Geofence functionality so that whenever your loved one cross the specified path, you will be notified.
Supported Devices and Operating Systems:
You don't have to worry if the person to be monitored uses Android phone or an iPhone. Spyzie free is compatible with both the devices and supports bith equally well.
Pricing:
The price for Spyzie free goes like this –
For Android:
(Ultimate Edition) - $ 39.99/month, $ 49.99/3 months and $ 99.99 for one year
(Premium Edition) - $ 29.99/month, $ 39.99/3 months and $ 89.99 for a year
For iPhone:
The iPhone users need to pay $ 39.99 per month .
Pros:
It supports different languages including English, Italian, French, Spanish and more.
It can fully work with an iPhone having no jailbreak.
Can block certain apps when needed
Cons:
The premium edition for Android has some restrictions like being only supportive to basic data types like calls, photos, bookmarks, contacts and not supporting major influential apps like Facebook, WhatsApp, Snapchat and also not providing Geofencing power to users.
iCloud credentials are required to spy on the iOS device which can be limitation when you don't wish to let the target person knw about being monitored.
No availability of free trial
A handful of features can only work when Android device is rooted.
Support team takes long to respond.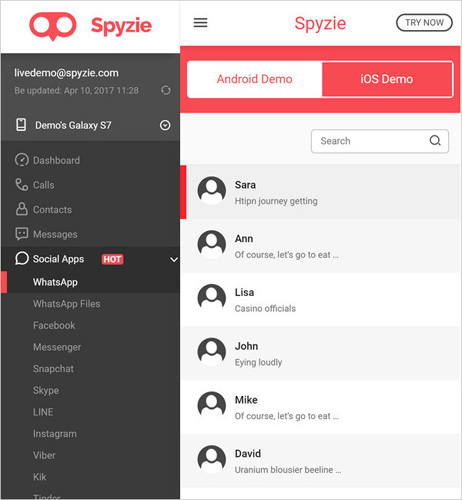 Best Spyzie Free Alternative--Spyera
Since Spyzie free has some limitations and therefore fails to provide fruitful result in some cases, we would really like to introduce its best alternative. And the most recommended alternative can be considered as Spyera. With its easy installation facility, free updates as well as the most convenient web control panel, you get the best experience like never before. The best part about this tool is it can never let the target owner know that he/she is begin spied as it works in undetectable mode. Choosing this Spyzie free alternative will be the best option when it comes to monitor kids, spouse or employees. Here are the key features of this tool. Have a look!
Main Features:
It can effortlessly run on Windows and Mac computers and is fully compatible with iOS devices and Android devices.
No matter what, it will always work safely and without being detected by the target device.
It has gained loads of trusted users and loved by unlimited media sites.
With Spyera, one can simply get to peep through address book, call logs, web history, SIM notification, battery level, and more.
Along with providing ease of use, it allows you to change software between different platforms.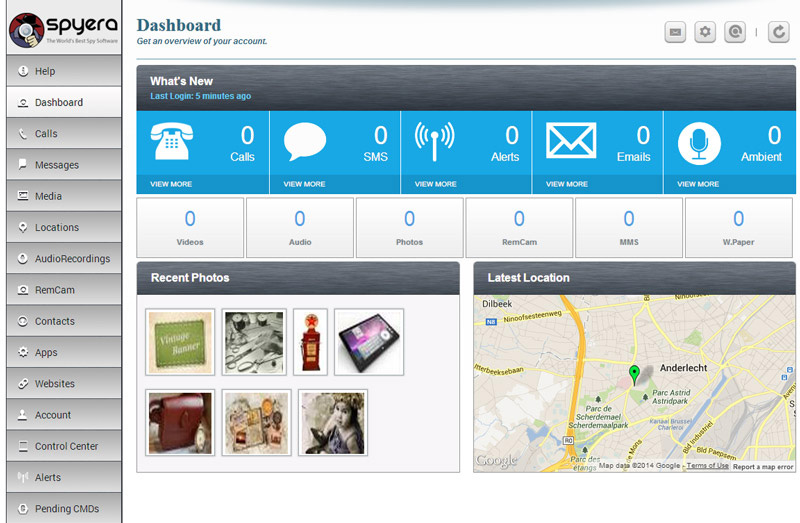 Conclusion
After going through the article, we would like to highly recommend you Spyera. As you get keylogging, GPS tracking, get to listen surroundings through microphone, you can't ask for more. The results will be pleasing and you will not regret later after using it. However, Spyzie free is free, but, paying a little and getting more features is always sensible rather than going for a free way that can give trouble. We hope you got what you wanted from this article.