WhatsApp Call Unavailable: Why and What to Do
by Anna Sherry Updated on 2023-02-23 / Update for WhatsApp
Whatsapp is a popular messenger. You can chat with your friends and also use WhatsApp to call others. But there is a WhatsApp Call Unavailable problem that many people have encountered. Why does it happen and what should you do? This article explores the question of how to fix WhatsApp call unavailable and provides top notch solutions.
Part 1: What Does It Mean When a WhatsApp Call Says Unavailable
While you call someone over WhatsApp, be it a video call or voice call, it displays that "... is unavailable" after rings and the call cannot be connected. And sometimes WhatsApp call says unavailable but messages are delivered, which is weired.
Part 2: Why Does WhatsApp Call Say Unavailable
The first step to a solution is knowing the cause of your problem. There are many reasons as to why WhatsApp call says unavailable. Let us explore in detail.
1. WhatsApp has been banned in your country. In this case, you will not be able to call any person even WhatsApp is working in the receiver's country.
2. WhatsApp has been banned in contact's country. Similarly, it is possible that the country of the receiver has banned the app.
3. If the internet network is slow or not connected, you'll have the whatsapp call unavailable problem.
4. You are blocked by someone you are calling. Or your phone number is blocked by them on their iPhones.
5. There is a problem on WhatsApp server or some bugs of WhatsApp application on your iPhone.
Part 3: How to Fix WhatsApp Call Unavailable iPhone/Android
We cannot decide whether WhatsApp is banned or not in our countries. But for other causes, things need to be addressed. Let us have a look at how to fix WhatsApp call unavailable and continue enjoying WhatsApp.
Way 1: Check Your Network Connection
It happens that not only WhatsApp call, but also the whole WhatsApp is unavailable due to network problems.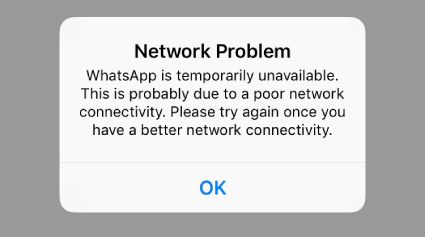 In this case, the easiest way to deal with unavailable WhatsApp call is to check your network connection and ensure that you are connected to a stable network or Wi-Fi, which works with WhatsApp.
Way 2: Allow Necessary Permissions to WhatsApp
To fix the problems of WhatsApp video call unavailable and WhatsApp call unavailable, check your settings and permissions on WhatsApp app. The problem exists if you have not enabled camera or microphone permission for WhatsApp on your iPhone or Android. And when your iPhone is in mobile data, also allow WhatsApp to use mobile data.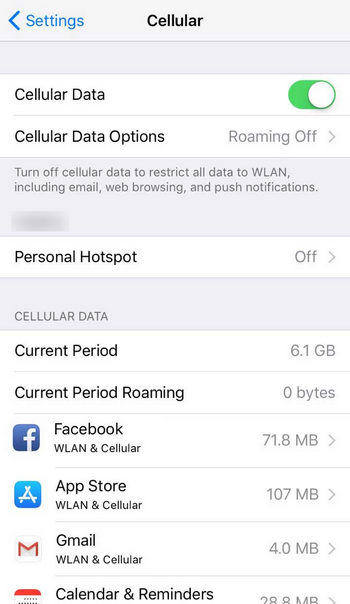 Way 3: Disable Low Data/Data Saver Mode
Why whatsapp call says unavailable but message delivered? You might have enabled low data mode or data saver mode on your phone. These features restrict devices from engaging in activities that cause a lot of mobile data, such as video call. Disable these modes and allow more data.
Way 4: Check If the Contact Has Blocked You or Is Not in WhatsApp
If everything is well but you're still seeing WhatsApp call unavailable, it is possible that the contact you reach has blocked you on WhatsApp or blocked your phone number on iPhone. In this case, you cannot call them over WhatsApp unless they unblock you.
Way 5: Clear WhatsApp Cache
Increased app caches slow down how the app works. So when your WhatsApp call is unavailable but not blocked, or WhatsApp call is ringing then unavailable, try to clear your WhatsApp cache on your Android phone. Find WhatsApp storage settings and clear cache.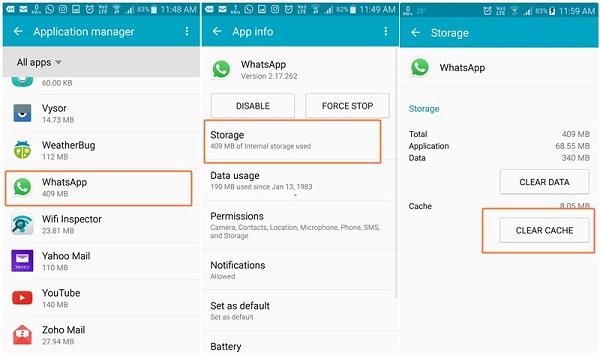 Way 6: Update WhatsApp to the Latest Version
Regular app update gets rid of bugs and problems. It is possible that you face WhatsApp call unavailable problem if you are using an old version of WhatsApp. The solution is extremely simple. Update the app to the latest version on your phone using the Play Store or the App Store for iPhone.
Way 7: One-Click to Fix WhatsApp Call Unavailable Problem
Still facing the WhatsApp call unavailable problem by now? Don't waste your time trying all the above methods when there is a system issue that cause WhatsApp is not working. We have a one click solution that can easily solve your problem. Use Tenorshare ReiBoot to repair your iOS system in Standard Repair. No data will be lost.
Download and run ReiBoot application on your computer and click Start to repair the iOS system.

Connect your iPhone to it via a USB cable and select the 'Standard Repair" option.

The program will download the latest firmware package by clicking the Download button or you can import it manually.

After the firmware package is downloaded, your iPhone will be repaired in a few minutes. And it will restart normally.
If you are an Android user, there is another Android repairing tool for you. Use Tenorshare ReiBoot for Android.
Conclusion
Next time you're facing WhatsApp call unavailable problem, try all the above methods and save yourself hours of headache and scrolling. If you are frustrated and have tried most of the methods but failed, Tenorshare ReiBoot is made for you as an iOS system repairing tool.