What to Do When the Process 'android.process.media has stopped' Occurs
by Jenefey Aaron Updated on 2019-12-19 / Update for Fix Android
Android continues to be one of the most highly respected operating systems in the industry today. Apart from providing efficient and better performance to its users, it also provides cheaper yet effective results without compromising usage. However, the Android universe is not without its fair share of lapses.
For one, it constantly encounters a number of errors that interrupt its relatively smooth operating system. While it performs in a generally good manner, one of the most common errors that the Android system encounters is the android.process.media has stopped error.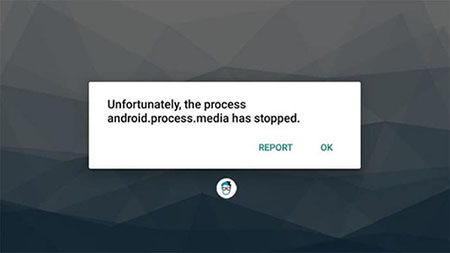 When you encounter this problem, you may be quick to panic and rack the Internet for answers. Thankfully (or not), this particular concern is more common than you think. So, before you hire a technician for help, try the following steps to help you get rid of this problem.
Part 1: When Will I Get the Issue "android.process.media has stopped"
Your Download Manager and Media Storage capacity and its respective systems may be encountering certain issues, thereby affecting the overall function of your device.
Updating your operating system entails getting the latest updates from the manufacturer and improving the speed and efficiency of your device. Unfortunately for you, this comes with a price.
App crashes, malicious attacks, and viruses can also factor in the occurrence of this issue.
A failed firmware update may also be one of the reasons why you are experiencing the android.process.media has stopped error.
Part 2: How to Solve the "android.process.media has stopped" Problem
Now that you know how this problem occurs, you can now focus your efforts on addressing the issue as quickly as you can. Apart from protecting your files, you can also ensure the overall safety of your device. Before you start with anything, make sure to save and back up relevant files.
1. Five Common Solutions to Fix "android.process.media has stopped"
Solution 1: Clear the Cache and Remove Data
The first methods to resolve the issue is to clear cache on your Android device, the steps are easy, please follow the instructions below:
Go to your phone's Settings. Then, click Applications and go to Manage Application. Here, you can find Google Services framework.
Under the Google Services framework, find Google Play Store.

Click on Google Play Store. Proceed to 'Clear cache.'

Go Back to Google Services. Click Force Stop and press on Clear Cache once more. Then, press 'ok.'
Open Google Play and if an error arises, click 'ok.'
Restart your device and go back to Google Services to see if the android process media stopped error is already addressed.
Solution 2: SD Card Method
As there are many Android devices need to be used with a SD card, it's necessary to check if it is your SD card that caused the problem.
Take your SD card out of the device.
Once the SD card has been removed, go to Settings. Then, click on Storage & USB > Internal storage.

Go ahead and press on Cached Data. To clear the cache, click ok.

After finishing these steps, put the SD card in once more.
Solution 3: Check Google Sync and Media Storage
It is also suggested to check your Google sync and media storage to solve this problem, go ahead with the steps below:
Go to Settings. Then, Choose Accounts and find your way to Google.
Head to Google Sync.
Uncheck all of the boxes available.
Go back to Settings and proceed to go under Apps. Upon clicking All Apps, head to Media storage.

Tap on Clear Data and then Disable.

Do the same approach to your Manager Data.
Restart your device.
Solution 4: Reset App Preferences
If there are too many apps installed and used on your device, there may be many uncertain error occurs, so you can reset your app preferences to fix some issues.
Go to Settings.
Go to your Application Manager or your apps.

Under the app menu, look and click on Reset App Preferences.
Solution 5: Removing Contacts Cache
Like what we have mentioned above, if there are too many contacts caches, this error may also appears, fix it with these steps:
Go to Settings.
Click on Apps or your Application Manager.
Look for Contacts under the list.
Under Contacts, you will find Storage.

Click on Clear Data and Clear Cache.
2. One-Click Fix for "Android Process Media Stopped" Error for Free
If all of these methods fail to provide a solution for your continuing process media has stopped error, you may want to work with dedicated software to address your concerns. One of these programs is the Tenorshare ReiBoot for Android. Dubbed as the 'Repair Android System to Normal At Your Fingers,' this program promises ease of use at every turn.
True to its claims, the Tenorshare ReiBoot can easily be activated with just one click. This also fast, free, and simple operating processes. The best part is that this particular program caters to more than 50 Android system issues such as the process media android has stopped error, app crashes, stuck Samsung logo, black screen, and many more features like below.
With its ability to support over 600 Android phones and tablets, this particular software has become a necessity.
From providing essential recovery tools to hassle-free operations, ReiBoot can cater to a wide range of Android gadgets across a number of providers or carriers.
This also comes with a free or trial version which allows you to get a peek into its advantages and benefits.
Meanwhile, the upgrade to pro version will set you back for just $25.95, allowing you to get the whole suite of rewards.
How to Use Tenorshare ReiBoot to Fix Android Process Media Stopped Error
Once detected, go to Settings and click on About Device/Phone. Under About Device/Phone, tap on Software Information.

Click on Build Number 7 times.

After following the steps, you will be directed to the ReiBoot page. Select One-Click to Enter Recovery Mode to start.

Wait for ReiBoot to put your device into recovery mode. Then select reboot system now, your Android device will be restart and the problem will be fixed.
Note: If the recovery mode method also cannot help you, then you can try "Repair Android System" option on ReiBoot for Android. This function can help you fix almost all the system issue in just 3 clicks.
Part 3: Which Certain Devices Should Be More Careful About the Issue
While the Android universe constantly tries to stay on its game, there are also times when its system can malfunction. Though it can happen to almost anyone, there are some devices which are more prone to being affected by the problem.
Some devices on the market are more exposed to these kinds of issues. Whether it's a manufacturer's faulty updates, an update that failed to reach its last stage, or a clogged file manager – there are countless ways which your Android phone can become infected.
To help you identify which devices need to pay special attention to this guide, take a closer look. Compromised gadgets often include android.process.media keeps stopping Galaxy S8, the android.process.media has stopped Xiaomi devices, and the android.process.media has stopped Marshmallow as well. Unfortunately, the process android.process.media has stopped Galaxy S5, alongside Galaxy Note 3 and other brands as well.
Conclusion
Now that you are more knowledgeable about the issue, learning how to fix these kinds of problems will become a breeze. By using Tenorshare ReiBoot for Android or other techniques mentioned in this article, you can now try your hand at operating and fixing your own device without having to spend any money.
Which of these have you already tried? Let us know which of these methods worked perfectly in helping you address the Android process media has stopped issue.