Forgot The PIN to Unlock Android Phone? Try These Methods
by Anna Sherry Updated on 2022-05-27 / Update for Unlock Android
Despite the importance of screen locks to your phone, it can lead to a plethora of issues whenever you have forgotten the PIN for unlocking your device. Unfortunately, forgetting your PIN will make it impossible for you to access your data, and you may never be able to use your device again.
But you don't have to be too bothered about this problem as there are proven ways to unlock Android phones even after forgetting the PIN. Therefore, let's dive into the article and learn how to unlock an Android phone without a PIN.
Part 1. Does Factory Reset Remove PIN
No, a factory reset cannot remove PIN. This is because you will be prompted to verify PIN after factory reset. Basically, once you are done with the factory reset, you will get a notification on your device saying "your phone was factory reset. Enter your PIN to unlock it". Since you have forgotten your PIN, this means that you will be stuck at this point. Therefore, you have to consider one of the other solutions that will be described below.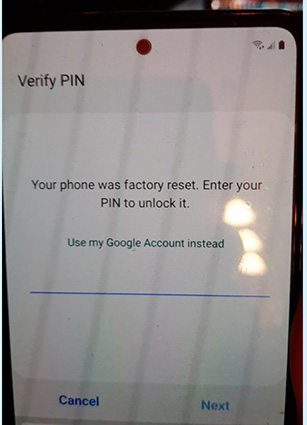 Part 2. How to Unlock Android Phone with Forgotten PIN When Verify PIN
As explained above, your phone will ask you to verify PIN after a factory reset. Then, it will suggest that you should enter your Google account to unlock the device (as shown in the picture above). For this method to work, your Google account must have been logged in on the phone previously. Also, you must have access to the internet. If these requirements are not available, this method cannot work for you.
Once you have entered the details of your Google account, the Google Recovery feature will be used to unlock your phone's screen.
Part 3. How to Unlock Android Phone When Forgot Pattern/Fingerprint/Password
Method 1. Use Find My Device (Android 5.0 Lollipop or Later Version)
For Android smartphones that are running on Android 5.0 Lollipop or later versions, you can take advantage of the "Find My Device" feature on them. With this feature, you can unlock your smartphone even if you have forgotten the password.
To use Find My Device, you must remember the email address and password associated with the phone. Also, you need a stable internet connection.
Visit Google Find My Device on another device. On the site, sign in with the main Google account on your locked Android phone. If you have several Android devices on the account, you should look at the top left corner of the screen and then choose the particular phone you would like to delete.

Then, you need to choose "Erase Device". Afterward, just tap the "Erase Device" button.
On the locked phone, follow the basic setup steps on your Android phone. Now, you can start using the device again.
Notably, you have to verify the Google account details you used previously on the device to complete the setup. So, if you don't have the Google account details, this method cannot work for you.
Method 2. The Easiest Method to Unlock Android Phone without Password
The methods described above will require your Google account information to work perfectly on your Android device. So, what will happen when you cannot remember your Google account information? These methods cannot work for you, but you can use Tenorshare 4uKey for Android. This program is the easiest method that you can utilize to unlock your Android phone without using any password or PIN. It works perfectly on your device regardless of its brand or model. The tool works quickly and does not require any special skill to use.
If you are ready to unlock your Android phone without a password, the first thing you should do is to download Tenorshare 4uKey for Android on your Mac or Windows PC. Then, you need to install it.
Connect your Android phone to a computer and select the "Remove Screen Lock" feature.

Confirm and start unlocking your Android phone

You will get a notification that says "Removing the lock screen password will erase all data on the device". If you are sure that you want to proceed, you need to hit the "Yes" option.

After the program has removed the lock pattern of your Android phone, you need to put it into recovery mode.

The lock screen will be automatically removed by the program. After a few minutes, a message that says "Screen password has been removed" will be displayed on your screen.
Done! You have finally unlocked your Android phone despite forgetting the lock pattern, fingerprint, or password.
Again, since Tenorshare 4uKey for Android does not require any passcode or Google account information, it is the best means for unlocking your phone. So, don't hesitate to use this program today.
Remove Android Screen Lock & Bypass Samsung FRP Lock
Bypass Google account verification on Samsung devices (Android 6-13)
Remove Android password, pattern, PIN, and fingerprint lock just one click away
Support removing screen lock and FRP on both Win & Mac