Best 2 Methods to View Keychain Passwords on Mac/iPhone/iPad
by Anna Sherry Updated on 2020-03-11 / Update for Keychain
Most people do not know what is Keychain. It is Apple's password managing utility. It is a built-in feature that comes with the MacOS and iOS Operating Systems. It is similar to Google Chrome, where you sign into a website and the web-browser offers you to remember the password and the login details. Keychain is the same but at a higher level and only for Apple devices. It can also sync these passwords between two Apple devices and if you want you can view the password on both devices. But it is not easy to view Keychain passwords that are securely saved inside the Keychain vault. You need to activate the feature on both of the devices and then you have to through intricate procedures to view those passwords.
Part 1: View Keychain Passwords on iPhone/iPad
It is very simple to view Keychain passwords iPhone; first of all, you will need to activate the feature on the device in order to get access to those passwords.
Step 1: Open your iOS device and go to "Accounts and Passwords".
Step 2: On the next page, tap on the "App and Website Passwords".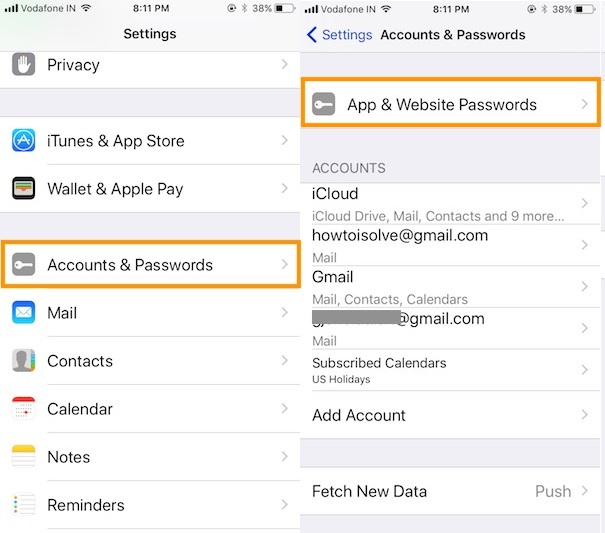 Step 3: Afterwards, you need to verify your identity using your Touch ID or you can also use your Password.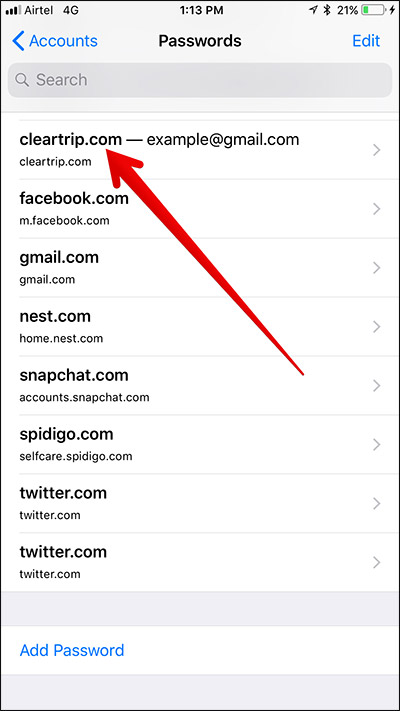 This way you can view and even use iCloud keychain on iPhone and iPad. However, iCloud has a web interface but you won't be able to access Keychain passwords from it as iCloud does not think that a web interface is secure enough to access such sensitive information. Which is the reason, Keychain is considered as one of the secure password vaults in the world.
Part 2: View Keychain Passwords on Mac
As usual, the Keychain feature must be activated on the device in order to view iCloud Keychain passwords. But if you have only activated the feature on the iOS devices then you won't be able to view saved Keychain passwords on the Mac.
Here's how to view Keychain passwords on Mac,
Step 1: Open your Mac device and launch Spotlight.
Step 2: Now, run Keychain Access.
Step 3: A lot of information will be available there, so, go to the left and click on the items list, or you can just go for that specific website to find your details.
Step 4: After you found it, you have to double-click on it and select "Show Password" option.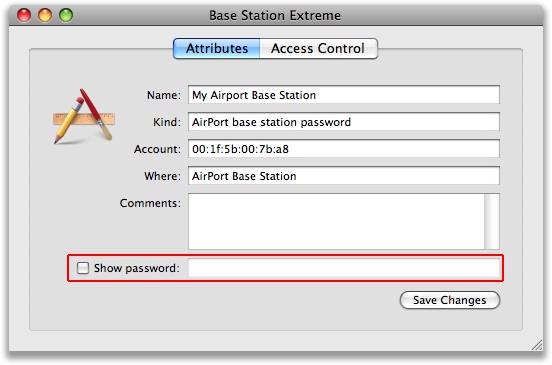 Step 5: Lastly, you have to authenticate it and only then you will be able to view and access the password.
You may be also interested in: How to Find iCloud Keychain Security Code
Conclusion
As you can see this is a comprehensive iCloud Keychain review and it is not easy to view the passwords from the Keychain vault, it is a safe encrypted place but if you forget the main password and ID then it would be impossible for you to get into it. You have to set it up from the beginning. In that case, there is an excellent software available that is capable of bypassing passwords, it is known as Tenorshare 4uKey - Password Manager. It is an iOS password manager and finder which is very efficient and effective when it comes to finding your saved password in iPhone or iPad. It boasts a great algorithm that can show Wi-Fi password, website and app login password, mail account password, Apple ID and credit card information. Coming from the stable of Tenorshare, this iOS password finder is bound to be a very potent software. Highly recommended!