[Solved] Safari Wants to Use the Local Items Keychain
by Anna Sherry Updated on 2020-03-12 / Update for Keychain
Keychain is one of the best services provided by iOS and MacOS. No other OS comes with such feature to record and protect your personal details. The Keychain Access comes with a very secure vault, called Keychain. All of your personal details like log-in information, passwords, and even Credit Card details will be stored in that vault and when you need it the feature will provide the details automatically. But it is not always so simple! Some of the users are facing a very serious problem regarding the Keychain. "Safari wants to use the Local Items Keychain", this is the reported prompt and even when they are typing the password the prompt is not leaving the screen. The details of the problem and the ways to fix it are discussed below.
Part 1: Why "Safari Wants to Use the Local Items Keychain"?
Many times, when you update your Mac OS, a dialog box may appear on your screen after the restart the device. It basically asks you to enter the password for the few Local Items in the Keychain. But while you enter the password, it won't work and the ESC key won't work either. This is a common issue reported by many users all over the Internet.
Actually, this problem with Safari login Keychain occurs because the login Keychain password is out of sync with the new iCloud Keychain you just created. If they are synced again then the problem along with the dialog box will go away. Sometimes, it is just a bug which gets solved after you reset the Keychain.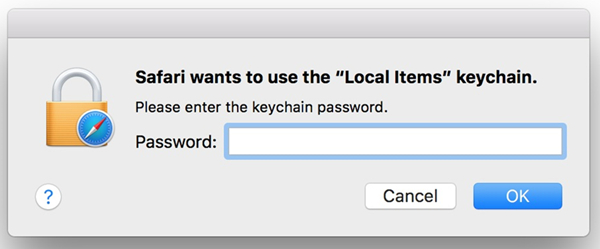 Part 2: How to Solve "Safari Wants to Use the Local Items Keychain"
If Safari wants to use Local Items Keychain, then the Keychain password must be out of sync. It does not match the iCloud Keychain you are using and it must be synced again to fix the problem. Basically, at this moment if you try to log-in to some secure website then Safari won't be able to Auto Fill the password, Safari wants to use the login Keychain but it is unable because the password does not match.
Here are the steps you can use to fix the problem:
Step 1: On your device, and go to Finder.
Step 2: Then, navigate to Utilities and then to Keychain Access.
Step 3: Now, click on the "Lock" button at the top to lock the login Keychain.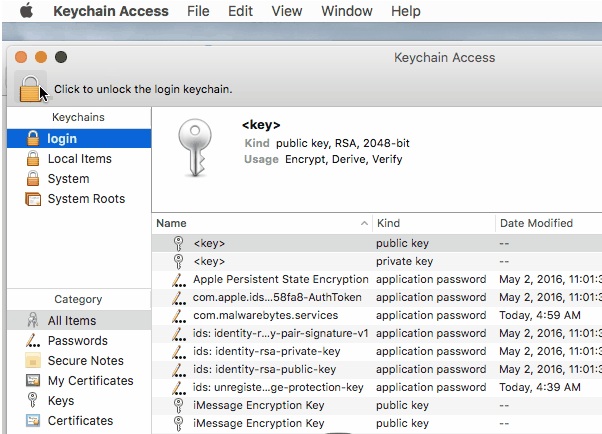 Step 4: Then, click on the lock again to unlock the login Keychain.
Step 5: When you enter your login Keychain password a dialog box will appear.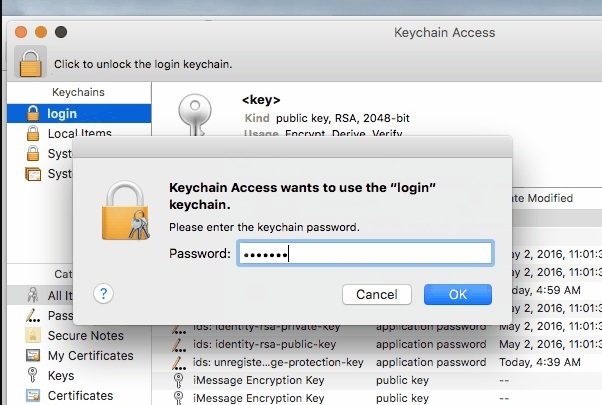 Step 6: If you click on the "Reset My iCloud Keychain" option at the bottom of the box the login Keychain password will be synced with iCloud.
Note: You may be also interested in How to Recover iCloud Keychain Security Code
Unfortunately, it is possible that the above steps may not be able to fix the problem you are having with Safari Keychain password. If that is the case then follow the steps below,
Step 1: Open the Terminal.
Step 2: Type in: cd~/Library/Keychains and press Enter
Step 3: Now, type "Is" and press Enter. When the "Is" visible, you will find a folder with lots of random numbers inside it, these numbers are unique to each system.
Step 4: Write "rm-rf" before the number and Reboot.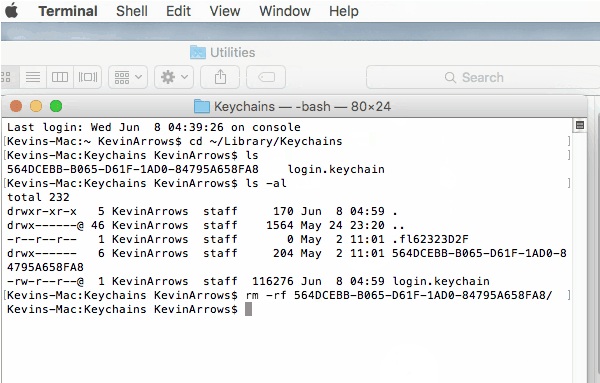 After the device is restarted again, everything should get back to normal.
Note: You may be also interested in How to Fix the iCloud Keychain Code Not Working Issue
Part 3: How to Stop Safari from Auto Filling Passwords and Credit Cards in iCloud Keychain on Your iPhone and iPad
In my experience, one of the best iOS features I have ever seen is Keychain. Security is an issue for every one of us, so it is very natural to say no when a pop-up message gives you the option to remember your personal details. But that is not the case with Keychain Access.
There is a vault inside Keychain Access called Keychain. It encrypts your data and stores them inside the vault, and it is very secure. But if someone other than yourself has access to your device then it will be better not to save any details in Keychain. Mainly you should stop using Safari Keychain, it stores log-in passwords, account info and Credit Card details, etc.
Here's how to stop the AutoFill feature of Safari:
Step 1: Open your iOS device and go to the Settings app.
Step 2: Run, Safari, and tap on the AutoFill option.
Step 3: Now, inside the AutoFill menu, you need to turn off the following options: "Use Contact Info", "Name and Passwords" and "Credit Cards".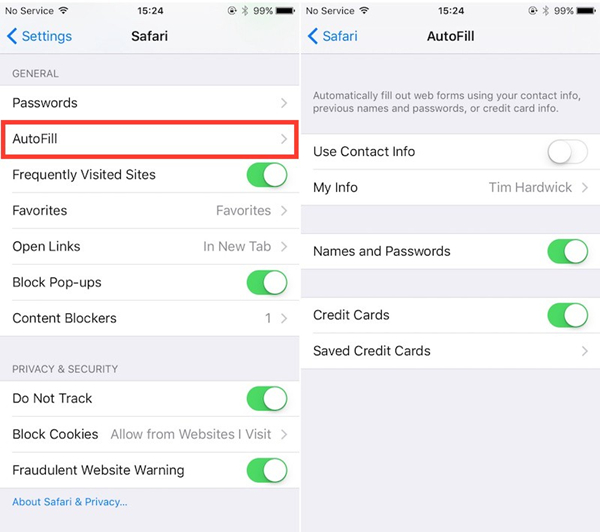 Now, you will never be asked to AutoFill your contact, password or Credit Card information while you are using Safari.
Part 4: Recommended Program - Tenorshare 4uKey - Password Manager
Alternatively, if you are stuck with losing password information of Wi-Fi account, website and app login account, mail account, Apple ID, and credit card, then you can use Tenorshare 4uKey - Password Manager software to bypass that lock screen very easily. It is a premium iOS password finder that can show password in iPhone and iPad with ease. It is compatible with the new iOS 12 as well. Highly recommended!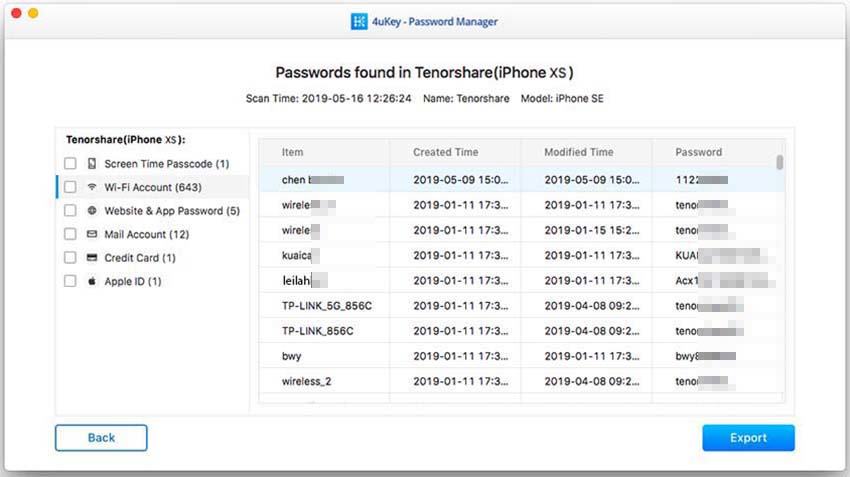 Well, this is a problem faced by many users after they have updated the OS. Actually, during the new setup of Mac OS, certain errors can be a culprit to this problem. But not to worry, the procedures above will fix the problem in no time, if it is followed properly.