Everything You Need to Know about iTunes Encrypted Backup and Password
by Jenefey Aaron Updated on 2019-07-25 / Update for iTunes Backup
In case you want to be secure with your data, you would definitely want to keep your data encrypted. If you are on iOS, it may be a great idea to keep your iTunes data secure by encrypting it. Now in this post, we will introduce you to the concept of iTunes backup and how to ensure the safety of your data.
Part 1: Why Should You Encrypt Your Data?
Well, that should be something quite understandable. You need to safeguard your data from being handed over to unscrupulous elements. Encrypting your iTunes backup is the sure shot option to taking measures to keep your personal data secure. Since the data in an iTunes encrypted backup is encrypted, no one will have access to your data as they will need a password to decrypt it.
Of course, there may be other reasons as well that you want to encrypt your data. If you are restoring your data from a backup to your new iOS device, an unencrypted backup will not save the passwords. Your mail account passwords and other essential passwords will not be saved in case of an unencrypted backup, and you need to enter them afresh. However, an iTunes encrypted backup saves the passwords as well.
Part 2: How to Encrypt iTunes Backup?
Well, iOS offers you an excellent option to encrypt your iTunes backup. When you want to encrypt your backup, just connect your device to iTunes and navigate to Options. You should ideally get it under the Summary tab under your iPhone navigation.
You will find the option to encrypt your iTunes backup by assigning a password.

When you want to restore your iTunes encrypted backup, you will need to enter your password.
So, what if you forget the password? You will never be able to recover the iTunes backup that you have created. Don't worry though – there are a few good options that would be helpful in achieving the task.
One of the excellent options you can use for unlocking your iTunes encrypted backup is to opt for the Tenorshare 4uKey - iTunes Backup. Let us check how helpful this tool can be in letting you retrieve your lost password for the iTunes encrypted backup.
Part 3: How to Retrieve iTunes encrypted Backup When Forgot Password?
If you've forgotten the password of the encrypted backup, you need to use an iPhone backup unlocking tool to get password decrypted. The Tenorshare 4uKey - iTunes Backup is designed for helping you recover the lost iTunes encrypted backup. It ideally unlocks the password for all your iOS devices like iPhone, iPad, and iPods and lets you have access to address encrypted files. Also, it removes the iTunes backup encryption within a few minutes and provides you a 100 percent secure decryption with an advanced algorithm. The app is compatible with all iTunes versions including iTunes 12.9.
The steps involved are simple and easy to work with. You can choose between three different attack types and thus enhance the decryption efficiency. First of all, get 4uKey - iTunes Backup downloaded and installed on your computer, then follow the steps here below carefully.
Launch the Tenorshare 4uKey - iTunes Backup on your Windows or Mac device. Then choose the option Retrieve iTunes backup password option.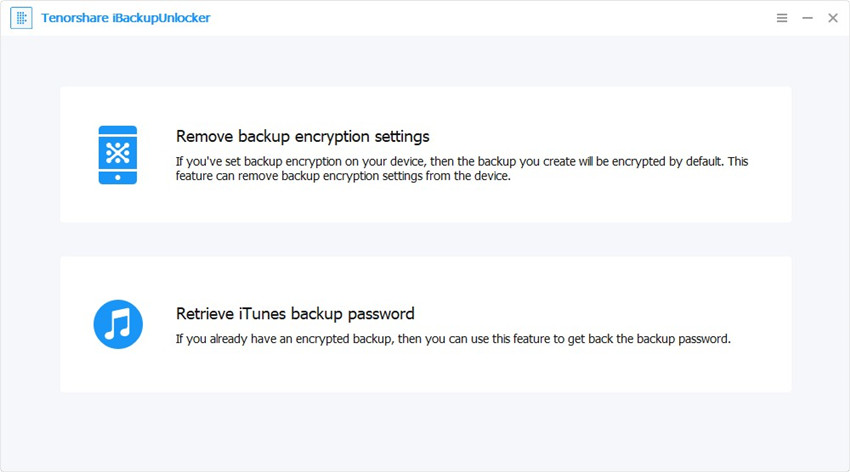 All your iTunes backups saved on your device will be shown. The encrypted iTunes backups will have a lock icon next to them. Choose the iTunes encrypted backup you want to retrieve the password for.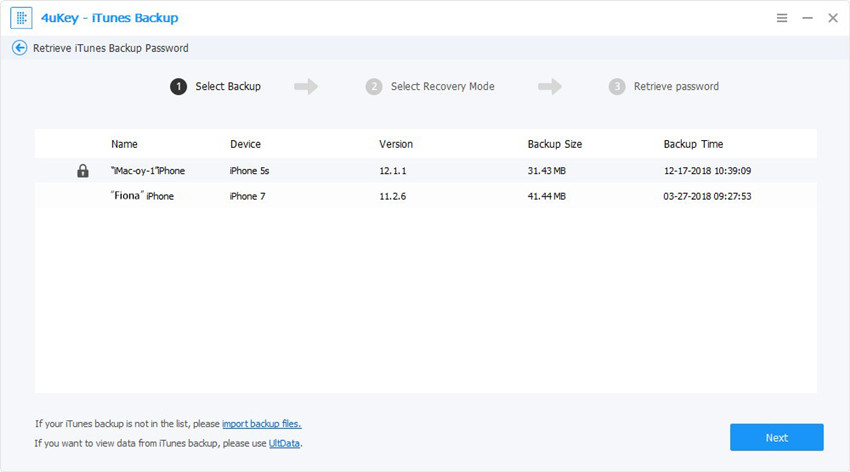 Then choose the file and click on Next. You will find three different types of attacks on the tool interface. Choose the one that will efficiently decrypt the iTunes encrypted backup. Once done, click on Start to begin recovering your iTunes backup.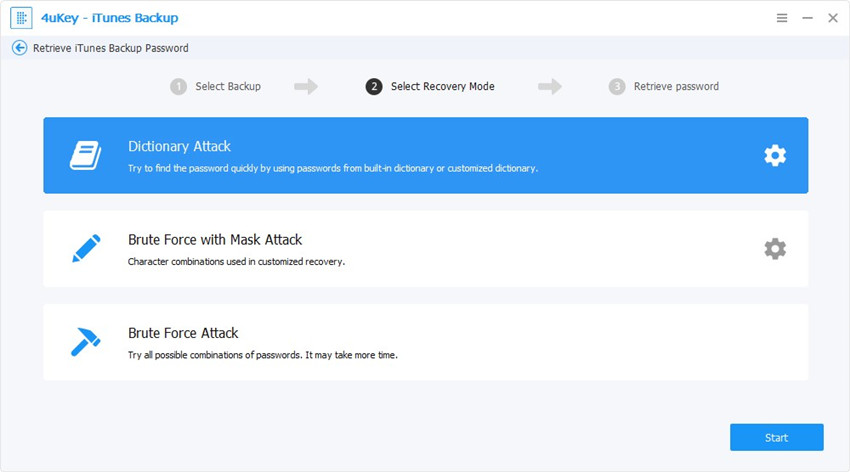 When you have configured all the settings and are ready to retrieve your password, click on Start, and you are good to go. Wait patiently till the 4uKey - iTunes Backup decrypts the password for you.
You can even stop the retrieval of your password if you have anything come up in between. The time taken for the retrieval of your password can take time depending upon the decryption type you have chosen, the complexity of the password and the password length.
Once successfully found, the password should be displayed on your interface.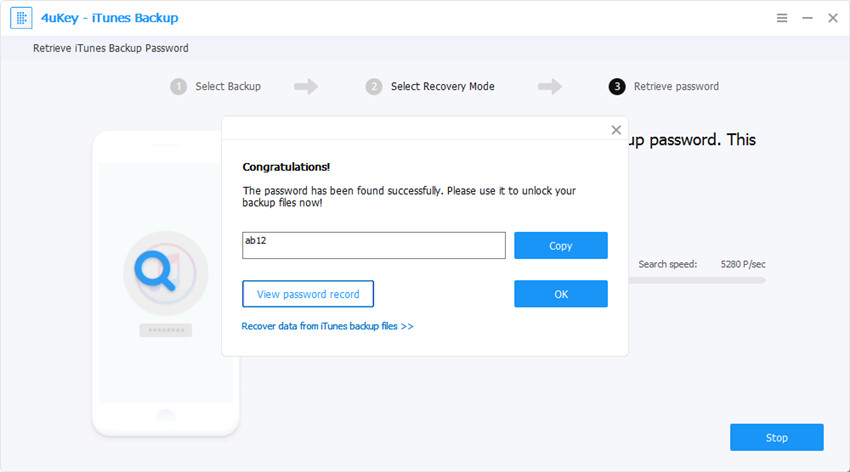 Part 4: How to Turn off iPhone Backup Encryption?
If you have frequently been forgetting the password for your iTunes encrypted backup, you may also be looking forward to disabling or turning off iPhone backup encryption. Here is how you can do it. In fact, the best method you can do it to use the Reset Settings option.
Go to Settings app on your iOS device.
Go to General >> Reset.
Tap on Reset All Settings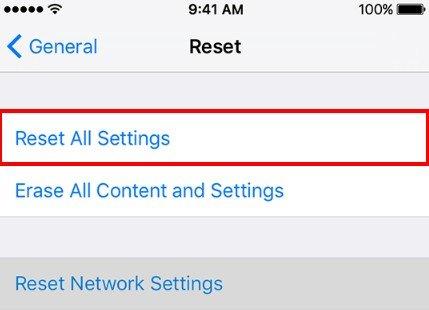 That does it. All your settings including the password will be removed. This includes your iTunes password as well.
You may also uncheck the option under Options as we mentioned at the beginning of this tutorial.
Conclusion:
If you are not able to remember your iTunes encrypted backup for any reason, the Tenorshare iPhone backup Unlocker is an excellent option for you. Of course, it may take a while to complete your task but can get your work done through easy steps.
Try the tool once and share your experiences and opinions with us. You can check out the trial version first before you can opt for the Pro version.