How to Backup your MacBook Pro/Air to iCloud
by Jenefey Aaron Updated on 2019-07-25 / Update for OS X
One of the best things about Apple products is that the whole ecosystem works with you to help you keep your data safe, and when you back up Mac to iCloud, you know that your essential information is secure. However, getting the most out of that ability can be difficult, for instance, Mac OS backup without time machine can be important, but that information is not always clear. We are going to show you how to backup Mac without/with Time Machine.
How to Backup Mac without Using Time Machine
While Time Machine is incredibly useful, it can only backup locally to an external drive, and today, where sharing documents between multiple devices is part of daily life, there are plenty of reasons why you may want to back up Mac to iCloud, or to have aspirate copy of certain files.
To backup Mac to iCloud, firstly, you need to go to System Preferences on Mac, and click on iCloud, you will see a list of data types that you can associate with your iCloud service. Work down the list, and then check off the data types you want to back up. Simply click in the box next to the data you want to backup, and a tick will appear. Once you have done this, data types that you have selected will be automatically backed up to your iCloud account, and are not only safe, but accessible by all your other Apple devices too.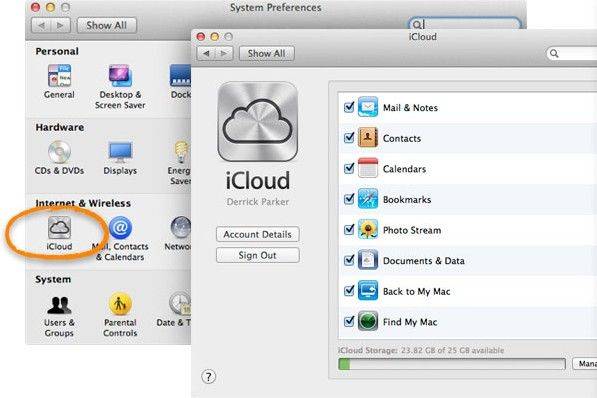 While backing everything up to iCloud as you do with your iPhone seems tempting, the reality is that unless you pay extra, your free iCloud space would not be big enough. If you stick to things like contacts, documents and so on, and avoid video or other media, your free 5GB iCloud space will be enough to keep those important files safe. If you want to back up large files, video, music and so on, you will probably need to pay for extra storage.
Automatic Backups with Time Machine
Of course, the iCloud solution is restricted for space, unless you want to pay for more, and backing up your user folder is a manual process, so there is always a risk of not doing it at the point you really need it. Instead, Time Machine provides.
Time Machine is integrated into MacOS, and it is by far the most convenient and simplest option, with a connected hard drive active, it does it all for you. First, go to Preferences to set things up, choose Time Machine, and click the On/Off button so that it is turned on. Then it is simply a matter of going to the select Disk menu, and then choosing the attached storage disk or Airport Time Capsule you wish to use. It is that simple, the system will do the rest.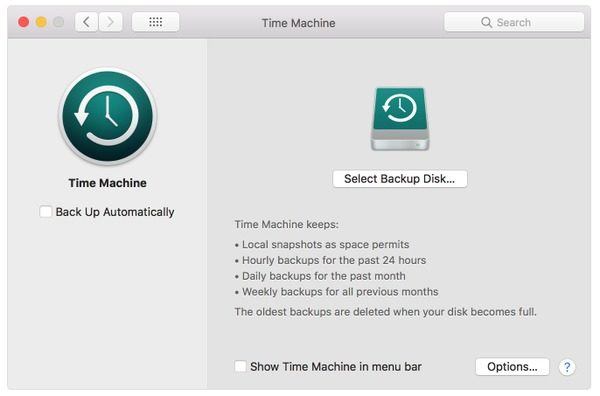 Conclusion
Because Time Machine only works locally with attached storage on your network, knowing how to back up Mac without Time Machine is very useful for off-site storage of important data. However, if you have had a problem and did not make a full backup, if you think you have lost all of your Mac data there is a way to recover it. Tenorshare Data Recovery for Mac is a comprehensive Mac data recovery solution that can help you restore lost data on Mac easily.