iPhone 7 Lagging and Freezing, Fix It Now(iOS 15 Supported)
by Jenefey Aaron Updated on 2023-06-20 / Update for iPhone7 Tips
Wondering if any iPhone 7 users have experienced this issue whereby the phone will lag and become very sluggish when unlocking the phone. This issue arrived when I updated to iOS 15 and I didn't have this problem in iOS 13.
With time, some iPhone 7 users may notice that the phone runs slower and sometimes even became sluggish, lagging, freezing and not responding. Why is my iPhone 7 so slow? There are various factors that can cause your iPhone 7 lagging and freezing like insufficient memory storage, faulty programs installed. If you are suffering the iPhone 7 lag issue, this article will show you how to fix and speed up lagging and freezing iPhone 7/7Plus efficiently.
The Relevant Symptoms of iPhone 7 Lag
Are you experiencing the following issues on your slow iPhone 7? Below we list some common symptoms of iPhone lagging:
iPhone 7 lagging when unlocking after iOS 15 update
iPhone 7 keyboard Lag
iPhone 7 Plus delay when trying to scroll
iPhone takes a long time to open an app
iPhone 7 freezing when making calls
iPhone 7 plus camera freeze
iPhone 7 unexpectedly turns off or restarts by itself
If you have the above lagging issues on iPhone 7, this article will definitely help you fix iPhone 7 lagging and freezing with 8 easy ways.
Solution 1: Force Restart Your iPhone to Free up RAM
iPhone takes a long time to open an app? Every app needs a certain amount of RAM (Random Access Memory) when it is running. If the RAM used up, it will take a long time to run apps and make your iPhone 7 running slow.
An easy way to release RAM on iPhone 7/7Plus is force restarting. Hold the Sleep/wake button and the Volume Down button at the same time. Keep holding the buttons at least 10 seconds and release the buttons when the Apple logo appears.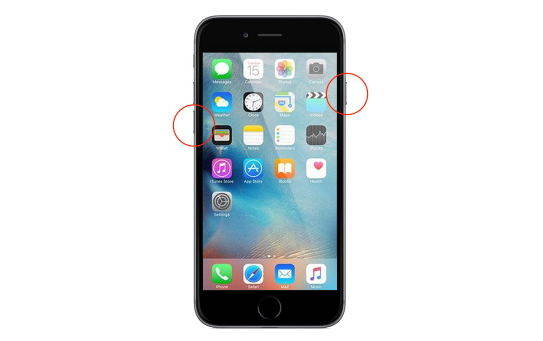 Solution 2: Clean up Your iPhone to Release More Memory
Why is my iPhone lagging? With time, there many files accumulated on your phone. Insufficient memory storage can inflict slow performance or caused your iPhone 7 lagging and freezing.
Go to Settings > General > iPhone Storage to check your iPhone storage. Clear unnecessary files or apps to ensure your device has enough storage space available to get rid of iPhone 7 freezing and lagging issue.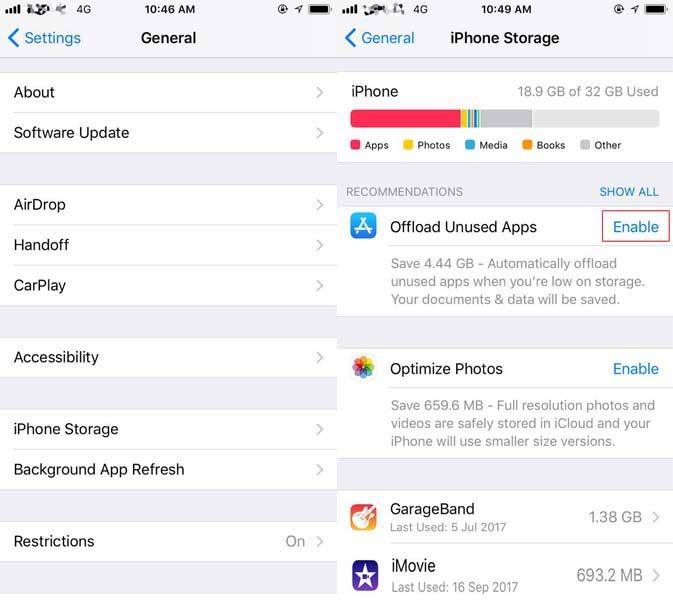 To clear out those needless files one by one is tedious but a professional iOS File manager program like Tenorshare iCareFone, can efficiently clear all needless or hidden large files, unused apps and boost your iPhone 7/7Plus speed.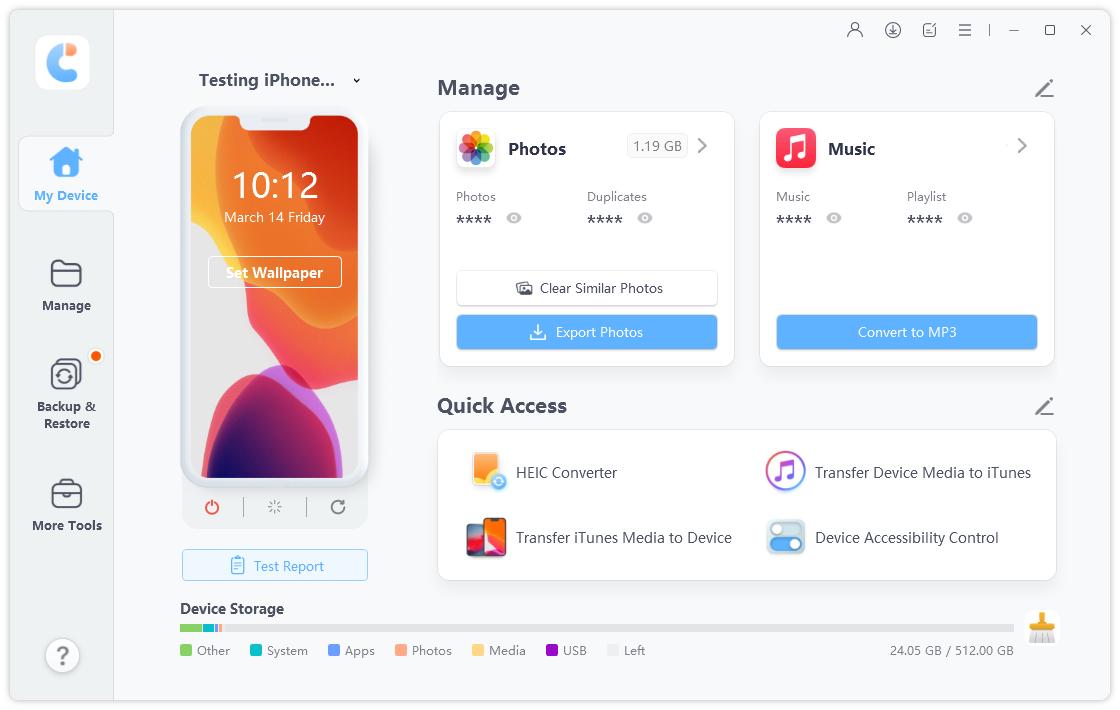 Solution 3: Turn off Wi-Fi Assist to Fix Slow Internet Lag on iPhone 7/7Plus
Internet speed is slow on your iPhone 7? Safari, App Store, Facebook, Snapchat, etc. takes a long time to load or even won't load? Your iPhone may go slowly when there is a bad connection between your device and the Internet.
So, check your network connection and make sure your iPhone is connected to a stable Wi-Fi or cellular. And it's very common that your iPhone is still connected to a weak WiFi signal, so go to Settings > Cellular > Scroll down and tap the slider for Wi-Fi Assist to disable Wi-Fi Assist.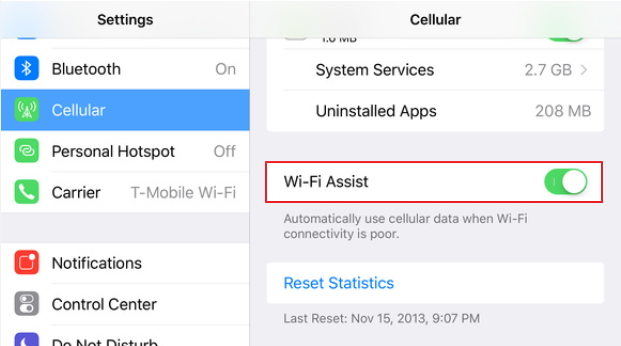 Solution 4: Adjust Home Button Speed to Fix iPhone 7 Slow Home Button Response
Since the Home button on iPhone 7 isn't a mechanical button anymore, most users notice the lag while working with the Home button. If your iPhone 7 home button is slow to respond, go to Settings > General > Accessibility > Home button to customize the Home button speed.
Solution 5: Update or Delete the Apps that Cause Your iPhone Freezing
Slow animation is particularly noticeable while trying to close apps on your phone? If only several apps run slowly on your iPhone 7, it may be that these apps are corrupted or not compatible with your iOS operating system.
To solve this slow iPhone 7 problem, simply delete those problematic apps and reinstall them on your phone if you need or update them to the latest version.
Solution 6: Disable Background App Refresh
iPhone 7 plus is slow? If you enabled Background app refresh, it will let apps continuously be updated with minimum battery reduction your device, which means the iPhone has to still keep all those processes running.
The best option is to turn background app refresh off. Go to Settings > General > Background app refresh > Turn background app refresh off.
Solution 7: Clear Browser Junk Data
Cookies and history in your browser will take up Phone storage and make iPhone 7 Plus slow. Clearing them to free up your iPhone storage and with more storage space your device will work faster.
If you are using Safari, you can go to Settings > Safari > scroll down to find "Clear History and Website Data" and tap it. Tap "Clear History and Data" to confirm it.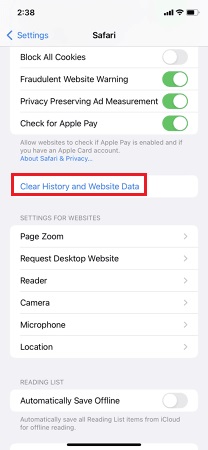 Ultimate Solution: Reinstall iOS to Fix iPhone Lagging (No Data Loss)
iPhone 7 plus keeps freezing after iOS 15 upadte? A fresh start always makes a phone faster. If you have tried all the steps above and still experience the issue that iPhone 7 plus keeps freezing and lagging, you may need to restore your iPhone and set it up as a new device.
However, restoring iPhone with iTunes will erase your iPhone and install the latest version of iOS, which may bring a new problem to iPhone 7. Instead, you can use Tenorshare ReiBoot to restore iPhone and fix various iOS issues that may make your iPhone 7 lag.
Run ReiBoot after installing and connect your iPhone to your computer.

Select Repair Operating System on the main interface.

Choose Fix Now on the following screen.

Click on Download to download the firmware for your iPhone.

When the firmware is downloaded, click Repair Now to restore your device. It will display the following message when your iPhone is restored.
That's all about how to restore iPhone without iTunes. The restoring method always makes a phone faster.
Summary
That's all for how to iPhone 7 freezing and lagging fix. If you tried all the solutions above and still have the "my iPhone 7 is slow" issue on your iPhone, you need to factory restore your iPhone with Tenorshare ReiBoot and start it from fresh.
FAQs on iPhone 7 Lagging and Freezing
1. What causes iPhone to lag?
Your iPhone may be lagging and freezing constantly because of running low on internal memory space, unresponsive app, iOS update, software errors or hardware damage.
2. Will iOS 13/iOS 15 slow down my iPhone 7?
Updates always carry either new features or bugs/errors. New features put more strain on the processor while bugs/errors will cause your iPhone to malfunction. Either way, an update may cause your iPhone 7 freezing after update.
3. Why is my iPhone 7 keyboard lagging?
Your keyboard may be lagging because it's already running low on internal memory space. There are apps consuming too much memory so the keyboard can't use enough to work quickly.
4. Why is my iPhone freezing when I get a call?
There are a lot of issues can cause your iPhone freezing when making calls such as iOS glitch, software conflicts, iOS update. You can try a force restart or a factory restore to fix this problem.