Why Your iPhone 7 Is Restarting And How to Fix This Problem
by Jenefey Aaron Updated on 2020-09-17 / Update for iPhone7 Tips
"It was 3 years back when I was using my iPhone 7, I remember it very clearly as that day I updated my iOS and suddenly the device restarted. I was surprised but thought that it was because of the new update. But then after using it for a few minutes, it restarted again."
I have faced this before so, I would not recommend anyone to go through the same desperation and the state of panic. I know it will be a horrible experience iPhone 7 keeps restarting but not to worry, I have a few solutions that will help with any software issues that may have put your device in such a state.
Why Does My iPhone 7 Keeps Restarting?
There are various iOS users who have faced similar situations but if you are one of them, then you must know that there are 2 categories of such problem.
1. The first one is intermittent restarting of the device, this is where you can use the device for some time with no problems but then suddenly it will restart.
2. The second one is called the Restart Loop. In this state, your device will restart continuously and it will be unusable.
How to Solve iPhone 7/7 Plus Keeps Restarting
If my iPhone 7 keeps restarting then I would generally panic but I would recommend you not to. Keep yourself calm and go through the following solutions; it is quite possible that a problem of such magnitude could be solved at home by your hands.
Solution 1: Update iOS
You can try to fix the problem, just by updating the iOS. There are 3 ways to update the iOS of your device; you can do it via OTA or via iTunes app or you can use the services of a third-party software known as Tenorshare ReiBoot. All the procedures are very simple and effective, above all, they may be able to get rid of the problem.
Via OTA:
Step 1: First, make sure that your iPhone is connected to a power source.
Step 2: Then, make a backup of the device using iTunes or iCloud app, if you haven't already done it.
Step 3: Now, make sure that the device is connected to a strong Wi-Fi network and launch the Settings.
Step 4: Go to "General" and then head for "Software Updates". Here, iOS will automatically check for available updates.
Step 5: If an update is available then tap "Download" and the update will be downloaded. After it is downloaded tap on "Install"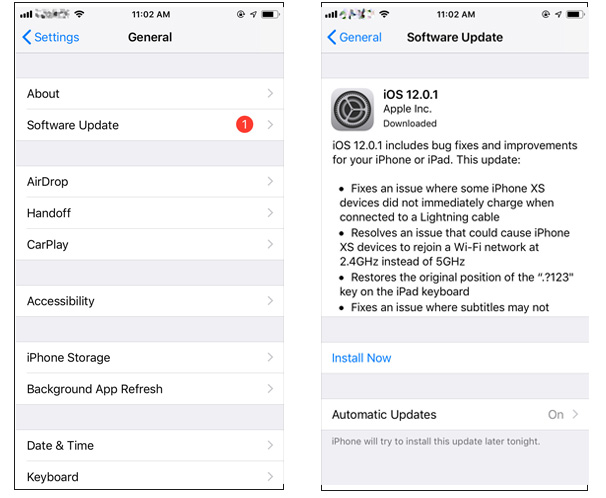 Via iTunes:
Step 1: First, update the iTunes app on your computer.
Step 2: Then, connect the iPhone to the computer and launch the app.
Step 3: In the iTunes panel, go to "Summary" and click on "Check for Updates".
Step 4: Download the update and then install it.
This is the procedure to update the iOS via iTunes app. But as mentioned earlier in the article, you can also use Tenorshare ReiBoot to update the iOS. Although, it is completely up to you to decide which one of the procedures you are going to use to update the iPhone.
Solution 2: Find & Delete Faulty Apps
Although it is very rare still it is possible that an app might be the root of the problem. It is true that iOS is protected from any app problems, but it is also true that there are more than 1.5 Million apps in the App Store and there are few of them that are not perfect. So, if you have installed an app just before iPhone started causing problems, you should uninstall that app and see if the problem is fixed. Otherwise, you can do the following if iPhone 7 Plus keeps restarting;
Step 1: Open your iPhone and go to Settings.
Step 2: Then, head to "Privacy" and look into "Analytics Data" from "Analytics".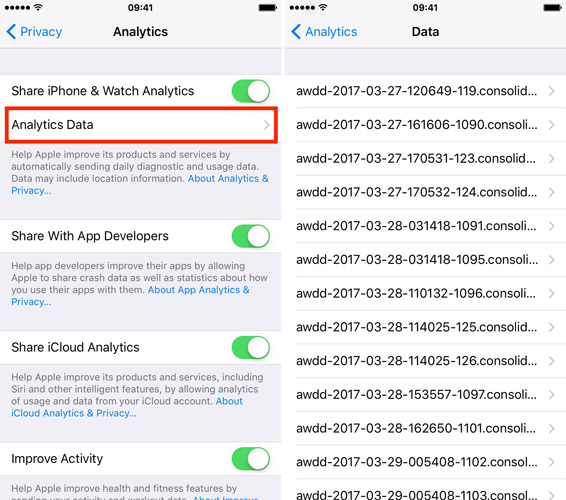 This is another place to search for buggy apps, you will find several entries there but that is completely normal. So, look through a few times and if any of the apps look suspicious then uninstall it immediately.
Solution 3: Reset All Settings
If iPhone 7 Plus keeps rebooting, you can try to Reset all the Settings. It is not an all-powerful solution that can fix everything, but it is capable of fixing several issues with the iOS. So, follow the steps below to Reset the iPhone 7:
Step 1: Open your iPhone and go to Settings and then head for "General".
Step 2: Enter the "Reset" option and tap on "Reset All Settings".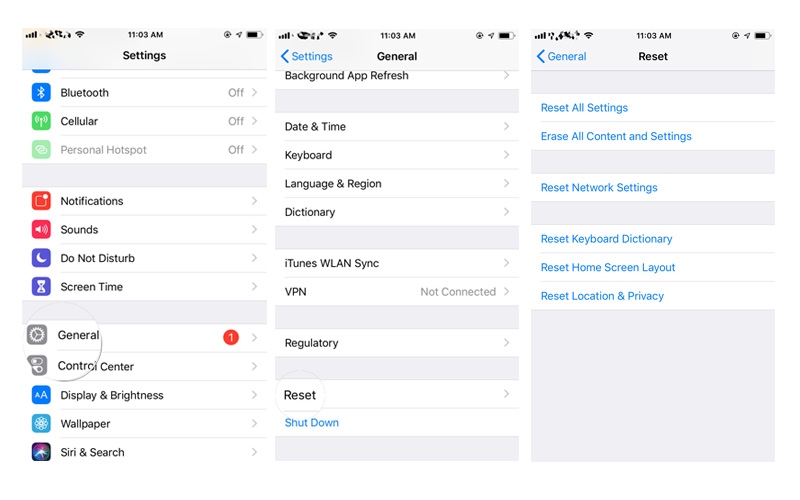 After implementing this procedure, your iPhone's Settings will move to the Factory Default but no data or apps will get erased.
Solution 4: Restore from Previous Backup
You can also try to restore the device from a previous backup, in many cases it has solved problems with the iOS. It is not very complicated, if you have previously backed up the device using iTunes or iCloud app then you can use that backup file to restore the device and that may possibly fix the problem.
Step 1: Connect the device to the computer with USB cable the run the iTunes app on the computer.
Step 2: Wait for iTunes to detect the device.
Step 3: Then go to the iTunes window and click on "Restore Backup".
Step 4: Now, just select the suitable backup file and click "Restore".
If you follow these steps you will be able to restore the device using iTunes app and the problem could disappear, permanently.
Solution 5: Fix iPhone 7 Keeps Restarting without Data Loss
If your iPhone 7 keeps rebooting and any of the mentioned solutions are not working then it is quite possible that the iOS has been damaged somehow and it is making the device reboot, constantly. In such circumstances, you can use a third-party software to fix the damages with the iOS. Tenorshare ReiBoot will be perfect for this job, it is efficient and very simple to operate, you just need to make a few clicks and the device will be fixed momentarily.
Step 1: Visit the Tenorshare website and download ReiBoot on your computer for free. Then, install and run the program on your computer.
Step 2: Find a USB cable can connect the iPhone to the computer with it, ReiBoot will detect the device immediately, click "Repair Operating System"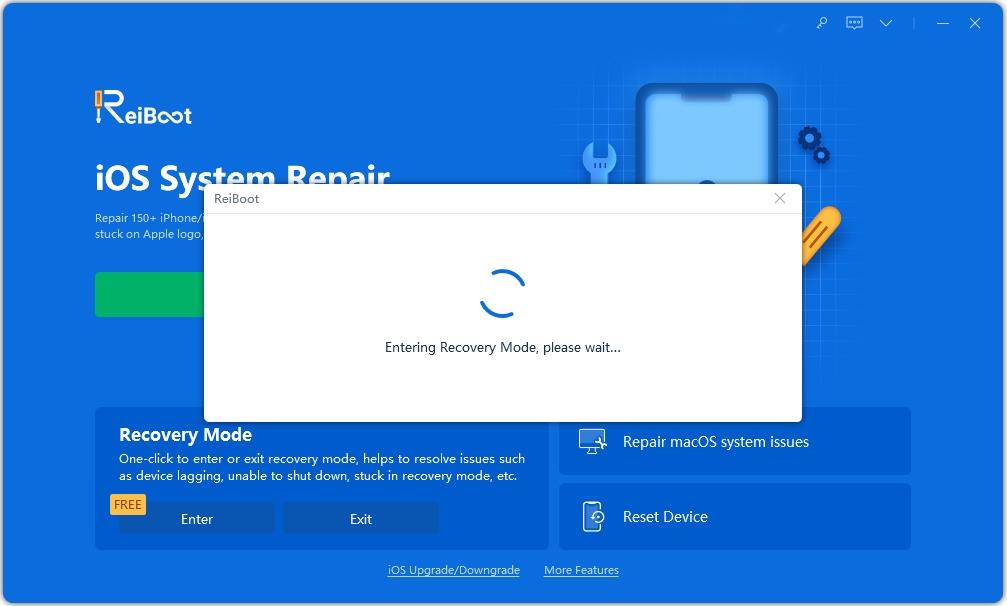 Step 3: In the next panel, click "Start Repair" to get started. Now, ReiBoot will prompt you to download the required firmware package, so, click on "Browse" and choose a suitable location for the package and then click on "Download" to get the file from the internet.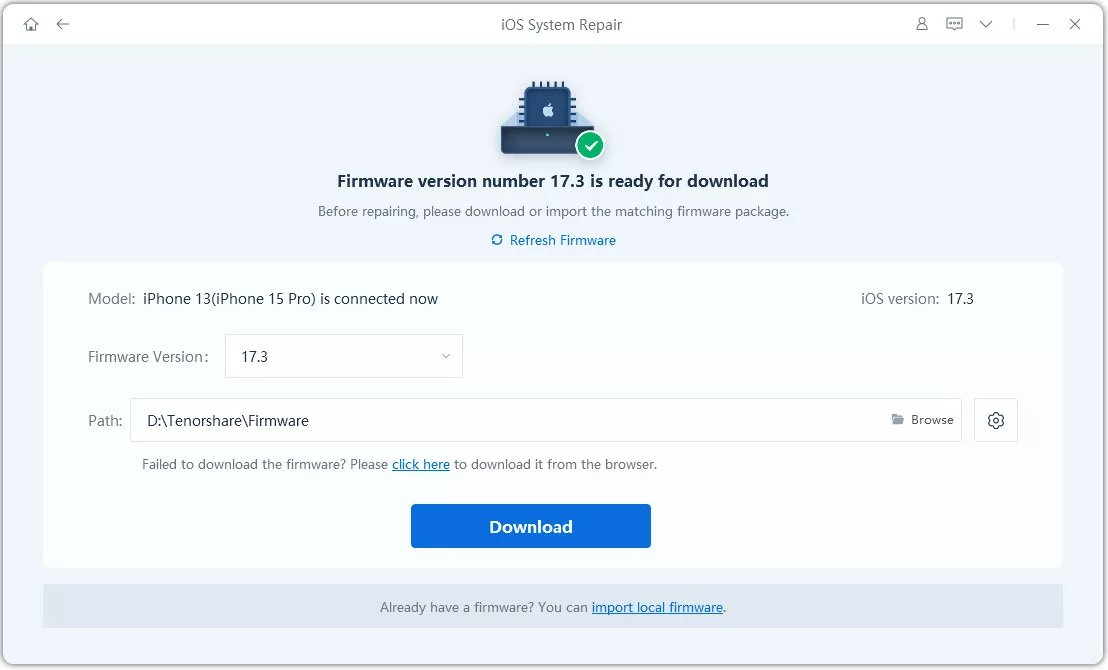 Step 4: After the package is downloaded you can click on "Repair Now" to start the recovery process.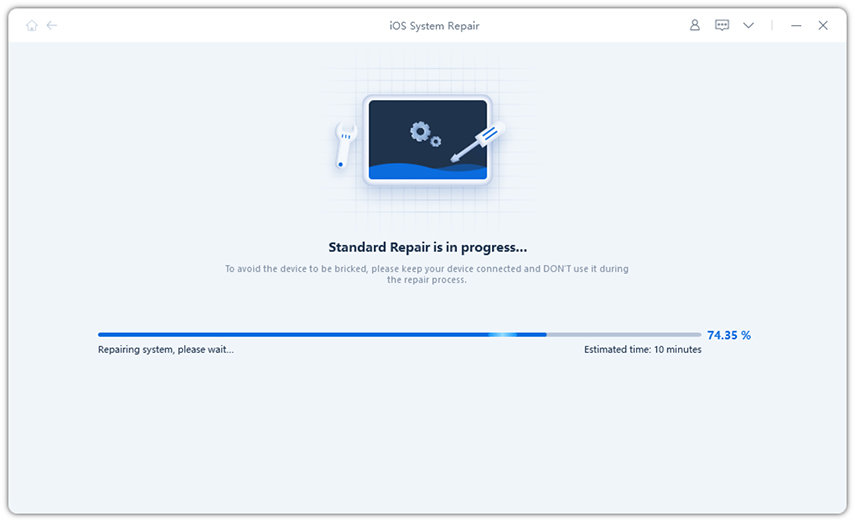 If there was anything wrong with the iOS, ReiBoot will fix it within the duration of this simple but effective procedure.
Solution 6: All Failed? It May be Hardware Issue
Sadly, if all the above methods have failed and you are still asking "why does my iPhone 7 keep restarting?", then maybe this issue is bigger than you expected and possibly it is a hardware issue which can't be fixed at home. So, you should take your iPhone 7 to the nearest Apple Support Centre for further inspection.
Conclusion
As mentioned earlier in the article, the restarting of the device can be caused by several reasons, it can be either software or a hardware issue but the goal is to fix it at any cost as soon as possible. So, start going through the solutions one by one and if any of them clears the problem then you can be sure that it was a problem with the software and you have fixed it. And you also have ReiBoot in your arsenal which is a very powerful iOS repair tool which will fix any issues with the software system. But if ReiBoot also fails to do it then it must be caused by a defective hardware, so, take it to the Support Centre as early as possible.