Do You Know The Meaning of WhatsApp Checks?
by Anna Sherry Updated on 2020-09-04 / Update for iPhone Tips
Today, WhatsApp is used in different countries around the world. With millions of people using this app every day, it doesn't come as a surprise people often ask several questions about how to use it. Some of the questions about WhatsApp concern the meanings of the checks that you get before and after sending a message to another WhatsApp user.
In general, you should note that these checks are used for allowing you to know the particular status of any message you have sent out. A good understanding of the meanings of these checks can change the dynamics of your communication on WhatsApp with anybody. Therefore, we will do you a favor by taking our time to explain everything about these various WhatsApp checks in simple and understandable terms.
Q1. What Do The Checks Mean in WhatsApp
In simple words, the checks in WhatsApp are used for showing you the status of any message you have sent out to another WhatsApp user. Basically, there are three main checks that you should know about. These three checks are: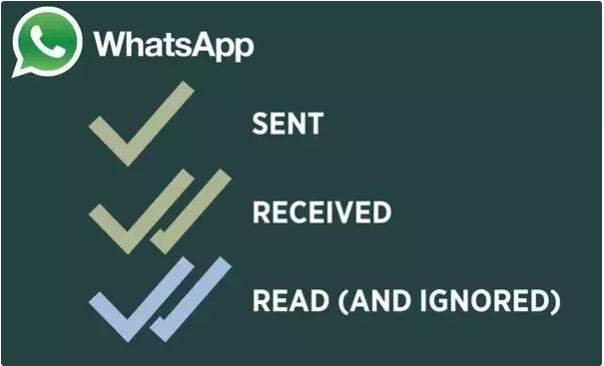 One grey checkmark
One grey checkmark is usually the first check you get immediately after sending a message. This check indicates that you have successfully sent a message from your smart device. However, this doesn't mean the intended receiver has received or read it. Notably, in some cases, the message might have left your device but it may still be floating on the network; hence, it has not reached the other user.
Two grey checks
If you can see two grey checks in front of the message you sent, this shows that the message has been successfully delivered to the intended recipient. This means that your message is not floating on the network as it has reached the device of the other person. However, in most situations, two grey checks also indicate that the receiver has not read. But this may not be the case in some instances and we will explain why later.
Two blue checks
Once the recipient of the message reads it, the two grey checks will transform into two blue checks immediately. With the particular symbol, you can know that the receiver has read your message whether they reply or not.
Q2. Does One Grey Tick on WhatsApp Mean Blocked
Truthfully, if you have been blocked by another WhatsApp user, any message you send to such person will always have only one grey check. This shows that the message has been sent from your device; however, WhatsApp will never deliver such a message to the intended recipient because they have blocked you.
Nonetheless, you should not assume all messages that remain at only one grey tick means blocked. This is because you will still only see one grey tick if the user doesn't have an internet connection or has even lost their device. Otherwise, the user's phone might just have been switched off.
So, before you conclude that you have been blocked by another user, you may want to have a second thought.
Q3. Why Do Some WhatsApp Ticks Not Turn Blue
As explained early, two blue checks mean that the contact has read your message. However, this is not always the case as some users may read your message but the message will still show only two grey checks without turning to blue. This happens if you or your recipient has disabled read receipts under WhatsApp's privacy settings.
WhatsApp Transfer Tip: How to Transfer WhatsApp Messages from iPhone to Android
If you have just changed from an iPhone to Android, you may deem it fit to transfer your WhatsApp messages from the iPhone to your Android device. Unfortunately, there is no default Android app that you can use to perform this function.
Don't worry; you can use Tenorshare whatsapp transfer to get the job done quickly, affordably, and expertly. Apart from WhatsApp, you can also use this tool to restore Viber, WeChat,LINE, and Kik messages.
Let's see how you can use Tenorshare iCareFone for WhatsApp Transfer.
After downloading this tool, utilize a USB cable to connect your Android device and iPhone to the computer.

Launch the program, tap "Transfer" on the program. This will show you a popup message and then select "Yes" to continue the process.

The tool will start backing up the WhatsApp messages and other information on the iPhone. notably, the size of backup files on the iPhone determines the speed of backup.

You need to protect your data by verifying the WhatsApp account that you want to log into the Android phone. This can be done by inputting your country code as well as the phone number of the Android phone. Afterward, tap "Verify".

WhatsApp will send you a 6-digit code on the Android. Input this code in the specified box and tap "Verify". Be patient as the account is being verified.

After successful verification, iCareFone will start generating WhatsApp data from your iPhone to the Android device.

After generating the required data, iCareFone for WhatsApp Transfer will transfer the WhatsApp data to the Android device.

Now, you have transferred the data from an iPhone to an Android device. You will a screen that looks like the one below.
Related Video
Conclusion
With the help of this article, you now understand what WhatsApp checks mean. Similarly, you can transfer data from an iPhone to an Android device using Tenorshare whatsapp transfer.