What to Do When Password Has Appeared in A Data Leak?
by Anna Sherry Updated on 2020-11-23 / Update for iPhone Tips
Is there any way to find out what website the data leak was from when getting "This password has appeared in a data leak" notice on settings?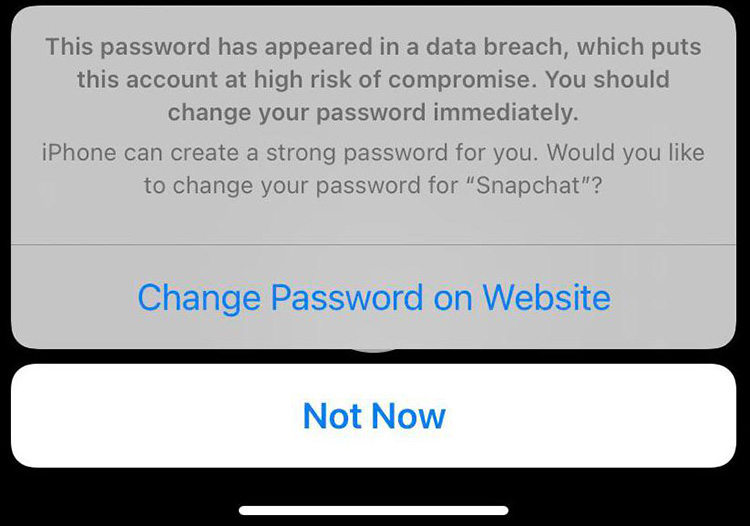 To be safe from such intruder activities, you must know how to deal with the situation when you get to know that your password has appeared in a data leak. We know that it is a significant concern of most people, and that's why we decided to have a good discussion about this subject. So, we are here with a motive to teach you what you should do when you happen to see a notification saying you "this password has appeared in a data breach." If you are also one of those people who have been affected by this issue, don't skip even a single word that we mentioned above because it is not something that you should take easy. Learn the methods to cope with the issue and keep your password secure.
What Does "This Password has Appeared in a Data Leak" Mean?
Before going in-depth, first, you need to know what "This Password has Appeared in a Data Leak means. It is a compromised password alert, which apple company issues for high priority password breaches or data leak. It tells you that your account is at risk, and you should take immediate steps to keep your account safe from any unauthorized access. Whenever you this notification, you need to be more than conscious and take some quick steps to keep your account safe.
How to Protect Your Password from Data Leak?
After seeing the notification, "This Password has Appeared in a Data Leak," the people's next concern is how to protect their password from password breaches or data leaks. We are here with some best methods and techniques to help you understand what you should do when you see that notification telling you that your account is at risk. Without any further delay, let's have a look at those methods.
Prevention # 1. Create Unique & Strong Passwords for Every Website:
The biggest mistake that people make is that they set the same password for more than one account. Keep one thing in mind: you must generate a new password for every single account you use. Suppose you are using different social media channels. In that case, you must set different strong passwords for all of them so that no one can get access to your accounts with a single password. And suppose if somebody hacks your one account, he/she can't get access to other accounts if you use different passwords for all accounts.
Tip 1. Using iCloud Keychain to Manage Saved Passwords on Your iPhone:
When we ask people to use different passwords for their accounts, they complain that remembering so many passwords is a lot difficult; sometimes, it also leads them to block out of their accounts for attempting to access the account whose password they have forgotten. No worries, the iCloud Keychain is all that you have in your hand to manage passwords. You need to follow the following steps to turn the iCloud keychain utility on and benefit from it!
First of all, tap on the "settings" option on the home screen.
Then select the iCloud option.
After that, you should press on "keychain."

Then slide to turn the utility on. At this step, you may be asked for an apple password. Enter your ID password and continue.
Tip 2. How to Find Saved Passwords If You Didn't Turn on iCloud Keychain?
We know that some people would think that what if they are unable to turn the iCloud Keychain on. We have got the solution to this issue also, and the solution is Tenorshare 4uKey - Password Manager. It is the best utility software program that will help you manage all your passwords, and you shouldn't be worried about them.
Features of Tenorshare 4ukey password manager:
It is the best software tool to recover Wi-Fi passwords, website passwords, app login passwords, mail account passwords, credit card information, and Apple ID accounts and password, and also screen passwords. With these fantastic features, Tenorshare is considered a one-stop-shop for password recovery. Let's see and learn how to use this software to recover your password from password breaches.
First of all, download the software on a laptop or PC and connect your mobile device to it through a USB cable.

The system of the software will recognize your device automatically. Then you should click on the "start scanning" option after unlocking the device.

After the completion of scanning, the screen will display all the passwords along with the IDs in the categorical form so that you can quickly sort them out. You can also export those passwords by clicking on the "export" button.
Prevention# 2. Turn on Two-Factor Authentication on iPhone/iPad":
Another best way to avoid any password breaches and notification "This Password has Appeared in a Data Leak" is to turn the two-factor authentication on in your iPhone. It is the best way to add an extra security layer to your account security. You can turn it on, on your iPhone or iPad by following the steps that we mentioned below.
Tap on the "settings" option on the home screen.
Then you should tap on your name at the top of the setting screen.

After that, you should tap on "password and security" there, you will find the option "two-factor authentication." Tap on the option to turn it on.
Prevention# 3. Regularly Update All Software to Avoid Password breaches:
The majority makes a common mistake because they don't update all the software applications they are using on their phones. Due to this carelessness, they face password breach, and they lose their password in data leaks. Regular software updates are the most important thing that you must not take for granted. We recommend you set your applications to auto-updates so that all the latest updates can be installed on your phone just after their release.
Prevention# 4. Update The Passwords of Old & Inactive Accounts:
The most common prey of password breach is the old and inactive accounts. You should keep updating and changing their passwords so that unauthentic people can't access your password and sensitive data from those inactive accounts. If you want to keep your password safe from any password breach, you must not forget any of your old or inactive accounts. Log in to that account change the password now and then, even if you don't post anything on that account.
Last Words:
We tried to mention all the possible ways to avoid password breach and shared all the techniques, tips, and tricks you should follow when you see the message "this password has appeared in a data breach." Now, it is up to you how you take care of your accounts and follow the methods mentioned above to get rid of the troublesome situation when you get the password breach alert. Don't put your accounts at risk, and follow the steps mentioned above to keep them safe from intruder activities!