3 Best Ways to Export Notes from iPhone to Computer
by Jenefey Aaron Updated on 2019-11-30 / Update for iOS File Transfer
Writing down notes is a very important part of our daily life especially in our professional life and with the launch of newer iPhones and the Notes app, it is notably getting easier. But what if you want to backup or share these important notes to your computer? Well, in case, you don't know how to transfer notes from iPhone to computer, we are here to help. In this article, we have come up with the best possible methods to get the job done easily and effectively. So, let's begin.
Way 1: How to Export Notes from iPhone using Tenorshare iCareFone
If you want to know the best option to transfer notes from iPhone to PC /Mac, it is none other than Tenorshare iCareFone. This is a professional iOS data transfer program capable of transferring any type of notes from your iPhone to computer. It is supported by both Windows and Mac and works with a 1-click operation. You simply need to connect your phone to your PC and the software will do the necessary things to get it done very quickly. Unlike other methods, you can selectively choose notes and can also opt for bulk transfer whenever necessary. The best thing about this software is the fact that it won't need Wi-Fi to transfer files. It boasts faster transfer speeds when compared to other methods as well.
Here's how to use Tenorshare iCareFone:
1. Download and install the program using the inbuilt installation wizard.
2. Launch iCareFone on your computer and plug-in your iPhone X/8/7/7Plus/6/6S/5/5S/SE to your computer using the USB cord.
3. Once you get the main interface, simply tap Backup & Restore option and then check Notes.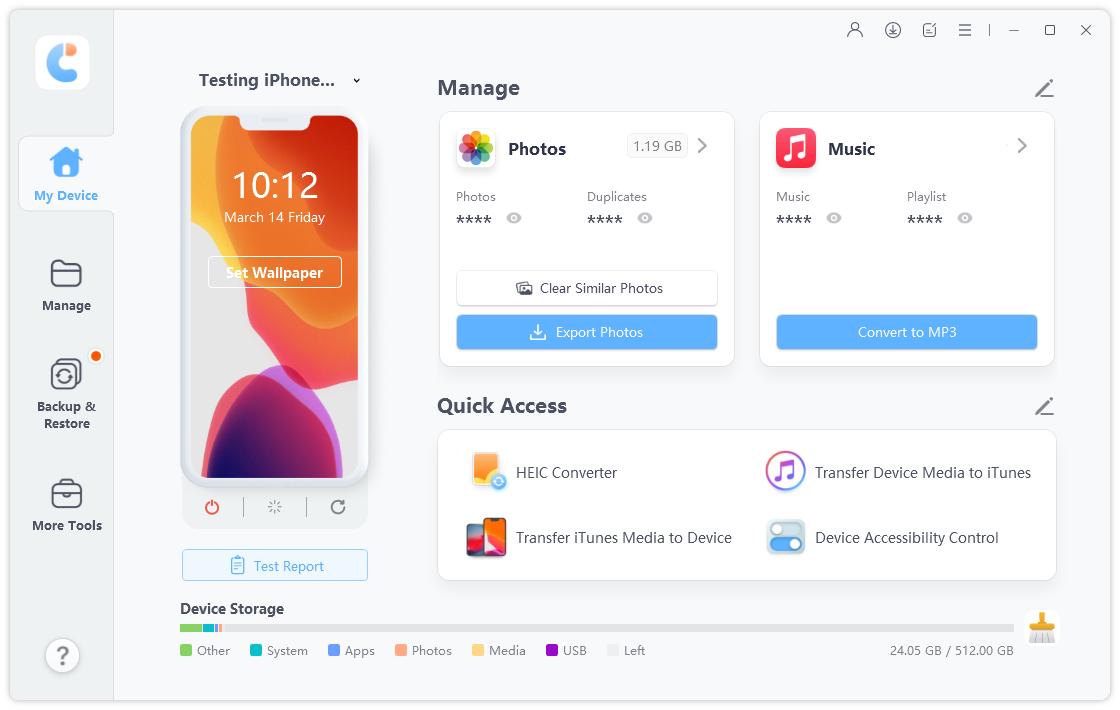 4. All your iPhone notes will be backed up and after that, you can click on View Backup Data to preview the notes.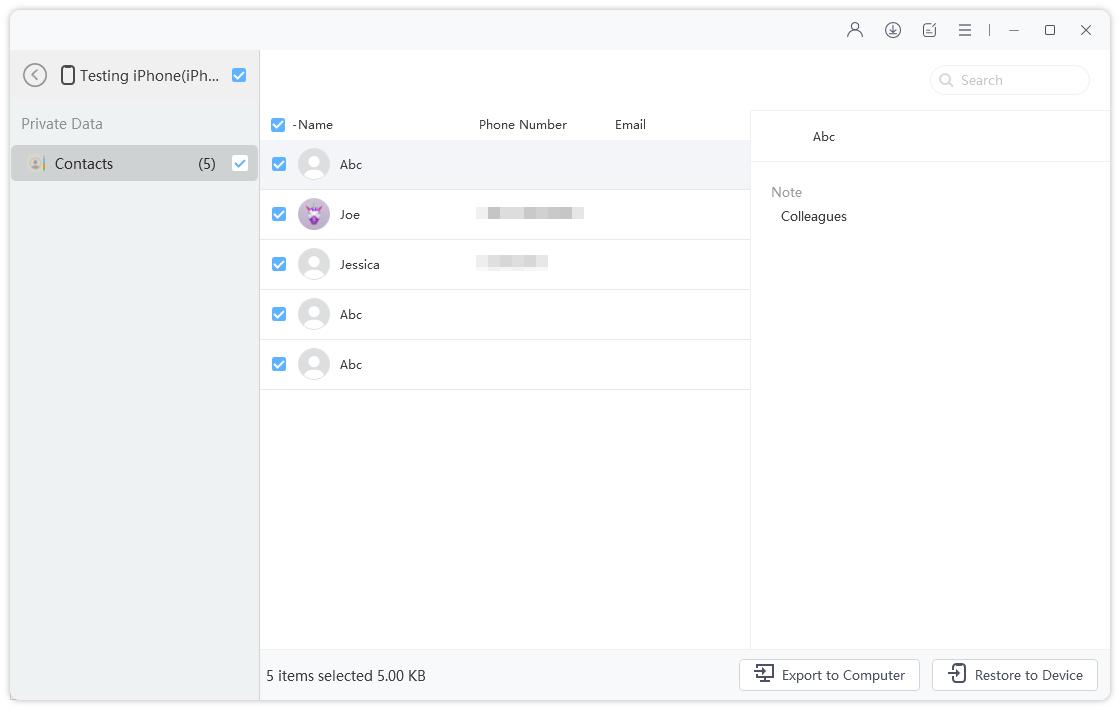 5. Select the notes you for transfer and just tap on Export to Computer.
And you have done it. It is as easy as that! All the selected notes will be transferred to your computer in a flash. This is a potential iTunes alternative as well and undoubtedly the best method on how to transfer notes from iPhone to computer without iTunes. Tenorshare iCareFone can not only offer file management services but also comes with capabilities to protect, repair, and backup your devices. Don't miss this software!
Way 2: How to Sync Notes from iPhone to Mac/PC with iCloud
Apart from using a third party software like iCareFone, you can also go for iCloud transfer. iCloud is an integral part of the whole iOS ecosystem and we all know about its transferring capabilities as well. It is a fast way to transfer notes from iPhone to computer but comes with limitations like complete dependency on good Wi-Fi or Internet connection and most importantly cursed with storage limitations. You only get 5GB of free storage space and that is quite a letdown! Anyhow, follow these steps to move notes from iPhone to iCloud and eventually download from the latter.
1. On iPhone, go to Settings and then open iCloud. You will be asked to sign in to your iCloud account. Enter the Apple ID and password and proceed.
2. Now, turn on Notes with the help of the toggle switch. This will automatically turn on syncing process of notes and all your specified notes will get synced to your iCloud account whenever you are connected to Wi-Fi.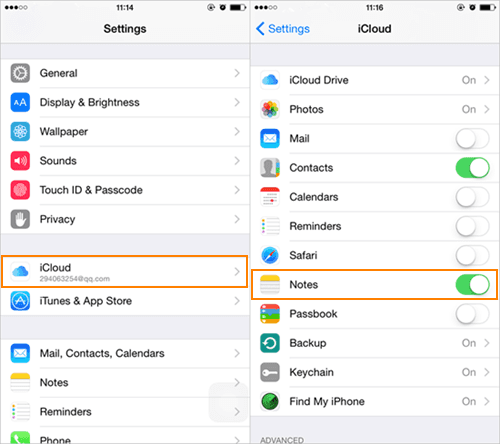 3. Now, to get access to these synced notes, you need to go icloud.com from your computer using your browser.
4. Again, login with your Apple ID and password used above and just tap on Notes from the interface.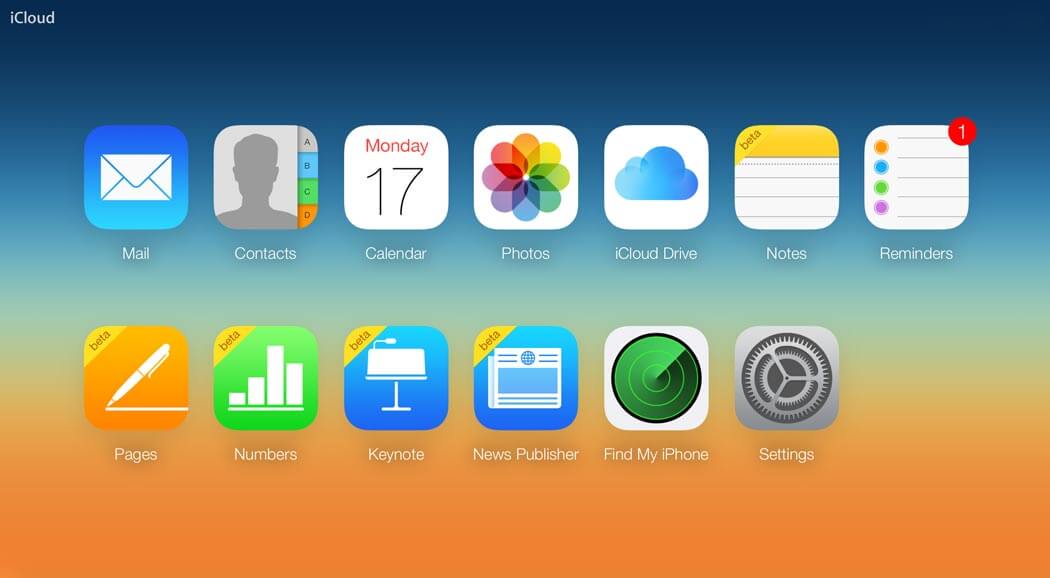 5. Now, you will see all your synced notes. You will be able to download these notes on to your computer now.
So, this is how to transfer notes from iPhone to iCloud the right way!
Way 3: How to Transfer Notes from iPhone to Computer via Email
You can also simply use Email to transfer notes from iPhone to PC. We are already using Email in our day to day lives to send a lot of data which includes texts, pictures, files etc. and similarly we can also use Email to send a note to anybody. Keep in mind; you can only send one note at a time and this is why it is not a very practical method to go for. Nonetheless, it is effective and free. Here's how to use it:
1. Launch the Notes app on iPhone.
2. Select a note you want to send to your computer and tap on the Share icon.
3. Now, choose Mail from the list. You will be directed to a new email creation window.
4. Fill in your email address and simply send.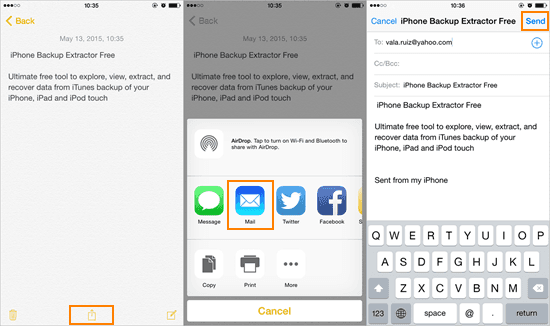 5. Now, on your PC or Mac, open your email and download the note from the attachment and save it to your desired location. And it's done!
All of the above methods are effective ways on how to export notes from iPhone to computer. These 3 ways are safe to use and most importantly free. If you follow the instructions step by step we assure you that you will get all your notes backed up to your computer in no time! Choose the one which suits your requirement the best. If you want to share only one note just go for the Email method. In case you want to share a lot of notes, we highly recommend you to go for the best, Tenorshare iCareFone. Just go for it and you won't be disappointed. If you like this article, do share and comment below!