Top 4 Ways to Fix iOS 15/14/13/12/10.3 Battery Drain Issue on iPhone
by Jenefey Aaron Updated on 2022-11-28 / Update for iOS 10
Quite a few iPhone users complained that the batteries are draining fast in cold weather or while charging with their iPhone after update to iOS 15/14/13 or iOS 10.3.2. Their iPhone is greatly affected by this bug as it suddenly turns off when the battery remaining hits 30%. Although bad battry life is a tricky issue, but here we will share you some ways on how to potentially fix iOS 10.3 battery drain faster on your iPhone 7/7 Plus/6s/6, here's what you can try.
Solution 1: Fix iOS 15/10.3 Draining Battery Fast on iPhone with Tenorshare iCareFone
Bulk files on iPhone not only affect the battery usage but also slow down your iPhone. To fix iOS 10/11 iPhone draining battery fast, Tenorshare iCareFone will be your best choice. This program will guide you to fix iOS 10.3 battery drain issue by deleting those unwanted files with "Manage" feature, here's how.
Before start fixing the issue, please download and install Tenorshare iCareFone on your computer.
Step 1: Launch Tenorshare iCareFone, and connect your iPhone to computer with USB cable.
Step 2: Select Manage from the main interface. Then click Scan button to start scanning.
Step 3: Once the scan completed, you can check the total space that can be reclaimed in the scan result.
Step 4: Then you can respectively deleted unwanted files by clicking delete button on the top menu.
Note: Regularly performing a spring clean for your iPhone can release more space and lengthen the battery life.
Solution 2: Fix Bad iOS 15/10.3 Battery Life on iPhone Using Low Power Mode
If you have never been using iOS' built-in Low Power Mode, now would be a good time to get familiar with this important feature. This feature allows you to stretch out the last 10-20% of battery life on your device without having to make a bunch of manual changes.
To enable Low Power Mode on your device, head to Settings > Battery > Low Power Mode > On. This feature will help you conserve a few hours of battery life.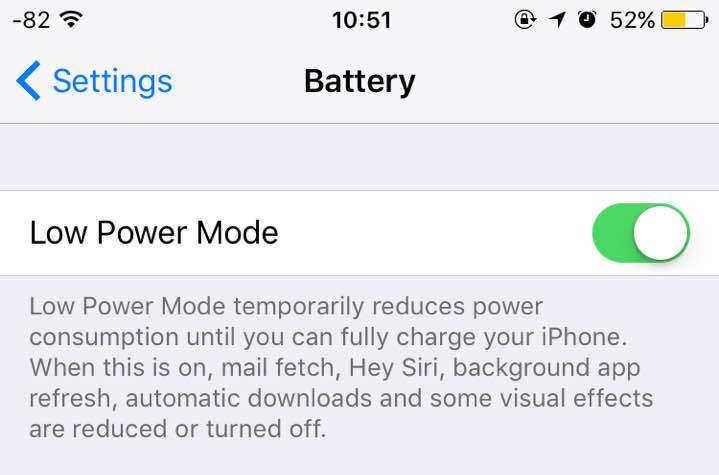 Solution 3: Limit Background App Refresh to Fix iOS 15/10.3 iPhone Battery Dies Fast
Disabling the Background App Refresh feature on your device. It could help you conserve battery life.
Background App Refresh is handy because it will allow your apps to show you the latest data once you open them. It can also be a resource hog.
If you don't use or care about this feature, go to Settings > General > Background App Refresh > and turn it off for each app that is using too much power. It's going to be an extremely tedious process for some of you but it could help your battery life.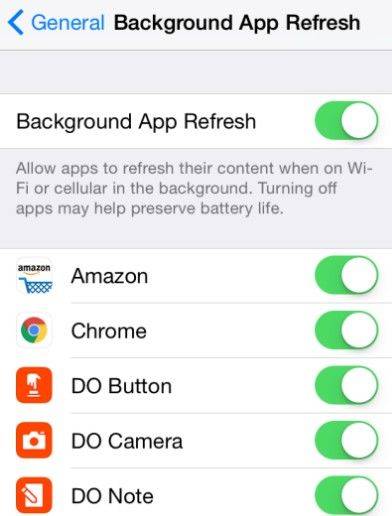 You can also turn the feature off completely if you don't want to go through your list of applications one by one.
If this doesn't help, you can turn the feature back on for all of your apps or some of them.
Solution 4: Manage Your Display to Fix iOS 15/10.3 iPhone Battery Drain
Apple's mobile devices use sensors to adjust the screen automatically in certain lighting environments. Sometimes these sensors work, sometimes they're a little off. A bright screen can eat up battery life so we recommend getting a handle on your device's display.
First, try turning Auto Brightness off. To do this, go into Settings > Display & Brightness > Auto-Brightness > Off. Once you shut it off, you'll have to adjust your screen brightness manually.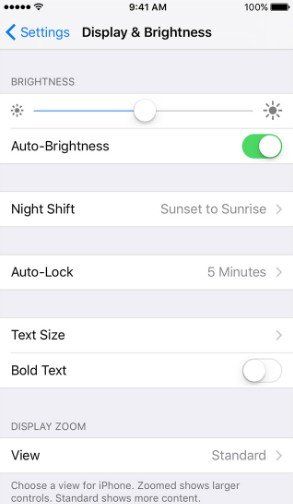 With all these methods to fix iOS 15/10.3/10.3.2 battery drain fast on iPhone 12/11/X/XR/XS/8/7/7 Plus/6s/6, you will hopefully find one applied to your device if needed. Do you know any other ways? Let us know in the comments!