How to Get Back Deleted Screen Recording Videos on Android?
by Jenefey Aaron Updated on 2022-10-20 / Update for Android Recovery
How do you recover/restore videos from an in-built screen recorder from Android especially (Oneplus) that had been permanently deleted on Gallery?
Most modern laptops, tablets, and smartphones have a built-in screen recording feature that lets users record videos of what is happening on the screen. For example, you will frequently need to capture videos on your smartphone for software reviews, problem demonstrations, or video tutorials.
But often, you notice you've lost some significant screen recordings because of user mistakes like careless deleting or incorrect formatting. Not to worry, many ways to retrieve deleted screen recording videos exist. This manual will define these techniques in detail.
Part 1: Important Tips: Before Recovering Deleted Screen Recording Video on Android
A screen recording cannot be recovered as quickly as a dropped coin. Some errors significantly greatly reduce the likelihood of successfully recovering a deleted video. It is strongly advised that you take the following steps to improve your chances of recovering your data:
It would be best to immediately stop using the device where you recorded the screen. If you continue to use it, more data will be added to the system. In addition, they could overwrite the files you're trying to restore, leading to corrupted movies or eventual data loss.
Use trusted tools that are read-only to access the disk. Watch out for any data recovery, backup, or repair tools that seem unreliable. These tools can sometimes do more harm than good to your drive and films when used to recover deleted or lost video files, leading to significant disc deterioration and a sharp decline in the likelihood of data recovery.
Set up a different storage system to hold the recovered screen recording. Another disc with sufficient storage space must be connected to your computer as the safe destination for salvaged screen recording films to prevent further data loss on the same device.
Part 2: Top 4 Ways to Recover Permanently Deleted Screen Recording Videos on Android
Way 1: Recover Deleted Screen Recording Videos via Google Photos
How can I recover deleted mobile screen recording? Google Photos is already pre-installed on every Android user's phone. Therefore, your device's images and videos are automatically stored if you synchronize them. The missing Android screen recording is available here.
You can find the videos in the Bin/Trash folder if the videos aren't there. Follow these instructions to recover deleted Android screen recordings using Google Photos Trash/Bin.
Open the Google Photos app on your phone. You can choose Trash/Bin from this menu.

You can now see every deleted video that you want to recover. Tap the videos to select them, and then tap the Restore button.
Way 2: Get Back Deleted Screen Recording Videos from Google Drive
On the other hand, you can recover videos from Android using the Google Drive app if you save your screen recording files to Google Drive or make backups with this app.
On your Android device, launch the Google Drive application.
Select the videos you want to recover by navigating to the Videos folder.
Your phone will be downloaded with the chosen videos.

Sometimes it's best to keep your films on Google Drive because it frees up space on your device and makes them accessible from anywhere. The original videos can still be downloaded using this approach if you misplace them.
Way 3: Get Back Deleted Screen Recording Videos with UltData for Android
This one is the best option for people without a recent backup of the deleted screen recording on another hard drive or cloud storage. It is a skilled and potent data recovery program that excels at recovering deleted video files, among other things.
Use a video recovery program like Tenorshare Ultdata for Android if you wish to recover deleted screen recording videos from an Android SD card or your phone's internal memory.
Features:
Without rooting your Android phone, recover deleted photos.
Without a backup or root, recover deleted videos on Android.
Download and view the Google Drive backup for WhatsApp.
Recuperate WhatsApp Business data, including pictures, movies, and documents.
Recover deleted WeChat contacts, messages, images, etc., on Huawei and Xiaomi (China).
Steps:
Here is how to recover deleted Android data with this software. On your computer, first, install Tenorshare UltData for Android. After that, follow the steps below to recover deleted files from Android.
Connect Your Android Device

The screen displayed below will appear when UltData for Android Data Recovery is launched. From the menu, select "Recover Lost Data". Then, use the OEM USB cable to connect your Android device.

Enable USB Debugging

Please make sure that USB debugging is enabled on your Android phone. The two buttons at the bottom should be noted. If you can't connect to the device or enable USB debugging, tap it. Then adhere to the instructions displayed on the screen.

After enabling USB debugging, your device needs to be authorized. Click "OK" when a window displays on your smartphone's screen. If the window doesn't appear, please click the "Show Again" option on the software.

Start Scanning

It is what the screen will look like once your device is connected. To start scanning your device, select the file types you want to recover, then click "Start".

The application now learns more about your device and installs the Connector app to ask for access permissions to your contacts, messages, call history, and other data. It is entirely safe to download and use the Connector app. Please click "Allow" to grant access to your device.

Pro tip: This seeks to recover additional deleted data while preserving your privacy. Additionally, refrain from using your phone while you're recovering.

Preview and Recover Lost Data on Android Phone

After the scan, you may view every file included in the list and choose anyone to preview and restore. Decide which file you want to restore. Then, press the "recover" option to keep the deleted files on your computer. While contacts, SMS, and call logs will be preserved in TXT, XML, and XLS files, photo, video, and document files will be kept in their original formats.
Way 4: Retrieve Deleted Screen Recording Videos from the Local Backup
How to recover deleted screen recording video from Android? Most people are aware of local backup, which allows you to back up your phone's data and recover it. Your phone may have a local backup option in the cloud, and many phone manufacturers offer cloud features. Users are given 5GB of free storage to keep a copy of their data.
As a result, you can locate and restore the videos if you have created a backup of the screen-recorded videos.
Part 3: How to Restore Recently Deleted Screen Recording Videos on Android?
If you recently deleted screen recordings, you can recover deleted files on Android using the built-in Gallery app. To find recently deleted files, open the Camera app and navigate to the Recently Deleted folder.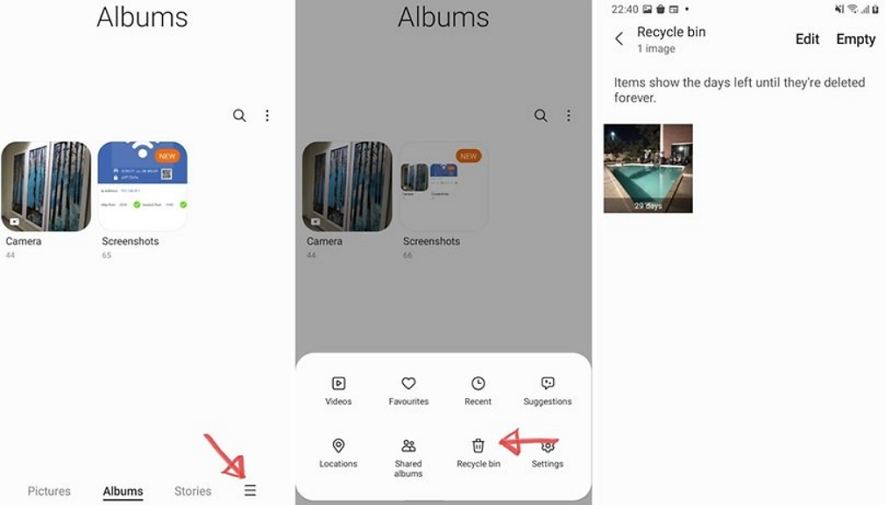 However, discarded screen capture films are only kept in this location for 30 days before being completely erased.
Part 4: Where are Screen Recorded Videos Stored on Android?
Any videos you take while using the screen recorder on your Android will typically be saved to the internal storage (e.g., the built-in hard drive). However, if you have an SD card in your phone, you may save your videos, which will help keep your internal storage from filling up completely.
Open the File Manager app, tap Videos next to Categories, and all of the screen recording videos stored on your smartphone will be displayed. It will help you locate where your screen recording videos are kept. You may look up each video's storage location.
Conclusion
The ways we've discussed in this post will help how to recover deleted screen recording videos on Android. It concludes our guide on how to restore screen recording movies on Android. One of the ways will help you recover your files, whether they were lost, corrupted, or erased.
Best WhatsApp Recovery Software on Android without Root
Recover deleted WhatsApp Messages on Samsung, Huawei, Xiaomi, OPPO without root;
Recover photos, contacts, messages, videos and everything you lost;
Preview individual file before data recovery;
Support with most Android phones and tablets;