Easy Guide: How to Unlock Blacklisted iPhone for Free
by Jenefey Aaron Updated on 2022-11-04 / Update for Unlock iPhone
How to unlock blacklisted iPhone today? This is a must-read guide for you. It will walk you through every detail of unlocking your iPhone without much stress. By reading it, you will gain better understanding into the proven method of unlocking your device without breaching any privacy policy.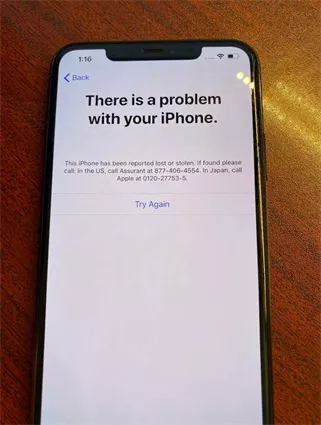 What is a Blacklisted iPhone
The deals of blacklisted iPhone are somehow confusing. For some years now, countries like America have developed a broad database for lost phones. Anytime a device is stolen or lost, the phone IMEI can be traced through the database and thus, blocked the phone function. Once that happens, a phone has been blacklisted.
Hence, a blacklisted iPhone is a phone which fails to work properly on any network in the country of origin of the phone's original network. So, if you're buying an iPhone on the AT&T network, you will no longer be able to use the phone properly once the network company blacklists the phone. It won't be able to work on a network like Verizon, T-Mobile, and lots more.
Note:To avoid buying or using a blacklisted iPhone, you must check if the phone is blacklisted before buying it. You will need your phone IMEI for checking the blacklisting status of your device. To know your phone IMEI, kindly type *#06# into your phone dialer.
Free Tools to Check iPhone Status are given below:
Enter your IMEI into the web to check the status of your iPhone.
Can I Unlock Blacklisted iPhone
The answer is Yes! If you've purchased a blacklisted phone, you can feel disappointed in yourself or the phone seller. However, you need to brace up. Not everyone knows that some phones are blacklisted. So, your next option should be the steps to take in such a situation.
It's more likely for you to achieve iPhone blacklist removal without any stress. All needed is to apply some techniques. Scroll down and there are methods prepared for you about how to unlock a blacklisted iPhone, just go ahead.
[Free Way]Method to Unlock Blacklisted iPhone
The free of charge way to unblacklist iPhone is by contacting your phone network carrier.
Situation 1: 
If your iPhone was blacklisted by the carriers in error, you have the right to ask them to remove your iPhone from the blacklist for free. In this way can you get imei blacklist removal free.
The most common issue is due to outstanding payments on the account you are using, you can pay the bill and the carriers will remove you from the blacklist automatically, but contact the carrier first to see if there is a need to do so.
Situation 2:
The worst situation is the device reporting it as lost or stolen, then this free method of contacting the carrier will not work. But don't worry, that's why we prepare part 4 for you with 2 useful methods to unlock your black listed iPhone.
[Paid Way]Methods to Unlock Blacklisted iPhone
Since contacting phone carrier isn't a good option, there are some paid methods of removing the blacklist option on your phone. The methods given below both require you to prove you are the owner of the phone. So contact the technical support of them to check firstly.
Method 1: Using DirectUnlocks
DirectUnlocks is a legal, safe, and guaranteed service provider of iPhone and Android Unlocking services. This service provider offers the easiest way about how to activate a blacklisted iPhone without voiding your warranty. 
They offer the official way iPhone manufacturers and the network carriers laid done for unblocking phones. The company offers a money-back guarantee option for anyone dissatisfied with their service. Such an option ensures that you're not wasting your money on poor service delivery.
Cons:
For iPhone, it takes 24 hours to unlock.
The success rate could not be 100%.
Method 2: Using ExpressUnlocks
ExpressUnlocks offers you a permanent way on how to unlock a blacklisted iPhone 6. It ensures that you get your phone unblacklisted without tampering with any part of your device.
Cons:
It's a UMEI unlocking way with uncertain time.
Your iPhone depends on 3G/4G over the air.
Extended Tip: How to Remove iCloud Activation Lock Quickly
Those tools mentioned above have several negative feedbacks. Though they serve some categories of iPhone users, but they are not just the best for someone like you. The best way of unblacklisting your phone is to firstly remove iCloud Activation Lock.
If you can do that, you will remove your phone from blacklisting without having to consult any expert. Without cleaning IMEI, you can unlock blacklisted phone in few simple clicks. To get started, consider using Tenorshare 4MeKey.
How to Remove iCloud Activation Lock with a Video Guide
You will need to download Tenorshare 4Mekey to remove iCloud activation swiftly. Once that is done, you will see an interface like the one below:

Now, you can hit on the start button to start the process of removing the iCloud activation lock.

After you've clicked the start button, you need to jailbreak your device firstly for Windows(Mac users just follow the promp-up program to jailbreak).

Next, you need to click on the next button which is shown in the image below to start the removal of iCloud activation lock.

After some minutes, you will be informed that the process is completed.

Now that the process is completed, you're free to start to log in with new Apple ID in APP Store on your phone.
Conclusion
Unlocking blacklisted iphone is not an easy task to complete if you are not the phone owner. However, resolving to use Tenorshare 4MeKey is a nice decision you can ever take. It ensures you achieve your objective within a shorter timeframe. It's simply the best app you can use to unlock your blacklisted phone without worries of getting scammed.