What is iCloud Keychaine -Must-read Guide Here!
by Anna Sherry Updated on 2020-04-26 / Update for Keychain
Most people are unaware of what iCloud Keychain is. If you are using Safari on your Mac and you just entered a new password, you must have seen the prompt where the iCloud Keychain asks if you want to save the password. This feature comes inbuilt with the MacOS. If you are using the MacOS then iCloud Keychain will securely store some information and you will be able to access these items very easily just by providing your Apple ID. This article highlights all the essential things which one must know about iCloud Keychain.
Part 1: What is iCloud Keychain and How to Set Up?
If you want to use iCloud Keychain then you would need iOS 7.0.3 or later, if you are using iPhone, iPad or iPad touch. If you are using Mac, you would need OS X Mavericks 10.9 or later.
When it is time for you to update the Operating Systems of these devices, the setup assistant will ask you if you want to set up the iCloud Keychain as well. The instructions will be very simple but it can vary as there are two types of setup. One for two-factor authentication and the other one involves providing security by using email, passwords and the security questions.
If you are using two-factor authentication:
So, if you are using two-factor authentication and you just signed in using your Apple ID then you may not have to approve it again.
On iOS devices:
Step 1: Go to the Settings of your iOS device and tap on your name.
Step 2: Then, you have to tap on iCloud.
Step 3: After that, you have to tap on Keychain and swipe the Slide in order to turn it on.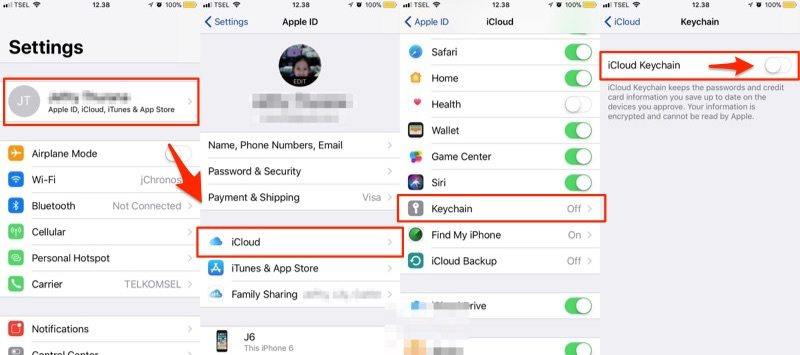 On your Mac:
Step 1: Open your Mac device and go to Apple Menu, then go to "Systems Preferences" and click on iCloud.
Step 2: Now, choose Keychain.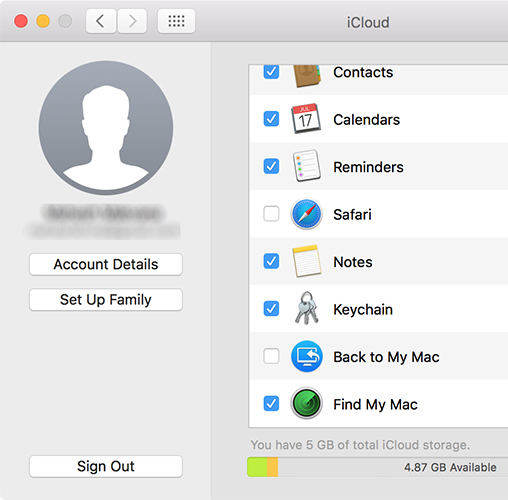 If you are using two-step verification or email, password or security questions:
On iOS devices:
Step 1: It is also the same as before, tap on your name from the Settings of the device.
Step 2: Then tap on iCloud and select Keychain.
Step 3: Swipe the slide to activate it and then use your Apple ID and simply follow the instructions.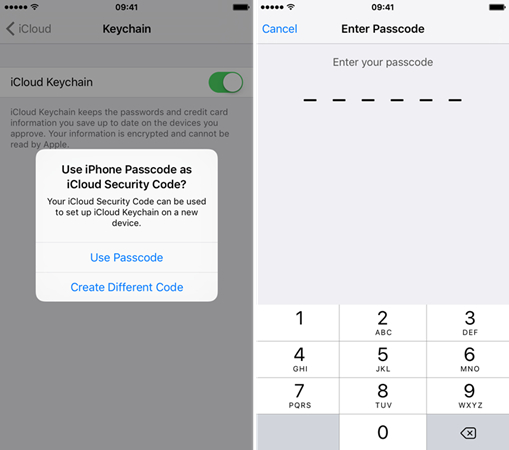 On your Mac:
Step 1: Go to "System Preferences" from the Apple Menu and click on iCloud.
Step 2: Now, provide your Apple ID and password and just follow the instructions.
Now, you can create an iCloud Security Code which will be of six digits or it can be generated randomly, this code will verify your identification.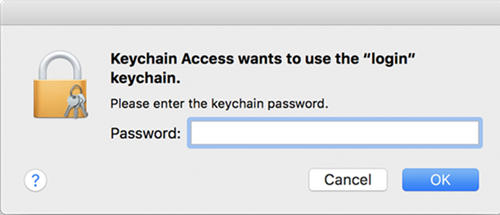 Part 2: The Most Common Questions About iCloud Keychain
Here are the answers to a few common questions regarding Keychain which is frequently asked by the users.
2.1 What Information Does iCloud Keychain Store?
The iCloud Keychain is capable of storing varied information. It stores everything from credit card numbers to dates and you don't even have to fill any security codes for it. It also stores passwords, usernames, Wi-Fi networks, Internet account etc. If you are using iOS 7.0.3 or later and Mac OS X Mavericks 10.9 or later, then the developers will be able to upgrade the app so that they can use iCloud Keychain.
2.2 Can I View and Edit My Passwords Stored in iCloud Keychain?
Yes, of course, you can do that! If you use Keychain then you will have complete access to your passwords which were used for your websites, email, Wi-Fi network, and even internet accounts. But the access will be given to you through particular applications like you can use Safari to get access and edit your Safari password.
2.3 How Does iCloud Keychain Protect My Information?
It protects your information using high-class encryption, which can be considered as the top level of data security. The data will be secured with a Key which will be made from the information that is unique to your device and it will be combined with a password.
2.4 What Happens When I Turn Off iCloud Keychain on a Device?
When you deactivate the iCloud Keychain on a device, you will be asked, if you want to keep or remove the information on it including your Credit Card information. If you keep it, then it won't change if you make updates on other devices.
2.5 Can I Make Sure My Information isn't Backed Up in iCloud?
Yes, you can make sure about this by skipping the procedure in which you create iCloud Security Code. By doing this your Keychain information will be stored locally on the device and you will have updates only on your preferred devices.
2.6 Can Apple Recover My iCloud Security Code?
No, if you have entered the iCloud Security Code incorrectly too many times then you will be unable to use that iCloud Keychain. In fact, after many wrong attempts, the Keychain will be removed from the Apple Server entirely and you will have to start from the beginning. Here is a related article about how to recover iCloud keychain security code.
Conclusion
As you can see, every aspect of iCloud Keychain service is dependent on passwords. As humans, we tend to forget passwords as we use different passwords for different accounts. You can even get locked out of the system if you type the wrong password too many times. Tenorshare 4uKey - Password Manager is a software which has been designed specifically for such situations. It is purely an iOS password finder and manager with added features. It can provide an easy means to gain access to your account when you get locked out of your iOS device. Hence, it is the most recommended software for this purpose.